Wintry weather causes car pileups, injures 25
December 9, 2017 - 7:58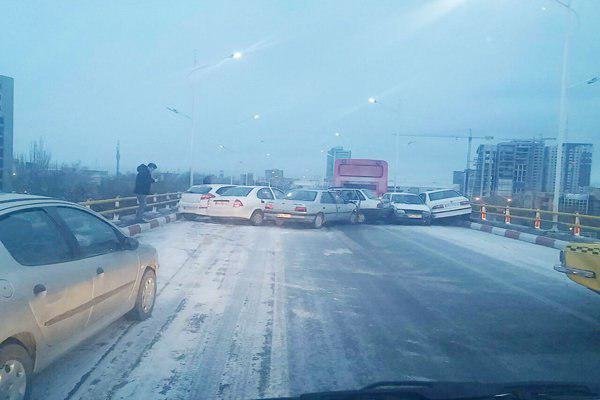 TEHRAN — Slippery roads, bad weather conditions, and low visibility led to two multiple car pileups in the early hours on Friday, leaving 25 injured.
The incident occurred at about 1 a.m. on highways linking Karaj to Qazvin and Qazvin to Zanjan and temporarily closed the roads, Tasnim news agency quoted traffic police chief Mohammad Hossein Hamidi as saying.
Thankfully the two multi-vehicle collision, one involving 20 vehicles on the Qazvin-Zanjan road, and the other occurring on the Karaj-Qazvin road involving 15 cars, didn't claim any lives but some 25 got injured and were transferred to the hospitals, Hamidi said.
Pileups generally occur in low-visibility conditions as drivers on freeways are sometimes caught out by driving too close to the vehicle in front and not adjusting to the road conditions.
As Hamidi have explained the two recent chain-reactions are caused by speeding.
Morteza Salimi, director of the Relief and Rescue Organization of the Iranian Red Crescent Society, said on Friday that snow blizzard have hit some 11 provinces in Iran.
Provinces of East and West Azarbaijan, Ardebil, Chaharmahal and Bakhtiari, Zanjan, Qazvin, Kordestan, Gilan, Lorestan, Mazandaran, and Hamedan are stricken with snow since Wednesday, Salimi added.
Given the heavy blizzard some 5,780 individuals have received relief services and 748 vehicles stranded in the snow came unstock, he said.
MQ/MG