Trump's al-Quds move legitimizes occupation, envoy says
December 9, 2017 - 20:51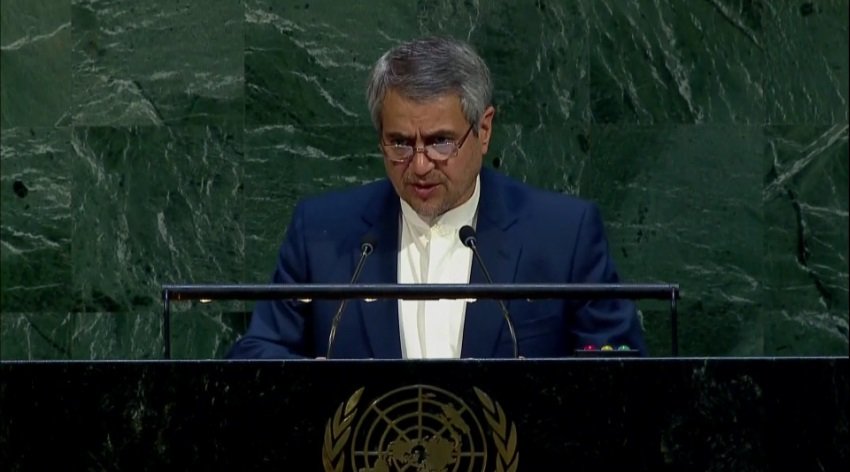 TEHRAN - Gholamali Khoshroo, Iran's ambassador to the UN, said on Friday that U.S. President Donald Trump's recognition of al-Quds (Jerusalem) as the capital of the Zionist regime is an effort to legitimize occupation.
The U.S. president declared on Wednesday that he recognized al-Quds as the capital of Israel and ordered the relocation of the U.S. embassy from Tel Aviv to al-Quds.
"Any effort to deny the Palestinians' indisputable rights especially on the issue of al-Quds and al-Aqsa Mosque will simply further complicate the situation," Khoshroo said during his speech at a UN General Assembly meeting on "culture of peace".
He strongly condemned the U.S. move and described it as "illegal".
"Those who try to legitimize occupation in our region by rejecting the historical realities are gravely undermining peace. Occupation of the Palestinian Land lies at the root of all crises in our region and any action to deny the inalienable rights of the Palestinian people, including with regard to the holy city of Al-Quds and particularly Al-Aqsa Mosque, will only result in more bloodshed and rage," he said.
He noted that this act shows the U.S. "hypocritical" approach toward the crises engulfing the Middle East.
Recognition of al-Quds as capital of Israel proves that the U.S. disrespects international law and violates the rights of the Palestinian nation, he added.
The senior diplomat added, "The international community considers the U.S. and the Zionist regime of Israel responsible for all the consequences of this irresponsible and illegal action."
Elsewhere, Khoshroo said some countries prefer bullying to diplomacy and dialogue and such behaviors lead to extremism.
"The failed experiences of the past should not be repeated. Those who prefer sanctions and coercion over diplomacy and negotiation, by their deeds and rhetoric, strengthen extremism and weaken the culture of peace and tolerance. Unilateralism and coercive measures are sources of instability and insecurity in international relations and have to be blamed for the spreading of terrorism and extremism."
"What is happening today in many parts of the world, from the Occupied Palestinian territory to Yemen, all reflect cases of failure in our joint endeavor towards enhancing peace in the world. However, we cannot and should not give up," he noted.
NA/PA