Trump's decision on al-Quds ends in defeat, Iran says
December 22, 2017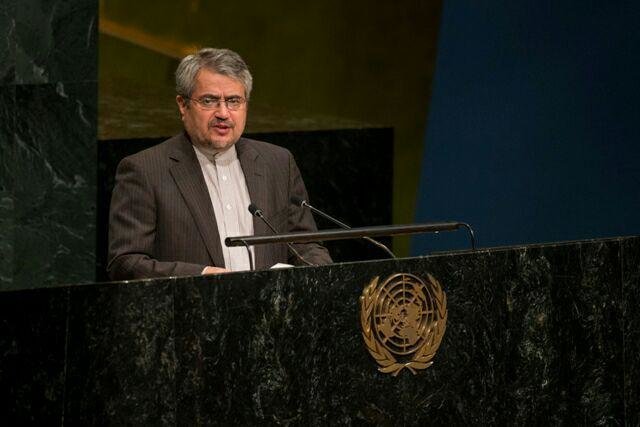 TEHRAN - Iranian Ambassador to the UN Gholamali Khoshroo said on Thursday that the U.S. decision to relocate its embassy to al-Quds (Jerusalem) has been defeated.
"The U.S. decision to relocate its embassy to al-Quds has been defeated and occupation of Palestine and al-Quds are still center of all the conflicts in the Middle East," he said during a speech at an emergency UN General Assembly meeting on Thursday.
U.S. President Donald Trump declared on December 6 that he recognizes al-Quds as the capital of Israel and ordered the relocation of the U.S. embassy from Tel Aviv to al-Quds.
Khoshroo said, "The recent illegal decision of the U.S. in recognizing al-Quds as capital of the Zionist regime of Israel and relocating its [the U.S.] embassy to this holy city has made it clear that the U.S. just seeks to serve Israel's interests and does not care about respecting the Palestinians' legitimate rights."
On Thursday, the United Nations General Assembly delivered a stinging rebuke to Trump, voting by a huge majority to reject his unilateral recognition of Jerusalem as Israel's capital.
The vote came after a redoubling of threats by Nikki Haley, the U.S. ambassador to the UN, who said that Washington would remember which countries "disrespected" America by voting against it.
Despite the warning, 128 members voted on Thursday in favor of the resolution supporting the longstanding international consensus that the status of Jerusalem can only be settled as an agreed final issue in a peace deal. Countries which voted for the resolution included major recipients of U.S. aid such as Egypt, Afghanistan and Iraq.
Although largely symbolic, the vote in emergency session of the world body had been the focus of days of furious diplomacy by both the Trump administration and Israel, including Trump's threat to cut U.S. funding to countries that did not back the US recognition.
But only nine states – including the United States and Israel –voted against the resolution. The other countries which supported Washington were Togo, Micronesia, Nauru, Palau, Marshall Islands, Guatemala and Honduras.
According to the Guardian, twenty-two of the 28 EU countries voted for the resolution, including the UK and France. Germany – which in the past has abstained on measures relating to Israel – also voted in favor.
Thirty-five countries abstained, including five EU states, and other U.S. allies including Australia, Canada, Colombia and Mexico. Ambassadors from several abstaining countries, including Mexico, used their time on the podium to criticize Trump's unilateral move.
NA/PA