Iran, Turkey, Azerbaijan denounce U.S. decision on al-Quds
December 20, 2017 - 20:45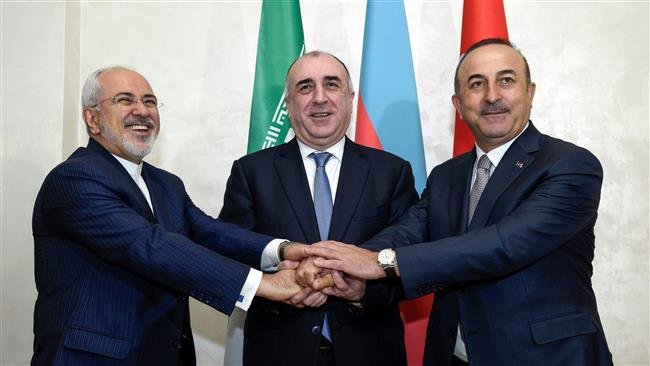 TEHRAN – Iran, Turkey and Azerbaijan on Wednesday condemned a U.S. decision to recognize al-Quds (Jerusalem) as the capital of Israel, ISNA reported.
During a trilateral meeting in Baku, attended by Iranian Foreign Minister Mohammad Javad Zarif and his Turkish and Azeri counterparts, Mevlut Cavusoglu and Elmar Mammadyarov, the three countries agreed to adopt a united stance on Washington's recent move at an upcoming meeting of the UN General Assembly on the issue.
On December 6 U.S. President Trump officially announced his decision to recognize al-Quds as Israel's capital despite warnings from around the world that the measure risks triggering a fresh wave of violence in the Middle East.
"Rejection of the U.S. decision on the holy city of al-Quds was among the issues agreed at the trilateral meeting," Zarif said at a joint press conference after the meeting.
He added, "The three countries will also adopt a unified stance at the emergency meeting of the UN General Assembly," which will be held on Thursday.
The 193-member General Assembly will hold a rare emergency special session on Thursday at the request of Arab and Muslim states. The General Assembly would vote on a draft resolution calling for Trump's declaration to be withdrawn, which was vetoed by the United States in the 15-member UN Security Council on Monday.
Trilateral cooperation
The three ministers also discussed cooperation in different fields, including transit, transportation, customs and technology.
They also held talks on political issues of trilateral importance, including avenues of cooperation for promotion of regional peace and stability.
Zarif said Iran, Azerbaijan, and Turkey enjoy strong historical, geographical and cultural bonds.
He added that holding meetings between the three countries is a "very suitable and efficient method" for promoting regional cooperation.
Earlier in the day, Zarif had held a bilateral meeting with Cavusoglu, exploring avenues for the development of Tehran-Ankara relations in all areas.
The foreign minister arrived in Baku on Tuesday to take part in the trilateral meeting, which was the fifth between the foreign ministers of the three countries.
MH/