By Sadaf Abbassi
"Candy Thursdays" pouring kindness into people's lives
December 30, 2017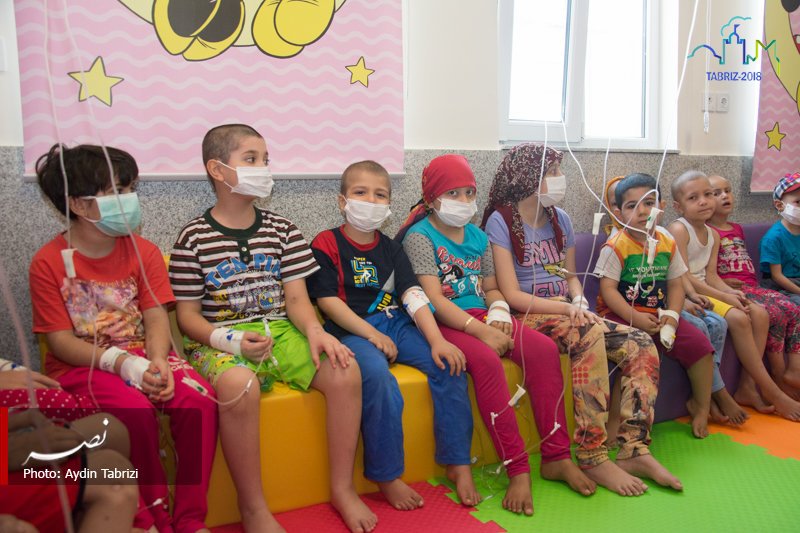 TEHRAN — Hospital waiting rooms are not lively places, it even gets worse when it comes to children's hospital. Usually, pale, sick and exhausted children with their tensed parents are wishing to get out of this horrible place as soon as possible.
But things are different with Bahrami children's hospital, where "Candy Thursdays" program is being implemented for both children and their parents in order to make being in hospital a more tolerable experience.
Determined to make people happy
Koodakan (literally meaning children) Charity, a non-governmental group founded in 2009 by some young people, started its humanitarian activities with distributing presents among children in Ali Asghar children's hospital. Today, the NGO with 10 board members and 419 volunteers, helps inpatient or poor children age under 16.
"There are so many people make a religious vow (nazr in Persian) to distribute dates on Thursdays evenings; we decided to take this religious tradition as a motivation to bring happiness to children, so people can provide us with candy instead of date which is called "Candy Thursdays", Seyed Nasireddin Mousavinejad, founder of Koodakan Charity said.
"Usually, hospital staffs are not very affable in their interactions with sick children and worried parents due to their difficult working conditions. Therefore, we thought to distribute candy among the staff and ask them to give them to children. Imagine a crying child receives a candy from a smiling cashier or nurse, then he would stop crying, his parents will be relieved and he will be more cooperative. This pours kindness among people and also settles any argument between exhausted staff and nervous parents at the very beginning," Mousavinejad added.
"We are implementing this program in Bahrami, Shahid Motahari and Rasoul Akram hospitals to which usually underprivileged children are usually referred," he added.
This program is also being launched among taxi drivers to improve Tehran citizen's interactions.
So it's not only hospital staff who bring smile on children's faces, taxi drivers are also a part of this program. "We also distributed candies among taxi drivers in deprived districts like Darvazeh Ghar and Shoush so that the drivers, parents and children have a nicer day," Mousavinejad explained.
He smiles while remembering his sweet childhood memories: "The main idea of Candy Thursdays is based on a pleasant childhood memory. I was always so eager to go to the mosque because of the candies named "Gheisi" that the old men used to give us there. Those candies were unbelievably cheap but they made us so excited. Our purpose was to revive traditions and make people feel good."
"Currently, our volunteers here have some candies with them to give to working children or nagging children who are struggling with their mothers. And the feedback is very remarkable. Parents does not know who was the person that gave candies to their children and calmed them down."
One of the challenges that Mousavinejad and his friends faced to run the candy Thursdays program, was that how could they supply candy for the program. "Last year, our volunteers went to Peleh Norouz Khan in Tehran grand bazaar, which is a center for candy shops, explained about the program and asked them for participating. Four candy shops agreed and provided us continually. Even after the Kermanshah quake, they called me and asked if we have plans to go there, therefore, this time we distributed candies among villages in Kermanshah while visiting this areas," he said.
"Currently we haven't expanded the program, but it has a great potential to be implemented in case companies are willing to participate. I believe candy Thursdays also can be used in other situations as well, and create positive interactions among people," Mousavinejad said about the future of such simple and low cost idea.
Can I have a candy again?
"We do not give medicine to 5, 6 year old children who come for electroencephalogram to sleep. This requires the child not to panic and cooperate with us. At first, we talk to him or her and say if you do what we ask, we will give them candy, so they get excited and relaxed and everything goes well," says Shiva Panahi, nurse of the Bahrami hospital clinic with her cheerful voice and shining eyes in nursing restroom.
"Sometimes I give candy to restless or naughty children. This makes hospital a happier place; therefore they are easier to handle for medical examinations. Even parents are delighted when they witness we care about their child, even more than the child who has got a candy. Candy costs almost nothing," Ma'soumeh Bolouki, the matron explained.

"I know the birthday of hospitalized children in dialysis unit and give them several birthday presents with my own money. These children are chronically ill and they have to come to the hospital every other day and it's a very tough condition," Bolouki continued.

"Some children, who get back to the hospital for the second or third time, cheerfully react when they see us, saying: This is the rewarding aunt! Can I have a candy again aunt?" said Bolouki happily.
"Sometimes the parents even get more excited from the candy rather than their child and want to eat it themselves! So we give candy to the parents as well!" Bolouki laughingly added.
No more nagging or crying!
It seems that Taxi drivers are pleased with Candy Thursdays program, too. "It was wonderful! Children usually get bored as they get into the taxi, they cannot tolerate the traffic so they start to gag and making noises. When I give them a candy, they become quiet and their mother becomes happy as well, therefore, so they leave me in peace!" said Ramin Rostami, taxi driver, who works in Khaghani-Resalat line and he laughed.
"This program was fully welcomed, so that parents were willing to join the Koodakan Charity and help," says Amir Zare', taxi driver working in Azadi-Tehranpars line, who was an active participant to Candy Thursdays program.
MQ/MG