Iran, Europe have held talks to remove banking obstacles
No sense to stay in JCPOA if new conditions set: Takht-Ravanchi
January 20, 2018 - 19:0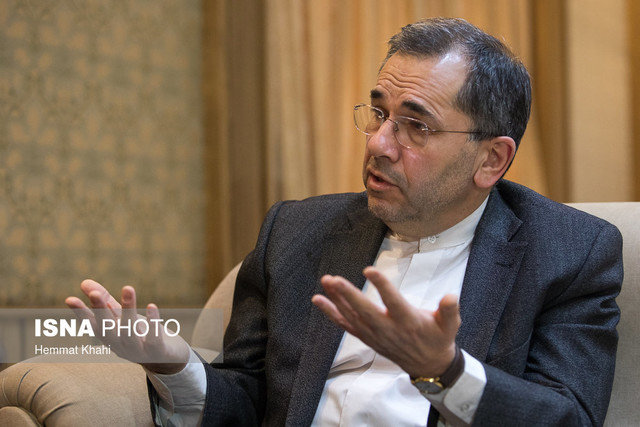 TEHRAN - Majid Takht-Ravanchi, deputy director of the presidential chief of staff for political affairs, has said that Iran and Europe have held talks to remove obstacles to banking relations.
"So far, the talks have proceeded well and will be continued by the time a good solution is reached," he told ISNA in an interview published on Saturday.
He also said that the Europeans are well aware of the Joint Comprehensive Plan of Action's achievements for the international community and will not be influenced by U.S. President Donald Trump's comments to change their stance on the agreement in the next four months.
In a statement on January 12 Trump extended waivers of key economic sanctions on Iran for another 120 days.
Takht-Ravanchi said that a day before Trump's announcement Iran and Italy signed a deal which proves willingness on the part of Europe to cooperate with Iran.
The Europeans seek to enjoy economic interaction with Iran, he said.
"The reason behind the Europeans' full support for the JCPOA is that they see the deal as a multi-sided project which have been able to settle economic and security problems," noted Takht-Ravanchi who was involved in nuclear talks to craft the 2015 nuclear agreement.
'Nuclear deal would have no sense if new conditions are set'
Takht-Ravanchi also said it would be nonsense for Iran to stay in the nuclear agreement if the U.S. links the agreement to new conditions.
In his new Iran policy Trump said the United States will withdraw from the JCPOA if the terms of the agreement are not changed. He provided four conditions for a "supplemental agreement" to the JCPOA and called on Congress to ordain them into law. These include: Iran allowing "immediate" inspections of "all sites requested by international inspectors," Iran never coming "close to possessing a nuclear weapon," that there be "no expiration date" for these provisions, and finally, that the legislation explicitly state that Iran's "long-range missile and nuclear weapons programs are inseparable."
Takht-Ravanchi said, "The U.S. should not set conditions or give ultimatum. It should be obvious for the U.S. that Iran will not be scared. We have said for several times that we will not be the first to pull out of the JCPOA, however, if we reach the point that we will not enjoy benefits of the agreement, we will quit the deal without paying attention to threats."
He also noted that Iran's defense capabilities are non-negotiable.
'It will not be end of world if Europeans scrap JCPOA'
Takht-Ravanchi said that Iran is ready for the worst scenario and it will not be "the end of the world" even if the Europeans decide to withdraw from the JCPOA.
However, he added, the Europeans do not seem to be willing to terminate the deal.
NA/PA