By Naghmeh Mizanian
A nurse, a mother, an angel
January 23, 2018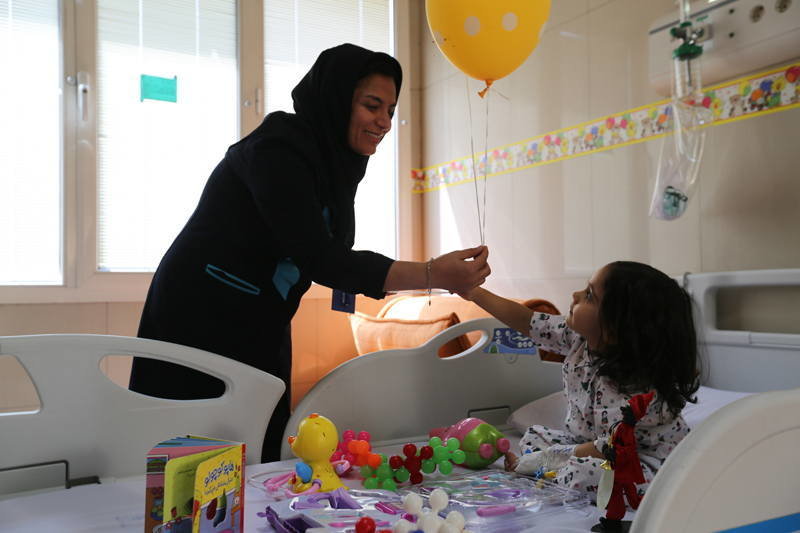 I was looking for her for twelve years.
She was not working at the same hospital anymore. None of her colleagues knew where she was working. "Maybe she is retired and she is no longer working," one of her colleagues told me. "No, she is transferred to one of the hospitals in her hometown, Shahsavar, you can find her there," said another old colleague of her.
I searched in the hospitals in the city of Tonekabon, previously called Shahsavar, in the northern province of Mazandaran. I called there.
"I am looking for a nurse who saved my son's life," I said, "her name was Mrs. Shahsavari, may I talk to her?" "What is her first name?" asked the operator. "I don't know," I replied. Here everybody's family name is Shahsavari, you should know her first name. I was upset but not disappointed.
Again I went to the hospital in which she had saved my son's life. All of her close friends had left there. Nobody knew her first name.
Twelve years passed. I was working as a tour guide. In any tour, when the passengers introduced themselves, and I found a nurse, I eagerly asked her whether she knew a nurse by the name of Mrs. Shahsavari. But nobody knew her.
Finally one of my nurse passengers told me that she maybe find her. I excitedly asked her to find her. It is twelve years that I wanted to thank her.
One week later my friend called me: "I have found Mrs. Shahsavari's cell number. She is retired now and she is living in the city of Shahsavar.
Immediately, I added her phone number to my contact list and looked at her profile picture. Yes, she was her. I fully remembered her loving face.
Then I couldn't call her. What can I tell her after twelve years? How can I thank her? Which words can show my sincere feelings?
Every day I tried to call her but I couldn't. Finally, on the National Nurse Day [falling on the birthday of Hazrat Zainab (SA) the daughter of Imam Ali (AS), the first Shia Imam] I decided to call her.
"This is Mrs. Shahsavari. Who is speaking? Who is speaking?" she replied the call, but I couldn't talk. I became dumb.
"You don't know me. You cannot remember me. But I remember you every day when I look at my son. You are the angel who saved his life," I told her.
She was surprised. I tried to remind her of that day. The day when my 3-day old baby couldn't breathe and she ran all the stairs from the third floor to the sixth, carrying the heavy suction machine. She removed obstructions from my son's airway and cleared his chest, so that he could breathe again. She didn't ask permission from anybody for bringing the machine upstairs. There was no time to ask permission. Maybe she would lose her job because of what she did without permission. But she saved my son's life.
I was crying from my whole heart. I don't remember that day, she said, "Such events have happened many times in my job. It was my duty to save a patient's life."
No, not everything a nurse does is her duty. It is a feeling of kindness, a feeling of motherhood, a feeling of humanity, a feeling of sacrifice which may not exist in many other jobs.
No word, no gift and nothing can compensate the troubles that a nurse burdens during her job. The only thing that I can do for Mrs. Shahsavari is to pray for her health and happiness every day.
May all nurses who sincerely sacrifice their life for the sake of sick people, gain the best happiness and health in their life and Happy Nurse Day.
NM/MQ/MG