Al-Abadi says Iran helped Iraq win the war on Daesh 
January 30, 2018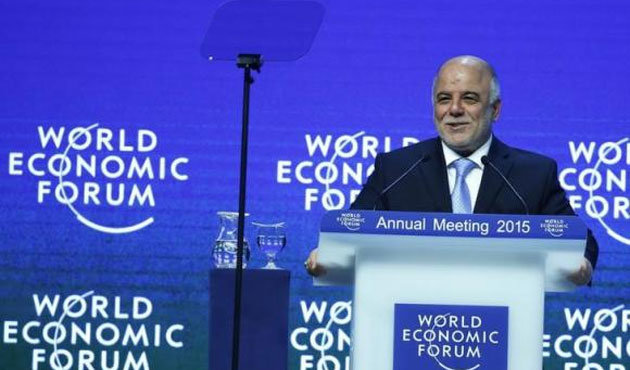 TEHRAN - Haider al-Abadi, the Iraqi prime minister, has said Iran has "zero" influence on his country and said Iran along with others helped Baghdad win the war against Daesh.
"Zero, I would say zero, I have to be frank," al-Abadi said when asked about Iran's influence in Iraq.
The Iraqi prime minister made the remarks in an interview with CNN on the sidelines of the World Economic Forum in Davos.
The prime minister said there are different factions in Iraq which favor relations with a particular country but the "Iraqi nationality" comes first.
"In every quarter including Iraq there are people supporting Iran, there are people supporting Saudi Arabia, people who are supporting the U.S. and the West but Iraqi Nationality should come first and by this we have decided that we should take our own decision to decide what is best for Iraq and I think we have gone a long way to do this."
On whether he agrees with the Saudi claim that Iran is a dark force in the region, he said, "No, I don't. Every force in the region has a dark and a white side to it."
Al-Abadi also said his country's intelligence agency has discovered that a group of potential suicide bombers are being trained in Syria but the United States and Russia are doing nothing against them.
"They are training would-be suicide bombers, very high skilled training. They want to send them to many countries; many cities and they want to have a campaign of terror attacks," he explained.
He added, "There are pockets of Daesh- I do not understand why it has not been eliminated in Syria, they are still there. I don't know what the coalition is waiting for. I don't know what the Russians are waiting for. There are pockets of Daesh inside Syria. They have a safe haven still there. Our intelligence tells us because we have very accurate intelligence. They are training would-be suicide bombers, very high skilled training. They want to send them to many countries; many cities and they want to have a campaign of terror attacks."
The prime minister said he does not know who supports these would-be suicide bombers. "It's not clear to us, they've just been left over in large areas within probably the area controlled by the Kurdish group and the Syrian government group."
On whether Donald Trump is good for Iraq, he said, "It's very hard for us to judge U.S. presidents; I have my own observations."
When asked who helped Iraq win the war against Daesh, the prime minister said, "I have to admit the cover support, the air support of the international coalition, led by the U.S., and of course the support given to us by the regional powers including of course the Iranians and other regional powers has enabled us to make this victory clean and fast."