Try fabricating 'evidence' again, Zarif tells U.S.
January 30, 2018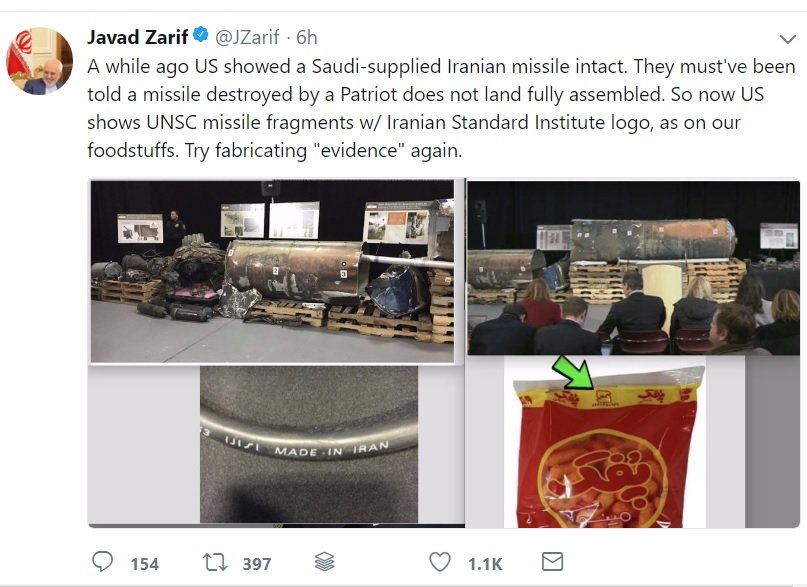 TEHRAN – Iranian Foreign Minister Mohammad Javad Zarif has ridiculed the recent moves by U.S. officials claiming that Iran is supplying missiles to Yemen, stressing that the Trump administration is again fabricating "evidence" to create an Iranphobic narrative at the UN.
On December 14, 2017, U.S. Ambassador to the UN Nikki Haley presented a charred tube and other material that she claimed were from an Iranian-made ballistic missile fired from Yemen at the King Khalid International Airport near the Saudi capital, Riyadh, on November 4. She claimed the "evidence" proved Iran's violation of United Nations resolutions banning the transfer of weapons to the Houthi Ansarullah fighters.
"A while ago U.S. showed a Saudi-supplied Iranian missile intact. They must've been told a missile destroyed by a Patriot does not land fully assembled. So now U.S. shows UNSC missile fragments w/ Iranian Standard Institute logo, as on our foodstuffs. Try fabricating 'evidence' again," Zarif said in a tweet late on Monday.
The remarks came after U.S. President Donald Trump escalated anti-Iran efforts on Monday, taking ambassadors from the United Nations Security Council on a field trip to inspect what American officials called remnants of Iranian missiles and other weaponry supplied to Houthis in Yemen.
After the November 4 missile attack on the Riyadh airport, Saudi Arabia claimed it had intercepted the missile, destroying it mid-air and before impact.
In another tweet earlier, Zarif said, "In the fake news department, Trump & Co. attempt to create an Iranphobic narrative at the UN Security Council—through wining and dining and fake 'evidence' provided by a warring neighbor—that would pass muster with only the same desperate neighbor & its accomplices in war crimes."
In similar remarks on December 15, Zarif said Washington is using "alternative facts" to cover up its complicity in war crimes in Yemen.
"While #Iran has been calling for ceasefire, aid and dialogue in #Yemen from day 1, U.S. has sold weapons enabling its allies to kill civilians and impose famine. No amount of alternative facts or alternative evidence covers up U.S. complicity in war crimes," Zarif tweeted.
The chief diplomat also compared Haley's allegations against Iran to those of former U.S. secretary of state Colin Powell who alleged in 2003 that former Iraqi dictator Saddam Hussein was hiding weapons of mass destruction in order to make a case for attacking the country.
"When I was based at the UN, I saw this show and what it begat...," tweeted Zarif.
MH/PA