Ambassador of the Republic of Korea hosts Iranian skiers
January 31, 2018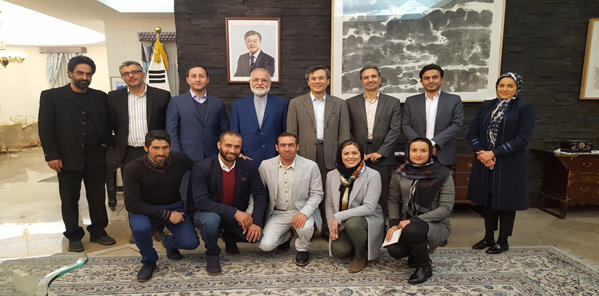 Kim Seung-ho, Ambassador of the Republic of Korea to Iran held a dinner reception at his residence on Jan 29 for four alpine and cross-country skiers and their head coaches who will take part in the Olympic Winter Games 2018 in PyeongChang, South Korea, February 9-25. He also invited Mr. Shahrokh Shahnazi, Secretary General of National Olympic Committee of the Islamic Republic of Iran and Mr. Seyyedabdi Eftekhari, President of Skiing Federation in order to further discuss issues of common interest and boost bilateral cooperation in the field of sports between the Republic of Korea and the Islamic Republic of Iran. 
On the same day, the Organizing Committee for PyeongChang confirmed that 2925 athletes from 92 countries will participate in the PyeongChang Winter Olympics slated for next month. This number is more than Sochi 2014 and the largest ever in size for a Winter Olympics. Six countries including Malaysia, Singapore, Ecuador, Eritrea, Kosovo and Nigeria will make their historic Winter Olympics debuts, which contributes to having the greatest number of participants in Winter Olympics history.
North Korea recently agreed to send 22 athletes including those who will join the unified inter-Korean women's ice hockey team. Athletes from both Koreas will march together under one flag into the opening ceremony for the PyeongChang Games. The Games will also be an occasion for multilateral diplomacy as 26 top-level foreign leaders are expected to visit South Korea.

With PyeongChang 2018, South Korea welcomes its second Olympic Games in 30 years – with the nation's first Olympic Games held in 1988 in Seoul. PyeongChang 2018 Paralympic Winter Games is all the significant since Seoul 1988 was the first Games that held both Olympic and Paralympic Games in the same city and year, which is a practice that continues to this day. Furthermore, the PyeongChang Olympics is meaningful since it will kick off a series of Olympic Games in Northeast Asia, which can become a platform to promote peace and cooperation in the region and beyond. South Korea will pass the baton to the 2020 Tokyo Summer Olympics and then to the 2022 Beijing Winter Olympics.