IAEA, EU reaffirm support for nuclear deal
February 9, 2018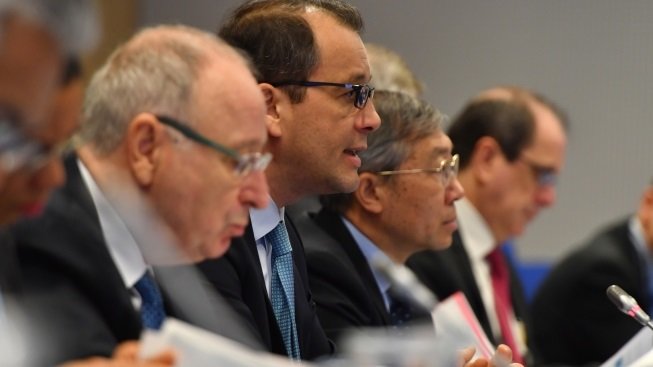 The International Atomic Energy Agency (IAEA) and the European Union (EU) on Thursday reaffirmed their support for the Iran nuclear agreement and reviewed progress achieved in working together on a range of nuclear activities.
"The EU and the IAEA reaffirmed support for the Joint Comprehensive Plan of Action (JCPOA) based on their respective mandates. The EU High Representative, as Coordinator of the Joint Commission established under the JCPOA, will remain in close contact with the IAEA regarding continued implementation of the agreement," the IAEA said in a statement.
It added, "The talks on 8 February at the IAEA's headquarters provided a forum for exchanging views on strengthening collaboration on nuclear safety, security, safeguards, sustainable development, nuclear energy research and increasing innovation."
Iran and six world powers — namely the U.S., Russia, China, France, Britain, and Germany — signed the nuclear deal, also called the JCPOA, in July 2015 and started implementing it in January 2016.
Under the accord, Iran undertook to apply certain limits to its nuclear program in exchange for the termination of all nuclear-related sanctions against Tehran.
U.S. President Donald Trump is opposed to the JCPOA, which was negotiated by his predecessor, Barack Obama. Last month, he extended sanctions waivers on Iran, lifted under the nuclear agreement, for another 120 days but said he was doing so "for the last time."
He further called on European allies and the U.S. Congress to work with him to fix what he called "the disastrous flaws" in the pact or face a U.S. exit.
'Blocking regulations'
Meanwhile, an EU official said the 28-nation bloc could put in place "blocking regulations" to ensure that its companies continue doing business with Iran if the United States pulls out of the JCPOA.
Denis Chaibi, head of the Iranian task force at the EU's external action service, told the Euromoney Iran Conference 2018 in Paris on Thursday that in case of a U.S. withdrawal, one of the bloc's options would be to restore "blocking regulations," which were agreed in 1996 amid Washington's economic sanctions against Cuba.
"We are looking at a number of possibilities. It is not complicated to do it legally in that the legal instrument exists, but it doesn't require a huge internal debate," Chaibi said, according to Press TV.
The EU rules "could be revived or put back, but only if it is clear that the U.S. is putting back sanctions with extraterritorial sanctions and that they are being applied. It can't be done protectively," he added.
MH/PA