By staff and agency
EU: nuclear deal is achievement of multilateral diplomacy
December 20, 2017 - 20:34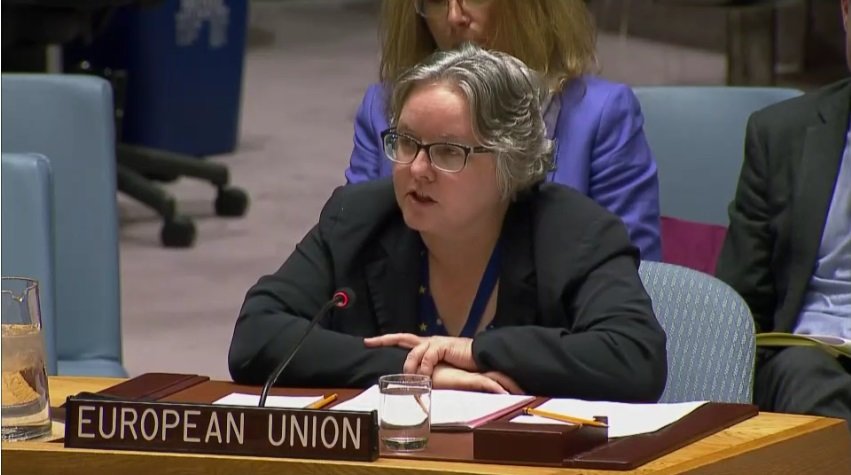 Joanne Adamson, the EU ambassador to the UN, said on Tuesday that the 2015 nuclear deal is "achievement of multilateral diplomacy."
The nuclear deal, officially called the Joint Comprehensive Plan of Action (JCPOA), was signed between Iran, the European Union, Germany and the five permanent members of the UN Security Council - the United States, Britain, France, China and Russia - in July 2015. The agreement went into effect in January 2016.
The UN Security Council approved a resolution endorsing the nuclear deal.
"The EU fully agrees with the Secretary-General's assessment that it is in the interest of the international community that the JCPOA – this achievement of multilateral diplomacy – overcomes implementation challenges, cementing our collective commitment to diplomacy and dialogue," Adamson said during a UN Security Council's meeting to review regular report on the Resolution 2231 related to the nuclear agreement.
Under the deal, Iran is obliged to put restrictions on its nuclear activities in exchange for termination of economic and financial sanctions.
Adamson said, "The JCPOA is working as intended. The IAEA, as the only body mandated by the Security Council to undertake the necessary verification and monitoring of Iran's nuclear-related commitments under the JCPOA, has issued nine reports – the latest on 13 November – confirming that Iran is abiding by its commitments under the deal."
She also said, "The JCPOA is a key strategic priority not only for European security, but also for regional and global security."

The EU ambassador to the UN also said, "While the community of nations faces once again the threat of unchecked nuclear capabilities, the JCPOA has become an example of a peaceful resolution of issues pertaining to the international non-proliferation agenda."
She said a great number of countries around the world insist on the need to protect the nuclear deal.
"An overwhelming number of partners around the world, in Africa, Asia, Latin America, and in the Pacific have signalled that they share the view that the JCPOA needs to be preserved and fully implemented," she explained.
NA/PA