Tehran, Moscow set to broaden economic co-op
March 7, 2018 - 19:36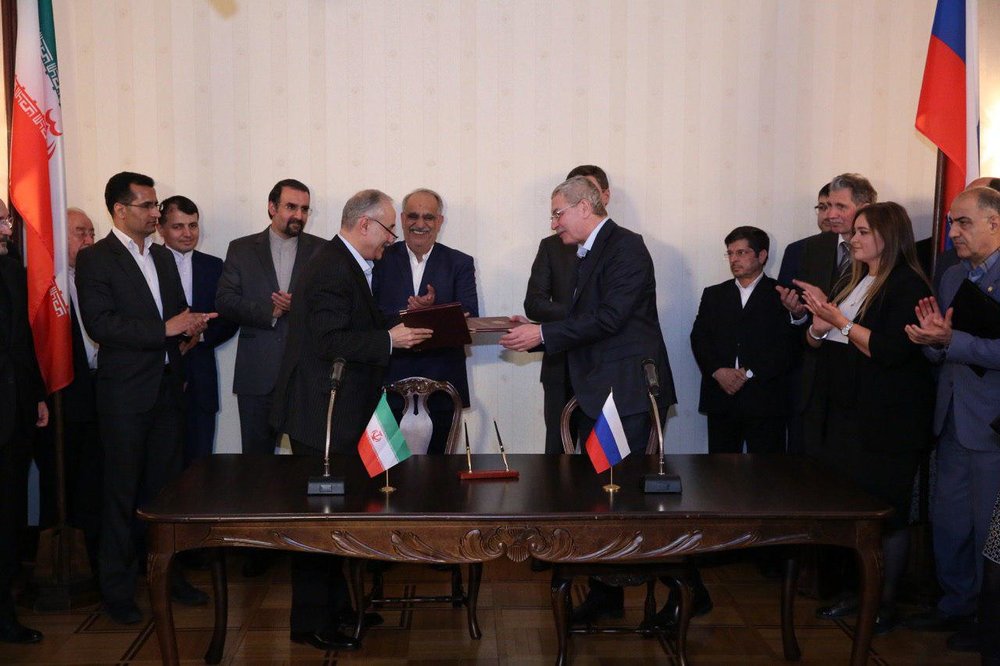 TEHRAN- The 14th meeting of Iran-Russian Joint Economic Committee wrapped up on Tuesday with signing a cooperation document by Iranian Finance and Economic Affairs Minister Masoud Karbasian and Russian Economic Development Minister Maxim Oreshkin in Moscow.
The two sides inked a couple of agreements for boosting cooperation in different areas including oil and gas, transport and transit, geology and mining, as well as conducting joint research and development projects in the field of underground resources, and launching joint venture in thermal power projects, IRNA reported.
Karbasian, the Iranian chairman of the joint committee, leading a delegation of Iranian officials and businessmen, left Tehran for Moscow on Sunday to attend the two-day Joint Economic Committee meeting, which was held on Monday and Tuesday, and visit a number of Russian officials.
Iran, Russia may enter free trade zone agreement in spring
Russia and Iran can sign the document that is expected to become a blueprint for free trade between Iran and the EAEU (Eurasian Economic Union) countries in May, TASS quoted Russian Energy Minister Alexander Novak as saying in the Joint Economic Committee meeting on Tuesday.
"The move to enter into a temporary agreement making for a free trade zone to be set up between Iran and the Eurasian Economic Union, which is currently at an advanced stage, will obviously trigger further development of our bilateral trade and expansion of investment cooperation," Novak, who is the Russian chairman of the joint committee, said, adding that he hopes "the document will be signed in May."
Earlier, Iran's Ambassador to Russia Mehdi Sanaei said in an interview with TASS that the talks on a free trade zone to be established between the Eurasian Economic Union and Iran are close to completion.
The work on a free trade zone between Iran and the Eurasian Economic Union began in 2015, though the signing has been repeatedly postponed
Russian oil firms in talks with Iran on oilfield development
Russian oil companies could sign contracts with Iran by March 21 that would allow them to work on Iranian oilfields, Reuters quoted Novak as saying on Tuesday.
Novak also said Iran was ready to supply crude oil to Russia but that would depend on future agreements with the buyers of the oil.
Final talks with 2 Russian companies on 3 Iranian oilfields
Iran is in final negotiations with two Russian companies on development of three oilfields in Iran, Amir-Hossein Zamaninia, the Iranian deputy oil minister for trade and international affairs, announced on Tuesday.
The official said that conducting study on 11 Iranian oil and gas fields has been handed over to seven Russian companies; talks of three of them are in the final stages and may lead to signing development contract within the next few weeks, Shana news agency reported.
MA/MG