Smugglers selling aquatic species face punishment: official
March 14, 2018 - 20:5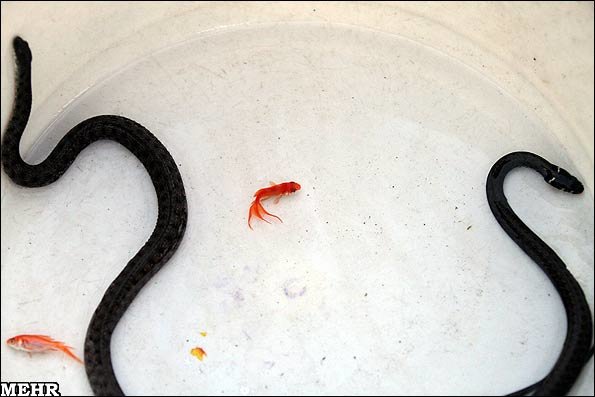 TEHRAN — Animal smugglers who sell aquatic species including emys, water snakes and Lorestan mountain newt will face punishment, chief of Tehran Department of Environment said on Wednesday.
For some years now, particularly over the last Iranian calendar month of Esfand (February 20 to March 20), some animal smugglers trade aquatic species as pet along with goldfish for Noruz, Iranian New Year.
Traditionally Iranians set a table with seven symbolical items starting with "S" in Persian language as well as mirror, candles, holy Quran, colorful eggs, and goldfish. But recently some also purchase aquatic species as pet while purchasing the aforesaid items.
The wild animals do not typically make good pets and should not be raised as pet. They normally won't last long away from their natural habitats and are doomed to death. Moreover, some of them, such as Lorestan mountain newt are endangered species which are already facing threats and may soon extinct with the current trend.
Except for goldfish, others who are selling the aforementioned species will face legal punishment if caught, ISNA news agency qouted Mohammad Hossein Bazgir as saying.
As per the law pet trade is punishable by fine and imprisonment. In this case smugglers who sell emys, water snakes and Lorestan mountain newt will face fine of $66 per animal.
Naqi Mirzakarimi, Tehran province commander of environment protection unit, has said over the past week some 800 water snake and 1,500 emys were seized and transferred to Pardisan park animal rehabilitation center.

"This year Lorestan mountain newt pet trade has dramatically decreased and we hope that by creating a culture among the public and raising awareness the same thing happens for the other animal species," Mirzakarimi added.
Do not dump goldfish into the wild
Mohammad Darvish, environmental activist and the board member at Research Institute of Forests and Rangelands, has encouraged the public to avoid dumping their goldfish in the rivers and lakes after the holidays as they can have quite unexpected and serious biological and ecological consequences.
According to an article published in September 2016 in New York Times goldfish are also an ecological nightmare. Goldfish swim along the bottom of lakes and rivers, uprooting vegetation, disturbing sediment and releasing nutrients that trigger excess algal growth. They feed broadly, eating algae, small invertebrates and fish eggs. To add insult to injury, they transmit exotic diseases and parasites.
Females produce up to 40,000 eggs each year — much more than most freshwater fish species — and are capable of interbreeding with other species of wild carp. With no natural predators, a large portion of goldfish offspring survive to reproductive age, continuing a cycle of rampant overpopulation.
With regard to the fact that many are worried about the negative environmental effects of buying goldfish, Darvish has highlighted that while fresh water fish are threatened by human interference such as dam construction and releasing waste water into the seas on a bigger scale arguing about whether we should buy goldfish or does not seem relevant.
"Buying goldfish for haft seen is a longstanding tradition and it should not be broken," he concluded.
MQ/MG