President: Gov't to strongly back all private sectors active in production
March 21, 2018 - 16:50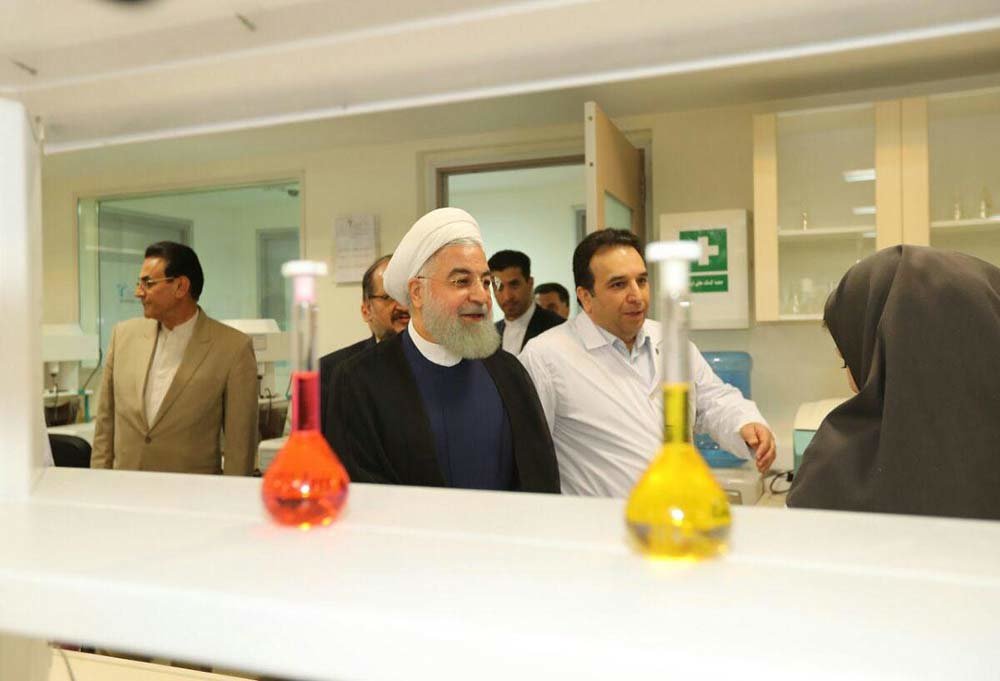 President Rouhani called on all entrepreneurs, investors and Iranians inside and outside the country to use their capital, knowledge, and expertise for the development of the country and stressed that in the new year, they must do their utmost for a big increase in national production.
While visiting different parts of Tehran Chemie Pharmaceuticals Company on Wednesday on the first day of the new year, President Hassan Rouhani told reporters: "I hope this year will be a year full of blessings for everybody and we witness significant positive changes in people's lives".
Referring to visiting parts of the complex, Dr Rouhani said: "What we saw was very remarkable. Firstly, this complex is working to reach global standards. This is very important that the medicine produced in Iran are exported to other countries".
"When a product can be exported to global markets, it means that its quality is acceptable, its price is competitive and it is on the right track of production," he continued.
The President added: "This complex has got very good and well-equipped laboratories and promising work is being done in its research and development unit".
He went on to say: "The government will strongly support all private sectors working in production, especially those who are carrying out knowledge-based activities".
Stressing that in the new year, everybody must be prepared more than before for a great move in national production, economic progress and producing more wealth, he said: "This is why in my Nowruz address I called on all people, entrepreneurs, investors and all Iranians living inside and outside the country to bring their capital, knowledge and expertise for the country's progress".
We must pay attention to what our young generation wants, said Rouhani, adding: "Our managers are often in an age that cannot see the far future in their life, therefore, our young generation should make themselves ready for management and planning".
"The young demand more transparency, better economy, more freedom, open culture and better relations with the world," added the President.
He also said: "One of the serious attempts by the 11th and 12th Government was to establish the right of having interaction with the world for the people and especially the young, in order to let them connect to the world through the tools and devices they own".
Stating that "year 1397 must be the year of more transparency and fight against corruption," Dr Rouhani continued: "This is what our young generation demand".
The president also appreciated all relief workers, doctors, tourism teams, the police and other forces who serve the people in these days of Nowruz.
(Source: president.ir)