Permanent expo of women's handicrafts opens in Yazd
May 15, 2018 - 10:7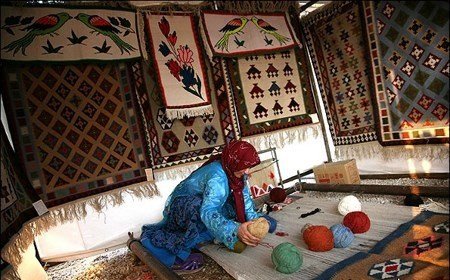 TEHRAN – The first permanent exhibition of women's handicrafts opened in the central city of Yazd on Saturday.
The exhibition aims at introducing women's achievements in economic development and supporting domestic production, IRNA reported.
It also follows the goal of introducing empowered women and improving their self-confidence.
A workshop on training handicraft skills is to be held on the sidelines of the exhibition.
One of the characteristics of knowledge-based cities is entrepreneurship, said Mehdi Jamali, the mayor of the city of Yazd, adding that Yazd enjoys potentiality of being a pilot city for entrepreneurship.
Women's market is to be established in different parts of the city, Jamali announced hoping the city of Yazd to become a model entrepreneurship city.
The exhibition includes 25 pavilions containing different handicrafts including, hand-woven carpets, Kilims, Jajims and termeh cloths as well as other types of handicrafts.
A number of 40 handicraft fields are active in the city of Yazd and more than 3,000 craftsmen and craftswomen are active in this industry.
NM/MQ/