Doha hosts Iran-Qatar business forum
May 15, 2018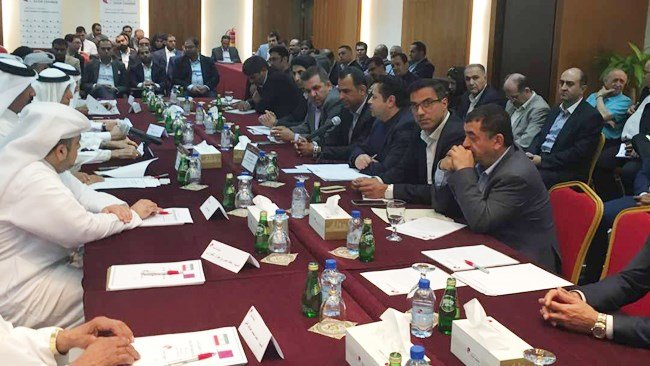 TEHRAN- An Iran-Qatar business forum attended by a number of Iranian and Qatari traders and businessmen was held in Qatar's capital Doha on Monday.
Addressing the forum, Hossein Pir-Moazzen, a board member of Iran Chamber of Commerce, Industries, Mines and Agriculture (ICCIMA), who headed the Iranian participants, referred to the negotiations made during the sixth meeting of Iran-Qatar Joint Economic Committee, which was held in Doha on Sunday and Monday, and said establishment of preferential tariffs between the two sides, facilitation of banking ties, facilitation of visa issuance for the two sides' businessmen, and cooperation in transportation and transit as some important issues discussed during the meeting.
Muhammed Bin Ahmed Bin Towar Al Kuwari, the vice chairman of Qatar Chamber of Commerce, for his part, expressed the willingness of Qatari traders for business with Iran and said necessary condition is ready for the expansion of bilateral cooperation.
A 70-memebr delegation of Iranian traders and businessmen headed by Deputy Industry, Mining and Trade Minister Mohammadreza Fayyaz arrived in Doha on Sunday to attend the sixth meeting of Iran-Qatar Joint Economic Committee.
The previous meeting of the joint economic committee had been held some 13 years ago.
MA