Syed Zafar Mehdi
Is U.S. President officially in charge of India's foreign policy now?
July 1, 2018 - 10:53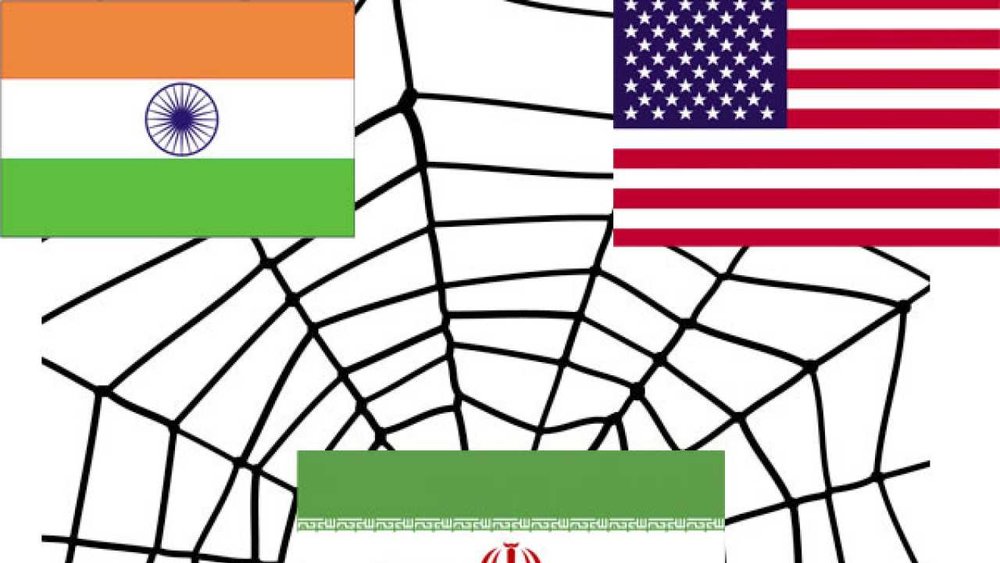 The megalomaniac man in the White House has embarked on an economic offensive against the Islamic Republic of Iran, with Tuesday's announcement that the U.S. State Department intends to cut off all Iranian oil exports by November 4.
Many countries have felt the heat. But among Iran's three biggest buyers of oil – China, India, and Turkey – only India has buckled under the U.S. pressure. These three countries account for about half of Iran's oil exports.
Ankara and Beijing have refused to cut oil imports from Iran, claiming that the corrosively unilateral U.S. sanctions are not binding on them so they won't pay heed to Trump's diktats. China, Iran's biggest purchaser, accounts for about one-quarter of Iran's oil sales – 600,000 barrels a day out of total 2.2 million barrels a day Iran exports. What makes it difficult to persuade China to limit its purchases from Iran is the escalating trade war between Beijing and Washington.
India is Iran's second largest buyer and Iran is India's third largest supplier. Iran's share in India's import volumes stands at 10.4 percent in the current financial year, and the recent developments indicated enhanced cooperation between the two countries, especially since President Hassan Rouhani's historic visit to India in February. At least, that is what appeared.
During President Rouhani's visit, the two countries with age-old historical, commercial and cultural ties had pledged to deepen bilateral ties and enhance cooperation in areas of mutual interest, including energy, petroleum and gas. The two sides had also agreed on 'rupee-rial mechanism' to evade banking problems caused by the draconian U.S. sanctions.
Iran has been the main supplier of crude oil to India, even at the peak of Western sanctions between 2012 and 2016. Although the volume of business was affected by the crippling sanctions, the partnership did not break down. The export of crude oil had substantially increased in last one year, making Iran the third largest oil exporter for India.
A few weeks ago, India's Foreign Minister Sushma Swaraj, in a rebuke to Trump administration, had declared that India will not respect unilateral U.S. sanctions against Iran and will recognize only the UN sanctions. It was seen as a principled stand against an unprincipled regime that seeks to impose its hegemony over the world. The vibes were nice but nobody exactly knew what was brewing behind the scenes.
A few days ago, less than a month after Swaraj's statement, India buckled under the overwhelming U.S. pressure, betraying national interest and confirming its status as a pygmy, rather than a giant. Incidentally, it happened a day after U.S. ambassador to UN Nikki Haley visited India. India's oil ministry ordered refiners to prepare for drastic reduction or zero import of Iranian oil from November when the 180-day wind-down period ends. The news stirred hornet's nest in India as any cut in Iranian oil means substantial jump in oil prices in India, which will hit people hard.
Modi-led BJP government in New Delhi has come under blistering criticism at home over this 'ill-advised' decision that will only tarnish India's reputation globally. Responsible nation states act responsibly without allowing anyone to bully or threaten them. By succumbing to the pressure of U.S., India has not only risked its age-old ties with Tehran, but also demonstrated its weak diplomacy.
As one Twitter user sardonically and quite rightly asked, is the U.S. President officially in charge of India's foreign policy now? A country that aspires to be a global power, a financial and industrial giant, a protagonist of new international policy, and a viable counter-weight to China's rise is outsourcing its foreign policy to a country that has a terrible foreign policy record. India has just touched a new low.
A senior Communist Party of India (CPIM) leader Sitaram Yechury took to Twitter to blast the Modi-led government for kneeling before the U.S. "India had stated only sanctions by the UN would be acceptable not by individual countries. What is India's foreign policy under Modi about? Following US diktats, and betraying India's interests," he asked, bluntly.
Randeep Singh Surejewala, spokesperson of the main opposition party Congress, said the decision was not in national interest. "Will the PM and Petroleum Minister tell the nation if they will adhere to the U.S. decision asking to stop oil imports from Iran and its impact on petro prices and national interests," he tweeted.
Gaurav Pandhi, a young Congress leader, lamented that his country was 'bowing' to pressures. "We always stood up to any country that tried to arm-twist us. But now we 'bow' to pressures," he wrote. Ashok Swain, a university professor, said Trump's "small hands" were big enough for "Modi's 56 inch chest", referring to Modi's oft-repeated assertion, which has become an idiom of political machismo in India now.
India's foolhardy decision to cut Iranian oil imports under U.S. pressure at a time when the U.S. government has imposed higher tariff on many Indian products shows how the power dynamics work. However, the mood is Iran remains upbeat. Iranians are not panicking just because India has backstabbed them. The country has seen the worst and bounced back stronger every time.
The U.S. attempts to destabilize Iran and provoke Iranians against their government are bound to fail. Trump, Pompoe, Bolton and their surrogates in Tel Aviv and Riyadh would do well to remember that it is Iran, not just any other country where they can play their dirty games.