Non-communicable diseases cause 82% of deaths in Iran
July 2, 2018 - 11:20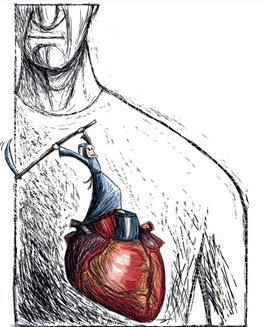 TEHRAN – Some 82 percent of deaths in Iran are linked with the main types of non-communicable diseases (NCDs), said deputy health minister for nursing.
Maryam Hazrati made the remarks during the second meeting of the National Non-Communicable Disease Committee, Fars reported on Sunday.
The main types of NCDs are cardiovascular diseases (like heart attacks and stroke), cancers, chronic respiratory diseases (such as chronic obstructive pulmonary disease and asthma) and diabetes.
However, lifestyle changes can significantly reduce the incidence of the diseases, she noted.
In line with the World Health Organization's activities to combat NCDs in 2015, the National Non-Communicable Disease Committee was established in Iran headed by the health minister.
There are nine subcommittees affiliated with this committee, each tasked with responsibilities related to NCDs, Hazrati said.
In this regard, the task force on educating the public and prevention of non-communicable diseases has been assigned to the nursing department, she added.
She also noted that "currently, a draft on training patients and patients' family, and also a draft on training nurses are drawn up, which requires to be approved by the Minister of Health and the ministry's deputies".
Additionally, a memorandum of understanding was signed with the social directorate of Ministry of Health, she stated, adding, "according to the MOU, a weekly TV show on the importance of self-care will be aired on TV, with the presence of a professional nurse".
"Moreover, healthy lifestyle educational programs which will be taught at schools by nurses are among the other measures taken by the task force," she added.
Non-communicable diseases, also known as chronic diseases, tend to be of long duration and are the result of a combination of genetic, physiological, environmental and behavioral factors.
As per the data collected by WHO non-communicable diseases kill 40 million people each year, equivalent to 70% of all deaths globally.
NCDs in Iran account for 82 percent of all deaths. Over the past 20 years, deaths caused by NCDs have risen by 14.5%.
FB/MQ/MG