Iran must enjoy nuclear deal benefits: diplomat
July 4, 2018 - 11:26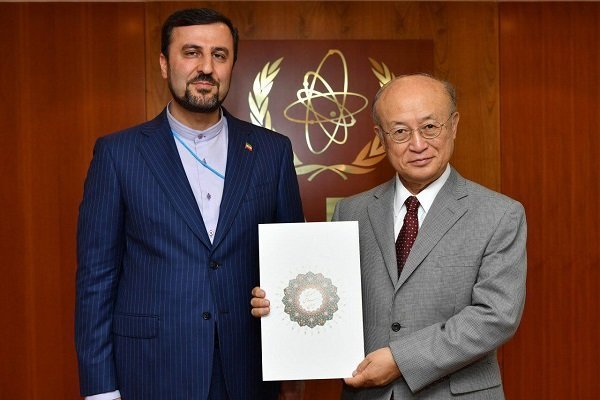 TEHRAN - Kazem Gharib Abadi, Tehran's new representative to the International Atomic Energy Agency, said on Monday that Iran must enjoy benefits of the 2015 nuclear deal, formally called the Joint Comprehensive Plan of Action (JCPOA).
"The JCPOA is not a one way road. The other sides should meet their commitments in order for it to survive and Iran must enjoy its benefits," he said while submitting his credentials to Yukio Amano, the director general of the IAEA.
Gharib Abadi said Iran attaches great importance to "independent", "professional" and "unbiased" role of the IAEA.
Elsewhere, he said the U.S. withdrawal from the nuclear deal is a clear violation of international law enshrined in the resolution 2231 of the UN Security Council.
Donald Trump withdrew the United States from the multilateral nuclear agreement in May and plans to reintroduce sanctions against Iran. He has threatened to sanction any foreign company that cooperates with Iran.
The nuclear deal, struck in July 2015 between Iran, the European Union, Germany and the five permanent members of the UN Security Council, was endorsed by the UN Security Council Resolution 2231. The agreement went into force in January 2016. Since that date the IAEA has issued 11 reports each time confirming that Iran is complying with the JCPAO.
Iran has repeatedly warned that if its interests are not guaranteed under the nuclear agreement it would resume its nuclear activities with a greater speed.
NA/PA