IRGC: 'Either all can use the Strait of Hormuz or no one'
July 6, 2018 - 21:18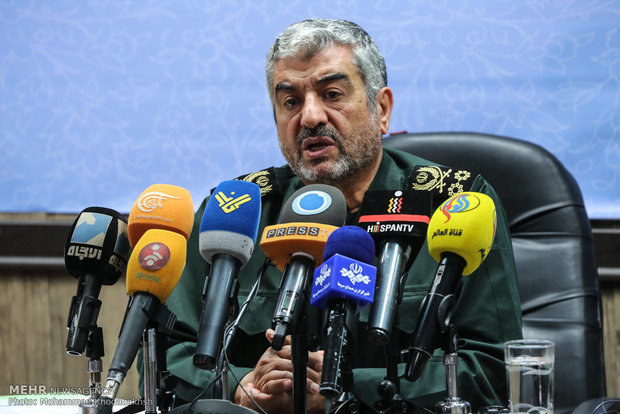 TEHRAN – Chief of the Islamic Revolution Guard Corps (IRGC) has said that Iran is ready to implement President Hassan Rouhani's threat to block the Strait of Hormuz if Iran would not be able to export its oil under threat of Washington's sanctions. 
"We are hopeful that this plan expressed by our president will be implemented if needed ... We will make the enemy understand that either all can use the Strait of Hormuz or no one," Major General Mohammad Ali Jafari said on Thursday, Tasnim reported.
General Jafari also hailed the Iranian president's "decisive" stance against Washington's threats.
It came after President Rouhani warned against any attempt to block Iranian oil exports in the light of U.S. withdrawal from the 2015 nuclear deal.
The fate of the nuclear deal is in the balance after Donald Trump pulled the U.S. out of it in May before imposing new sanctions despite European resistance and Tehran's adherence to the agreement.
Rouhani said on Monday that it was "unwise" to think that "one day all oil producing countries would export their surplus oil and Iran would be the only country that cannot export its oil." He added, "Do this if you can and see its consequences!"
The Strait of Hormuz, which sits at the mouth of the Persian Gulf, provides the only maritime passage from the Persian Gulf to the open ocean and is one of the world's most strategically important choke points.
Through the strategic waterway, a large share of the world's oil shipments pass. The strait also serves as a key maritime route for shipments of liquefied natural gas.
MH/PA