IRGC held war games in Persian Gulf, Strait of Hormuz
August 5, 2018 - 21:4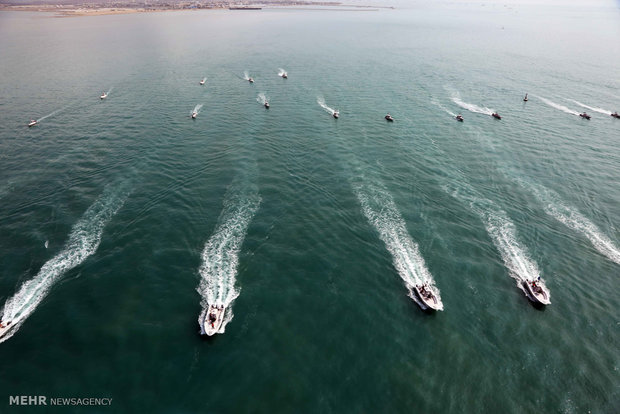 TEHRAN - Brigadier General Ramazan Sharif, the spokesman for the Islamic Revolution Guards Corps, said on Sunday that the IRGC held military exercises in the Persian Gulf and the strategic Strait of Hormuz over past few days.
"This drill was aimed at protecting security of the international waterway and within the framework of the Guards' annual drills," he stated.
General Sharif said IRGC chief Mohammad Ali Jafari appreciated the war games and highlighted the importance of promoting readiness to protect security in the Persian Gulf and counter threats.
The exercise included naval and aerospace units, the IRGC spokesman added.
Jafari said in July that the IRGC is ready to implement President Hassan Rouhani's threat to block the Strait of Hormuz if Iran would not be able to export its oil under threat of Washington's sanctions.
Addressing a gathering of Iranian diplomats in July, Rouhani warned U.S. President Donad Trump about his hostile stance against Iran, saying, "Mr. Trump, do not play with the lion's tail, this would only lead to regret."
Rouhani also said Iran has control over other strategic places other than the Strait of Hormuz.

"One who understands politics even a little bit wouldn't say 'we will stop Iran's oil exports'," he said.
Chief of Staff of the Iranian Armed Forces Mohammad Baqeri also issued a statement in July, saying Iran is capable of adopting "any strategy" in the strategic Strait of Hormuz and the Persian Gulf region.
The Strait of Hormuz is a highly important strategic location for international trade. About 20% of oil traded worldwide moving through the waterway, which is about 30 miles wide at its narrowest point. It sits at the mouth of the Persian Gulf and provides the only maritime passage from the Persian Gulf to the open ocean and is one of the world's most strategically important choke points.
NA/PA