Iran able to 'adopt any strategy' in Strait of Hormuz: military chief
July 24, 2018 - 21:45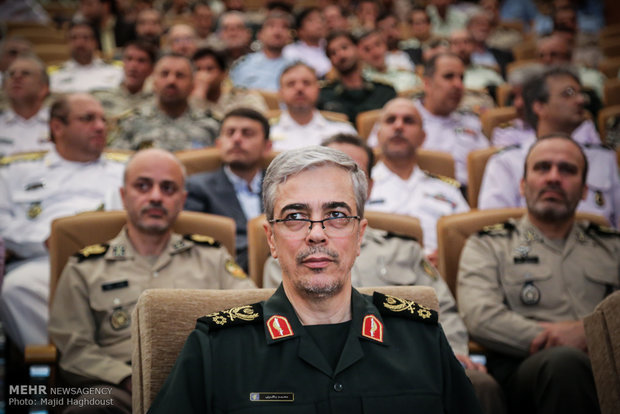 TEHRAN - Chief of Staff of the Iranian Armed Forces Mohammad Baqeri issued a statement on Tuesday saying Iran is capable of adopting "any strategy" in the strategic Strait of Hormuz and the Persian Gulf region.
Iran has threatened to shut down the Strait of Hormuz if it cannot export its crude oil as the Trump administration, which withdrew from the 2015 nuclear deal in May, is reintroducing economic sanctions including oil embargo against Iran.
Strait of Hormuz is a highly important strategic location for international trade. The U.S. Energy Information Administration estimates a record 18.5 million barrels per day of sea-borne oil passed through it in 2016.
General Baqeri said Iran has always "guaranteed security of shipping in the Persian Gulf and can adopt any strategy in this region".

He went on to say that U.S. President Donald Trump, "as the most hateful figure in the world", is under the illusion that economic pressure on Tehran can cause division among the Iranians.
"During the past four decades, the brave and revolutionary Iranian nation has shown that they make extra efforts in the ups and downs and turn the shortcomings into opportunities and they also foil plots of enemies, especially the criminal U.S., the fake Zionist regime and their allies through unity and integrity," the senior commander stated.
Elsewhere, he said that Iran has never started a war and has always helped maintain regional peace and stability.
Addressing a gathering of Iranian diplomats on Sunday, President Hassan Rouhani warned Trump about his hostile stance against Iran, saying, "Mr. Trump, do not play with the lion's tail, this would only lead to regret."
Rouhani also said Iran has control over other strategic places other than the Strait of Hormuz.

"One who understands politics even a little bit wouldn't say 'we will stop Iran's oil exports'," he said.
NA/PA