Alireza Faghani lauds Asian referees at World Cup
July 8, 2018 - 22:41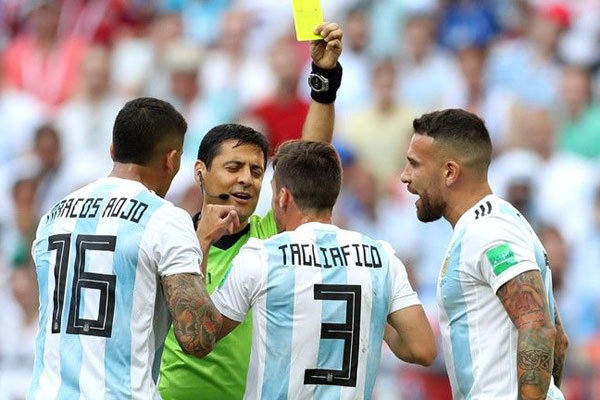 TEHRAN - Iran's Alireza Faghani says the Asian referees have done well so far at the 2018 World Cup in Russia.
Faghani has taken charge of a number of high-profile games in Asia and is up there among the best in the world.
In his impressive career, the 40-year-old has officiated finals of the 2014 AFC Champions League, 2015 AFC Asian Cup, 2015 FIFA Club World Cup and the 2016 Olympic Football Tournament.
Faghani started his career in 1994 and became a FIFA referee in 2008. By 2009 he become an elite referee and went on to build his career by officiating in the AFC Cup, AFC Champions League and two years later, participated in the 2014 FIFA World Cup in Brazil as a support referee.
The 2016 AFC Referee of the Year built on the experience and officiated in the 2017 FIFA Confederations Cup semi-final and was also tasked with the 2018 FIFA World Cup Qualifiers Asian play-off match between Syria and Australia.
The 2018 edition is Faghani's second stint in the World Cup. His last appearance was in Brazil 2014 where he was the fourth official for seven matches, including the opening match between hosts Brazil and Croatia.
Faghani has officiated three matches, namely Germany and Mexico, Serbia and Brazil as well as Argentina and France so far and was fourth official of Uruguay and France match.
In an exclusive interview with Tehran Times, Faghani reveals they have still a chance of officiating in the final match.
Bright Future Ahead of Asian Referees
"The all referees have done well in the 2018 World Cup so far as well as the Asian referees. I think the Asian referees have a bright future ahead of them. The AFC Project Future Referees Batch is a unique elite development program who helps the continent's young referees. The Asian referees will also participate at the AFC Referee Academy which will focus on the AFC's objective of increasing the number of AFC referees at world-class level and extending development support to the AFC Member Associations."
Still Hopeful of Officiating in Final Match
"As I've already said, my dream is to officiate at the 2018 FIFA World Cup final match. It's still not clear who will whistle the final match. We see an all European last four but there is no reason a European referee to officiate the final match. We have still a chance of officiating in the final. I believe that the all referees have done well so far despite the Video Assistant Referees (VAR). The 2019 AFC Asian Cup will be held in the UAE in January and the Asian referees are preparing for the competition."