Alireza Jahanbakhsh; Persian Pride
July 13, 2018 - 18:30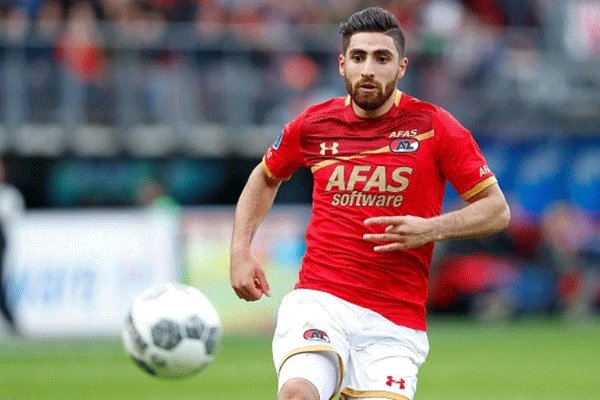 Alireza Jahanbakhsh lives to play football. Born in Qazvin to the manager of a local bicycle factory and a stay-at-home mother, football was a shared love for the Jahanbakhsh family.
"I come from a really big football family; my uncles, my cousins, they really love football," the 24-year-old revealed. "One of the most amazing moments that I still remember is the qualification for 1998, I was five or six years old and the dramatic qualifying of Iran to the World Cup against Australia. The country was crazy; everyone was out [in the streets]. It was crazy and people were so happy. My parents, my father, who is crazy about football, and I still remember the people were cheering and dancing in the streets."

It was that moment that inspired Jahanbakhsh, the second of three children – he has an older sister and younger brother – to take up the sport. But had a school teacher not intervened, Jahanbakhsh may have been lost to football at an early age. A prodigious talent in multiple sports, Jahanbakhsh was selected for the junior national teams in both handball and futsal.

"I tried different sports," he explained. "Kung fu and athletics; I played handball for the national team, and I was also selected for the country's youth futsal team. I think when I was 12 we had a sport teacher in the school, he told me I had to find my way, I had to choose between football and futsal. And at that time I would rather play football."

Like so many of Iran's footballers, Jahanbakhsh learned his craft playing in the streets with his friends from his local neighborhood in Qazvin.

"What I really remember about that time was I was in a hurry to finish school and to go and play in the streets with the guys from the neighborhood," he recalled. "All that mattered for me was that small ball and playing with the ball. It didn't matter if that was in the afternoon in 32 or 35 degrees or even in the winter in the cold weather. I had a lot of fun. "The nicest thing I remember was always playing with the older people because they were always saying 'he has really nice skills' and they wanted me on their team. It was such a great time."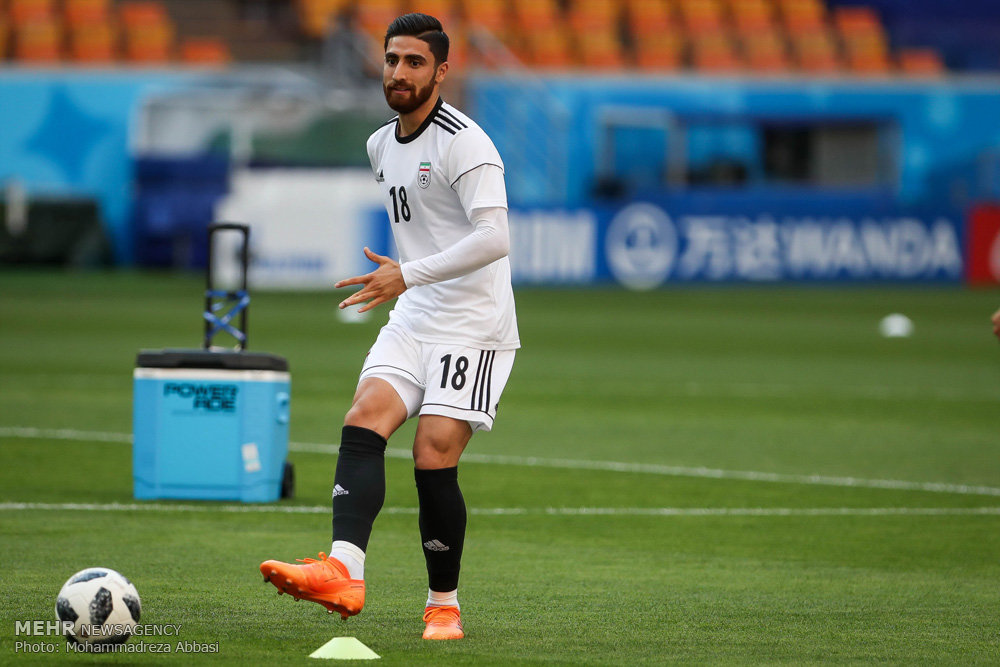 With his talent obvious for all to see, his parents were only too happy to nurture their son's ambitions. "We weren't from a rich family, but [my father] was always supporting me because he knew that I was just following my ambitions, following my dreams," he said.

But his father also wanted his eldest son to learn the value of hard work. Over the summer break, when Jahanbakhsh was a young teenager, his father made him work in the bicycle factory alongside him to engender a sense of independence in his son – but there was a downside.

"I was working just fixing the wheels of the bicycles. My father told me if you want to get some money you have to come there and work and be independent and earn your own money. And I was working there fixing the wheels in the factory; it was also a lot of fun. But what made me a little bit annoyed was I had less time to play football as I had to work from six o'clock in the morning to five or six o'clock in the evening, and then afterwards I had only three hours to play football. I was so tired but still I went to the street to play."

Before too long Jahanbakhsh had outgrown his hometown and at the age of just 15 moved to Tehran to further his burgeoning football career. He made his professional debut at age 17 for Damash Gilan, a club that represents the province of Gilan in northern Iran, where his parents were born and raised. Looking for any opportunity to play, Jahanbakhsh began his career as a fullback, because the right wing position was already occupied by Iranian legend Mehdi Mahdavikia.

"The first game that I played in the first division in Iran I played as a right-back," he said with a chuckle. "At that time the club spent a lot of money, they invested in a lot of big players, so they took Mehdi to the club, but he wanted to play as a right winger. So they were searching for someone and the coach said, 'ah this little kid, he has potential to play right-back'. I was 17 and he asked me can you do that and I said 'why not? [I'll play] wherever'. I played right-back the first game, and also the second game, but afterwards I told them I would like to play closer to goal, so I went to the right wing."

And he hasn't looked back since. Given his prodigious ability it wasn't long before scouts in Europe were aware of his talents – skills that were on full display at the 2012 AFC U-19 Championships, where he scored two goals as he helped Iran reach the quarter-final.

"After the tournament I heard that I had an offer from NEC Nijmegen," he said. "They gave me an offer, and at that time I had offers from France and Turkey. But I knew because of their academies and the way they work with the youth and everything, that in Holland they could help me more," explained Jahanbakhsh.

"In Iran we have a lot of good players, [but] mostly we are individual players with good skills. But I knew if I wanted to be a better player, to become better and better every single day, there would be a limit in Iran. So if you want to make it further you have to go to Europe. And the learning didn't just come on the pitch, the adjustment to life in a foreign country at just 19 years of age was not easy. The first couple of weeks were really tough because Holland is really different from Iran," said the forward, who spoke only a little English when he arrived.

"It's a different culture, different language, different mindset. They're one of the freest countries in the world. I am going from an Islamic country to the freest country in the world, so it was difficult and I had to adapt myself to different situations, like how to communicate with the people. Communication with my teammates was really difficult because I couldn't understand them. When I got the offer from NEC I had almost two months to decide if I wanted to go or not. In that time I had a personal [English] teacher. But that wasn't enough. When I went there I understood my teammates, but just to answer, just to say what I wanted was really difficult. But the club asked the local teacher to teach me how to speak. At the same time I was learning English and also a little bit of Dutch. It was great and after a couple of months I could speak with my teammates."

After two seasons with NEC Nijmegen, during which he won the Eerste Divisie (second division) Player of the Year award in his second year at the club, the opportunity presented itself to take the next step in his career.

"It was a big decision because I knew at the age of 21-22 you have to make a really good step," he explained. "Because I became the Player of the Year, everyone expected me to make a good step. I had different offers but I wanted to stay in Holland because I wanted to learn more, to stay in the competition, because after two years I knew more about the culture, about the language, the people, the style of football – everything. I had three offers and AZ Alkmaar was the best I had at that time, and I am very happy I made that step."

A knee injury in his first season meant he couldn't have the impact he would have liked, with just three goals in 23 matches. In his second season he improved his output and hit double figures, with 10 goals. But his third season, the 2017/18 campaign, saw him take his game to a whole new level. His 21 goals were enough for him to win the Golden Boot award, while he also finished in the top three in the league for assists with 12, which he says gives him more satisfaction than scoring goals.

"For me personally giving assists is a better feeling than scoring goals," he revealed. That doesn't mean he doesn't value the Golden Boot award, however, admitting it is his greatest achievement in his career so far – but he wants more.

"To be honest until now it's the top moment in my career," he said. "That means a lot to me. That says that hard work pays off. I dedicated this to my family, my agent, my friends, all my teammates; all the people who helped me. It's been an amazing feeling, but on the other side I am also going to forget it because I have a long way to go and I want to achieve more things as an individual and as a team."

At the same time he was flourishing in Europe, so too was his career with the Iran national team. He was just 19 when he was named in the 23-man squad for the 2014 FIFA World Cup in Brazil and, while he only managed 49 minutes off the bench across the three group stage matches, just having that experience on the global stage was a dream come true.

"The first World Cup was unbelievable," he admitted. "It was a great experience for me at the age of 19 after six months playing in Europe. Inside of football and outside of football I learned a lot, and at the age of 19 when you go to such a tournament it's just about having the experience, learning a lot and watching a lot, and seeing the best players in the world."

Jahanbakhsh recently played a major role in his country's memorable FIFA World Cup performance in Russia as Team Melli came within a goal of qualifying for the Round of 16 for the first time. After defeating Morocco in their opening game, Iran lost 1-0 to 2010 FIFA World Cup winners Spain in a hard-fought contest, before drawing 1-1 with Portugal to miss out on the knockout rounds by the narrowest of margins after Mehdi Taremi skewed a golden chance to win it wide at the death. The tournament may have ended in heartbreak for the forward and his teammates, but Iran won many new fans by giving two of the global giants an almighty scare as they proved themselves a match for anyone.

Jahanbakhsh is still only 24, but he has well and truly established himself as one of the stars of the national team, and for him there is no better feeling than wearing the jersey of his beloved Iran. But with his rising stature comes increased pressure, and he knows he must now deliver the same form he has produced at club level if he is to realize the one goal he is desperate to achieve – win the AFC Asian Cup, something Iran have not done since 1976. "I know that after such a season the expectation is higher for me," he admitted. "But on the other side, I just try to do my best whenever I am wearing the jersey of the national team, whether it's a World Cup or Asian Cup or even just a normal friendly. But of course some competitions are more important. So that's why I know the value of these two competitions, the World Cup and then the Asian Cup, they mean a lot for our people. One of the things I always dream of is winning the Asian Cup with Iran. That's one thing that hasn't happened for a long time now."
(Source: AFC)