Millions vote in violence-marred, bitterly-contested election in Pakistan
July 26, 2018 - 11:30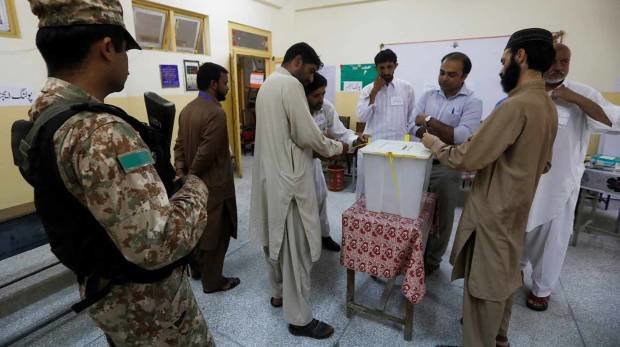 TEHRAN -Millions of people flocked polling stations on Wednesday to cast their votes in the violence-marred, bitterly-contested general election, which will see a democratic transition of power, only the second time in the country's chequered political history.
Despite the tight security arrangements claimed by authorities, a suicide attacker killed at least 31 people on the outskirts of Quetta, the capital of Balochistan province. The toll is likely to go up. ISIS, which has recently gained foothold in Afghanistan-Pakistan region immediately claimed responsibility for the attack.
The attack was condemned by all top political leaders including Pakistan Tehreek Insaaf (PTI) chief Imran Khan and Pakistan Muslim League (PML-N) senior leader Shahbaz Sharif. Khan said he was "saddened by the loss of innocent lives", adding that the enemies of Pakistan were "seeking to disrupt the democratic process".
Sharif, who replaced his brother and former prime Minister Nawaz Sharif as the party's candidate said he was "heartbroken" by the incident and offered his condolences to the bereaved families.
More than 150 people were killed last week during an election rally in Balochistan, after which security had been beefed up. More than 7.5 security personnel had been deployed on the election day and nearly 1.6 million electoral officials were at polling booths to ensure free and fair elections.
This election has also been plagued by accusations of pre-poll rigging and manipulation leveled by some political parties against the military establishment in favor of PTI, although both military and PTI have rubbished such accusations.
The Independent Human Rights Commission of Pakistan in a statement last week said there were "ample grounds to doubt" the legitimacy of the elections and criticized "blatant, aggressive and unabashed attempts to manipulate the outcome of the elections".
Nawaz Sharif's PML-N, which faces tough competition from Khan's PTI, has been dispirited after the former premier's arrest in an anti-graft case. However, experts believe it can work in his favor if sympathy wave turns towards him, considering claims of PML-N leaders that's their chief was implicated on flimsy charges.
According to sources, PTI has got slight edge over PML-N as the voting patterns suggest. But it will be extremely difficult for any party to get a simple majority, which means the country has to brace up for hung parliament.
"The post-election scenario looks scary as the election is being contested bitterly and closely by all parties and accepting defeat graciously will be difficult for any of them," said Talat Abbas, an Islamabad-based analyst. "That's where the role of military establishment comes into play."