China, Iran review ties on eve of sanctions
August 6, 2018 - 20:23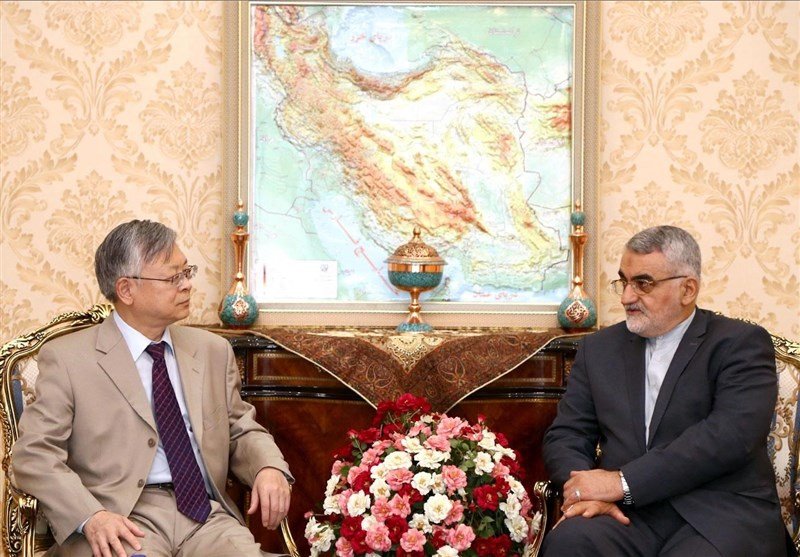 TEHRAN – China's ambassador to Tehran Pang Sen on Monday afternoon met with influential lawmaker Alaeddin Boroujerdi to exchange views on mutual ties as the U.S. sanctions against Tehran took effect late on Monday.
During the meeting, Sen said the relations between Tehran and Beijing are in full compliance with international regulations.
China is opposed to the unilateral U.S. sanctions on Iran and will keep working with the Islamic Republic based on its international obligations, the envoy underlined.
Ambassador Pang whose country is a party to the international nuclear deal with Iran said closer cooperation between Tehran and Beijing will neutralize the unilateral sanctions of the U.S.
Under the nuclear agreement signed in July 2015 and went into effect in January 2016, Iran is obliged to put limits on its nuclear activities in exchange for termination of sanctions.
MP decries U.S. for waging trade war
Boroujerdi, for his part, decried the U.S. administration for waging a trade war in defiance of the long-standing norms of international relations, saying such an American policy will backfire.
The lawmaker said the U.S. trade war has upset the deep-rooted structures that prevail in the international business market, adding that such a policy will definitely be to the detriment of the U.S. itself.
Boroujerdi also pointed to Iran's policy to enhance ties with China, hoping for major strides in promoting political and parliamentary cooperation.
Back in June, China's President Xi Jinping offered plans for trade exchange with Iran using national currencies rial and yuan.
SP/PA