By Payman Yazdani
U.S. is after regime change in Iran for its strategic goals in Central Asia: Kovacevic
August 8, 2018 - 12:8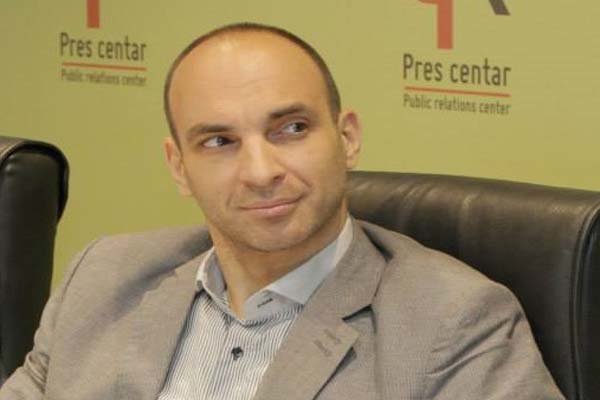 TEHRAN - Prof. Kovacevic is of the view that the U.S. is after a U.S.-friendly regime in Iran for its long term strategic goals in Central Asia to stop Chinese One road, one belt initiative.
During a press conference with Italian Prime Minister Giuseppe Conte, U.S. President Trump said he would meet with Iranian President Hassan Rouhani without preconditions. His new strategy regarding meeting with Iranian officials caught commentators off guard, as he had been increasingly hostile to the Islamic Republic; on July 22, Trump threatened Iranian President Hassan Rouhani with an all-caps tweet.
Hours after Trump's remarks contrary to his remarks, Secretary of State Pompeo outlined a series of preconditions.
In his latest move repeating the idea of negotiating with the Iranian authorities, U.S. President Donald Trump on Saturday said any meeting with the Iranian leaders is "up to them."
Earlier, Iranian president's chief of staff Mahmoud Vaezi revealed that during Rouhani's last visit to New York for the UN General Assembly session, Trump asked the Iranian delegation eight times to have a meeting with the president.
An adviser to President Rouhani Hamid Aboutalebi also said "respecting the Iranian nation's rights, reducing hostilities and returning to the nuclear deal are steps that can be taken to pave the bumpy road of talks between Iran and America."
To shed more light on the issue we reached out to Filip Kovacevic,
Professor of geopolitics, University of San Francisco.
Following is the full text of the interview:
Q: How do you assess contradictory statements of the U.S. officials?
A: In my opinion, this is simply the playing out of the well-known psychological tactic of the 'good cop – bad cop.' One person appears to be gentle and kind and the other aggressive and abusive. The target person (or, in this case, the target country, Iran) is made to feel that one is different from the other and is therefore willing to compromise with the 'nicer' cop. However, both 'cops' work together as a team. There is no difference in terms of their final goal – which is to bring about the regime change in Iran. This is the ultimate goal of Trump and his entire team regarding Iran.
The long-term strategic goal of the Trump administration in Central Asia is much wider and it involves obstructing and ultimately stopping the Chinese One Belt, One Road initiative. Having a U.S.-friendly regime in Iran is one of the necessary conditions for doing that successfully.
Q: Is it possible to talk under threat, sanction and breaking of international agreements?
A: That is the modus operandi of the U.S. foreign policy elite. The sanctions are supposed to weaken the other side so that it becomes willing to compromise. However, according to academic research studies, the sanctions are effective only in 35 percent of the cases. This means that the U.S. will increase the pressure on Iran by developing the so-called 'third option,' the option between diplomacy and overt military action, that is to say, covert intelligence activities relying on external and internal actors. This is what we are witnessing in Iran right now.
Trump broke the Obama-era Iran deal because he thought he could get a better deal for the U.S. Great Powers are known for breaking treaties and agreements when they no longer suit their interests. That's a hard fact of international politics.
I think that there is no alternative to talking. A great deal of time is needed to form an international coalition to resist U.S. demands. Much closer coordination with Russia and China is necessary and they will ask for favors in return. France, however, will turn out to be a 'false' friend.
Q: What can Trump do to show his good will for starting talks with Iran?
A: Trump needs a foreign policy victory on the Iranian front before the November election, but he does not need another war in the Middle East. His fiery rhetoric is used to leverage his position. We have seen the examples of that in his dealings with friends and foes alike. He threatened NATO and he threatened Kim Jong-un. And he apparently got what he wanted from them. But these 'victories' are symbolic and vague. They could be reversed any time. I think that's a valuable lesson for Iran.