Iran to leave nuclear deal if it fails to serve national interests, says Ayatollah Khamenei
August 29, 2018 - 20:44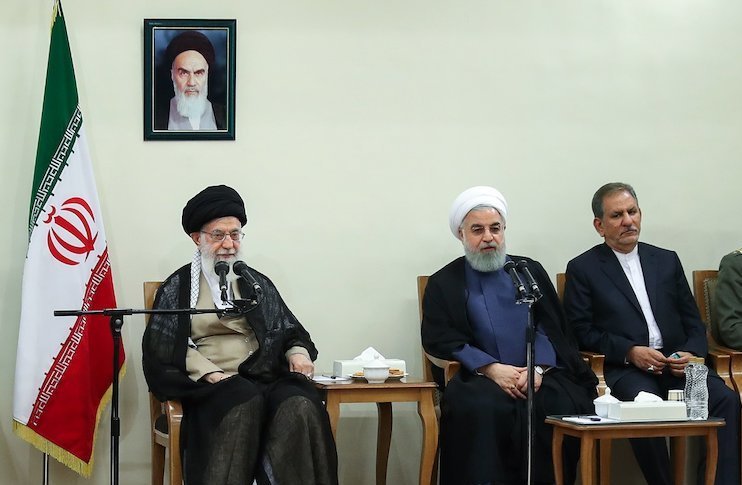 TEHRAN - Leader of the Islamic Revolution Ayatollah Seyyed Ali Khamenei said on Wednesday that Iran will abandon the 2015 nuclear deal, known as the Joint Comprehensive Plan of Action, if it does not safeguard the country's interests.
"The JCPOA is a means and not the goal and naturally we will abandon it if we come to the conclusion that it is not possible to safeguard our national interests by this means," he said during a meeting with President Hassan Rouhani and his cabinet members.
The Leader also criticized Europe's inappropriate behavior toward some issues such as the JCPOA and sanctions, saying that the officials should have "skeptical view" on the Europeans' promises.
"There is nothing wrong with ties and continuation of talks with Europe, however, while carrying on with this measure, do not pin hopes on them [the Europeans] on issues such as the JCPOA and economy," he noted.
Ayatollah Khamenei added, "The Europeans should understand from the Iranian officials' words and actions that their actions will be followed by the Islamic Republic of Iran's proportionate response and strategies."
The Leader also said Iran would not negotiate with the current "brazen and irreverent" U.S. officials at any level.
"The result of negotiations with previous U.S. officials who at least saved faces was this. Now what negotiation can we have with the current brazen and irreverent U.S. officials who are openly threatening the Iranians? Therefore, no negotiation at any level will be held with the Americans," the Leader pointed out, Press TV reported.

The Leader said the Americans seek to boast that they managed to bring Iran to the negotiation table but Tehran will hold no talks with them.
U.S. quitted the JCPOA on May 8 and ordered restoration of sanctions against Iran. The first batch of sanctions took effect on August 6.
The European Union trio – Germany, France and Britain which are signatory to the nuclear deal - are expected to present their package of proposals to Iran before the second round of U.S. sanctions takes effect in early November.
Commenting on the Tuesday session of parliament in which Rouhani answered the lawmakers' questions, the Leader said that the move will result in more cooperation and proved the system's "power and stability".
"Representatives of the Majlis asked questions from a president who has been elected with more than 23 million votes, and the president responds to the questions calmly and serenely and this means religious democracy," Ayatollah Khamenei remarked.
NA/PA