Iran, India push for expanding bilateral co-op in ports, transport
September 8, 2018 - 0:44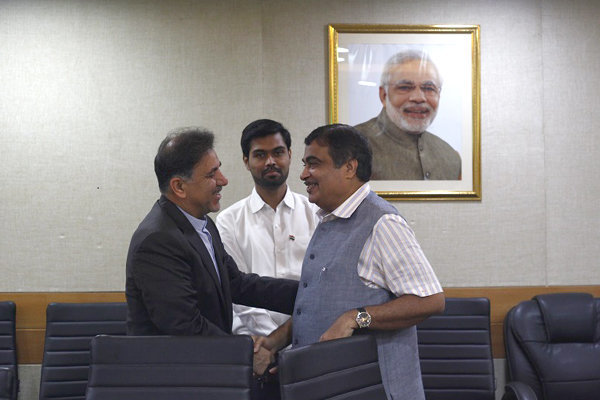 TEHRAN – In a meeting on Thursday, Iranian Transport and Urban Development Minister Abbas Akhoundi and Indian Road Transport and Highways Minister Nitin Gadkari stressed the need for further expansion of mutual cooperation.
In the meeting the officials discussed different important areas of cooperation, including the necessity of going through with the agreements on the development of the Chabahar port and resolving all technical problems over the next one to three months.
"Indian side had investment in Chabahar port and we are moving towards utilization of the Chabahar port," Indian agencies quoted Akhoundi as saying, adding that the handing over of the port should be done "during one month. We have done everything".
The two sides also emphasized the necessity of forging banking relations between the two countries by providing easy-to-work schemes and mechanisms using rupees and rials.
"We have already moved one step forward...We should introduce a banking channel to India, which we already did it and it fortunately has been formally accepted by the Indian side", Akhoundi said.
He noted that India has also introduced a banking channel, which has been approved by Central Bank of Iran (CBI).
Finally, Gadkari committed himself to hold talks with all involved Indian commercial and economic organizations and to resolve all technical issues, especially in the banking sector.
EF/MA