By Syed Zafar Mehdi
U.S. is roadblock to peace between India, Pakistan
September 16, 2018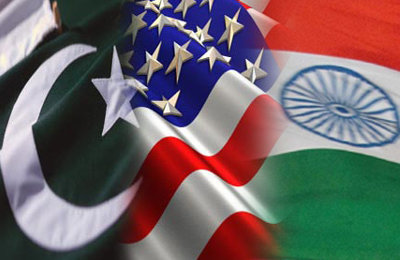 TEHRAN - The inaugural 2+2 ministerial dialogue between India and the U.S. held in New Delhi last week has again threatened to jeopardize recent efforts made by New Delhi and Islamabad to bury the hatchet and open a new chapter in their bilateral ties. The joint statement issued at the summit has drawn sharp reaction from Islamabad, making it amply clear that the Americans don't want India and Pakistan to be friends and they don't want peace and stability to prevail in this region.
In the joint statement, India and the U.S. called on Pakistan to ensure that the territory under its control is not used to launch terrorist attacks on other countries, adding that Pakistan should expeditiously bring to justice perpetrators of the Mumbai, Pathankot, Uri, and other cross-border terrorist attacks. Without going into the merits of this statement, the timing is suspect.
U.S., which recently cancelled $300 million military aid to Pakistan, has been chagrined with the growing proximity between Islamabad and Beijing and the new Pakistani government's hand of friendship towards Iran. Americans are known to unceremoniously dump friends and allies, and the recent developments indicate that the Trump administration has embarked on a mission to dump Pakistan now. Not just that, it seeks to hijack any efforts to improve ties between Pakistan and India.
Reacting sharply to the Indo-U.S. joint statement, Pakistan's foreign ministry said it takes "strong exception to the unwarranted references" against it in the statement, adding that Pakistan has conveyed its position to the U.S. on the issue. The spokesperson said the ministry is of the view that mentioning of a third country with "unsubstantiated accusations" in a formal document is "inconsistent with the established diplomatic norms".
The statement has reopened old wounds that have prevented the two South Asian estranged neighbors from demolishing the giant wall of hatred and animosity between them. This regional disintegration, it must be noted, serves the regional policy of the U.S. well. We have seen in Afghanistan how the U.S. imposed a war and forced peoples and nations to fight against each other. The war has entered its 17th year now, and the U.S. war machinery is busy fanning the flames of war.
Since the new government assumed power in Pakistan, Islamabad and New Delhi have shown signs of a thaw, expressing desire to work with each other and resolve the contentious issues, including Kashmir. Pakistan's new Prime Minister Imran Khan, in his victory speech, asserted that he would take two steps if India took one step. Indian Prime Minister Narendra Modi sent a letter to Khan, congratulating him on his election. These developments rekindled hopes of a breakthrough in India-Pakistan relations and brought cheer to peaceniks on both sides of the border.
Indian High Commissioner to Pakistan Ajay Bisaria last week said that Prime Minister Imran Khan's government has opened a political window and India is "filled with cautious hope". Bisara had met the cricketer-turned-PM earlier this month and presented him a cricket bat signed by the members of present Indian cricket team. It was hailed as a sign of cricket diplomacy, which works when the political diplomacy fails.
Pakistan's foreign ministry, reacting to Bisara's statement, said it wants to "utilise the same window and see how we can move forward." So, it's apparent both sides have been making indefatigable efforts to break the status quo and make substantial progress on improving their relations.
On Thursday, Pakistan's foreign ministry said it was ready for talks with India and was awaiting an official response from New Delhi on how to move forward on the issue. "We are ready for talks with India. We have also conveyed our position to the international community. It remains for India to respond," spokesman Dr Mohammad Faisal said during the weekly media briefing, corroborating reports that Pakistan had approached India for peace talks.
"We are also saying since long that dialogue is the only way forward to settle all outstanding issues between Pakistan and India. We are officially waiting for a response from India on how they want to move forward. We have a consistent position on this," he asserted, adding that there were few Track-II initiatives with India which were not official.
So, at a time when the two neighboring countries are trying to resurrect the peace process and open a new chapter of bilateral relations, it is important for the policy makers in both New Delhi and Islamabad to understand that there are forces that do not want them to shake hands. U.S. regional policy seeks to create wars and discords, not peace or agreements.
Unlike his predecessor, Prime Minister Imran Khan seems to have realized the futility of Pakistan's alliance with the U.S. At an event in Rawalpindi a few days ago to mark Pakistan's Defence Day, he said the country "won't fight the wars of others" anymore. "I was opposed to the war on terror, I didn't want Pakistan to get involved in someone else's war," Khan said. "I pledge today that Pakistan won't fight someone else's war. We stand for our people and we will have a foreign policy that works for the betterment of Pakistanis."
The BJP government in India, which signed important defense deals with the U.S. during 2+2 dialogue last week, would do well to remember the words of party patriarch Atal Bihari Vajpayee: you can change your friends, but you can't change your neighbors. Good relations between India and Pakistan are in the best interests of peace and stability in the region, something the hawks in Washington don't want to see.