Zeinodin caravanserai, a destination for avid time travelers!
September 17, 2018 - 21:34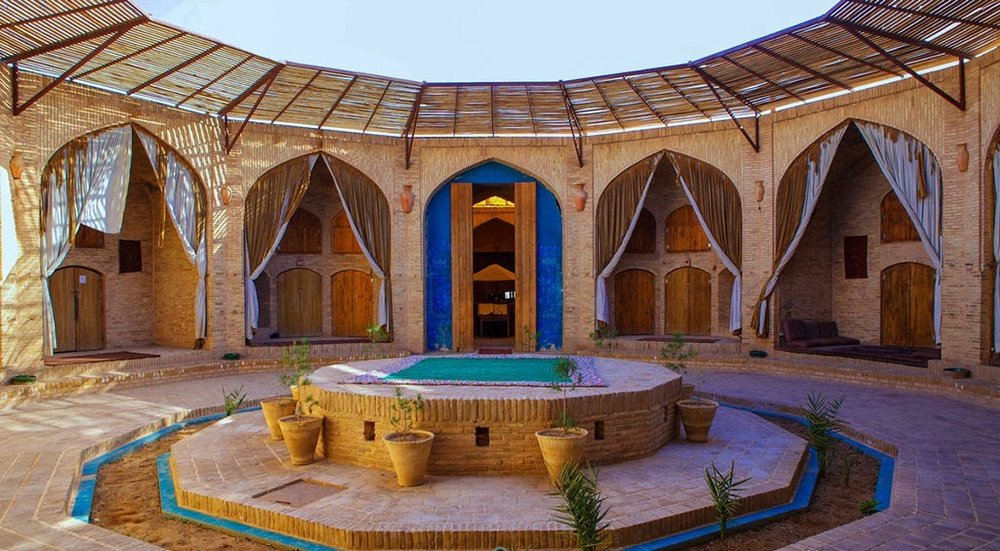 For an avid visitor to a centuries-old caravanserai, it's not tough to imagine (or even hear!) the hustle and bustle of merchants bargaining on prices, describing their long lived journey to one another as their camels chew on hay in the corner.
Located in Yazd province, the 16th-century Zeinodin caravanserai is one of such roadside inns which has lost its original usage and popularity.
Through efforts made by Iran tourism body and the private sector, many of Iran's caravanserais -- including Zeinodin -- have been charmingly renovated and tastefully decorated to be turned into boutique hotels and tourist lodgings and of course to receive better maintenance.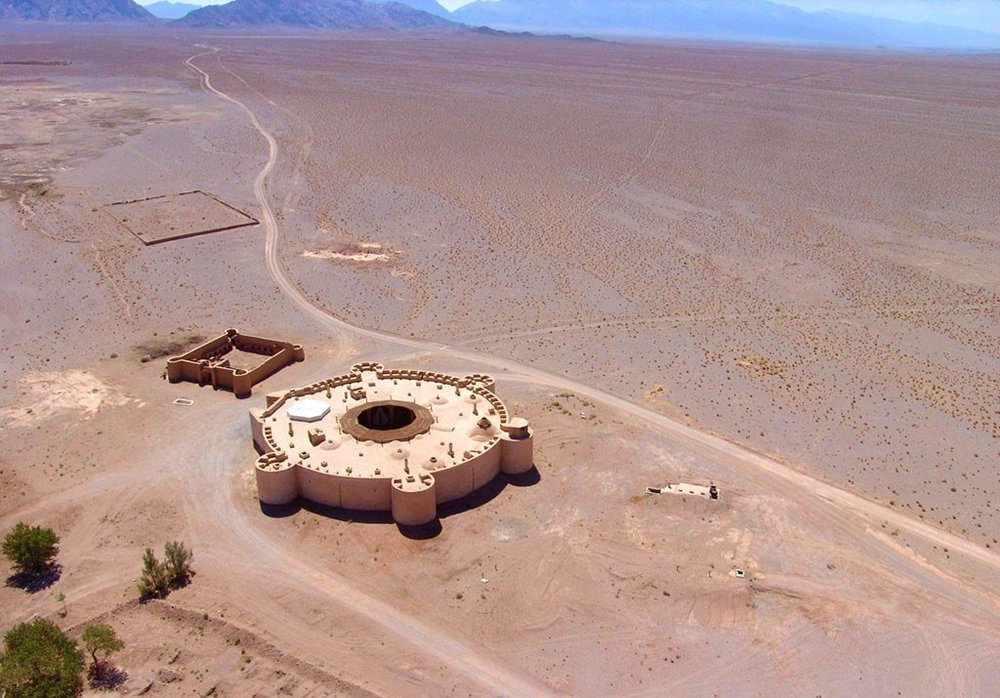 An aerial view of the Zeinodin
Zeinodin caravanserai is situated on kilometer 60th of a modern road that connects Yazd to Kerman, meanwhile it was along the then strategic ancient Silk Road that linked Europe and Asia.
The Zeinodin plays host to tens of foreign and domestic visitors each day.
The atmospheric caravanserai offers two types of rooms; some exquisitely laid out around a courtyard and others embedded along the main corridors.
Like its other Iranian counterparts, the caravanserai has a massive portal with elevated surrounding walls.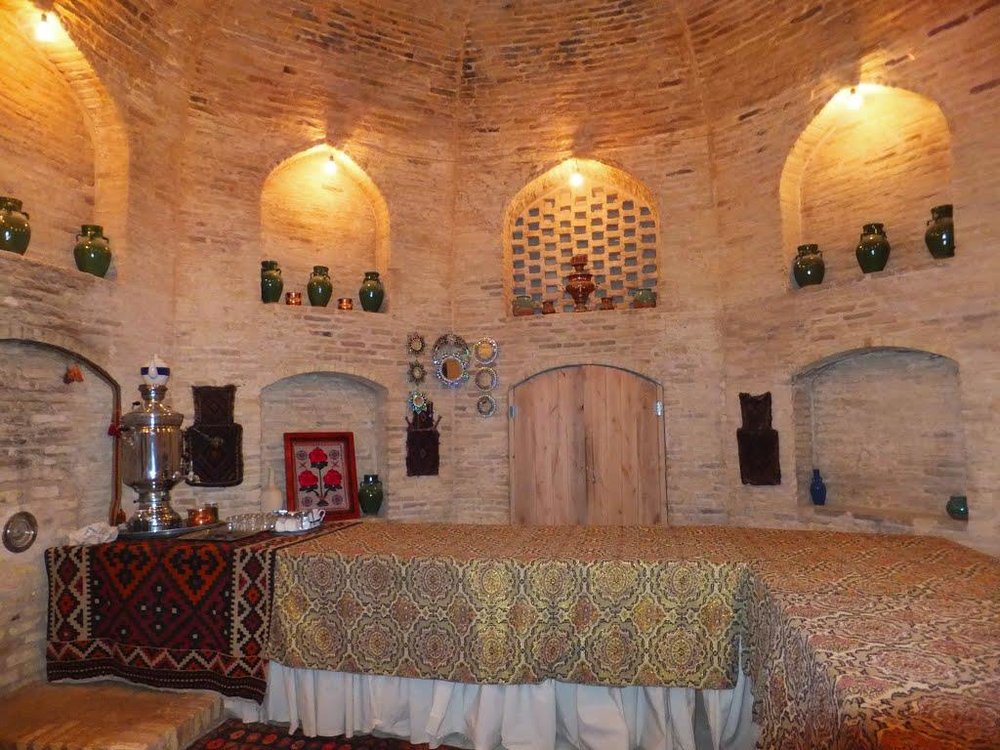 A view shows one of rooms at the Zeinodin caravanserai
The earliest caravanserais in the county were built in Achaemenid era (circa 550 -330 BC). Such roadside inns were thriving upon the development of road systems and the increase in the number of travelers and merchants.
Shah Abbas I (1571-1629) is credited with building a network of caravanserais across Iran during the much later Safavid dynasty.
Caravanserai, or most commonly known as caravansara in today's Iran, is a compound word combining "caravan" with "sara". The first stand for a group of travelers and sara means the building.
Under travelers' eyes
Here is a select of comments that visitors to the caravanserai have posted to TripAdvisor, one of the most popular travel websites in the world:
"One of the highlights of our visit to Iran"
Located about 30-minute drive from Yazd, this renovated Caravanserai is a unique place to stay. As a former site where camel trains would stay for the night, the accommodation surrounds the inner courtyard and the furniture is very rustic.
The experience brought us back the vivid images of these ancient time travelers who and their animals could finally rested their feet and met peoples for trade and exchanging information.Beware that the bathrooms are communal but extremely clean and well appointed. The cost is reasonable and includes a lovely buffet dinner and breakfast.
The rooftop provides a perfect place to view the night stars and also take wonderful sunset and sunrise photos. (Roger B. from Sydney, Australia; Reviewed September 2018)
"Magic in the desert"
We could not resist the opportunity to stay in a caravanserai and this ended up being our private hotel for the night as there were no other guests there. We received a warm welcome plus a cup of tea and I was able to take my scarf off as it was a private residence for the night. Such relief after two weeks in the heat.
We were given a courtyard room with 4 single beds. Basic but clean and comfortable. Hard mattress but soft pillows. Amenities are communal but I had them all to myself. If the place was full this may not have been so good given the number of vanities, toilets and showers and groups all struggling to get ready to leave at the same time.
We were served a gargantuan amount of food for dinner enough to feed 8 people. All very tasty, we did our best but we could not make a real dent in it. Breakfast was basic but also generous and more than we wanted. (Casa62 from Brisbane, Australia; reviewed May 2018)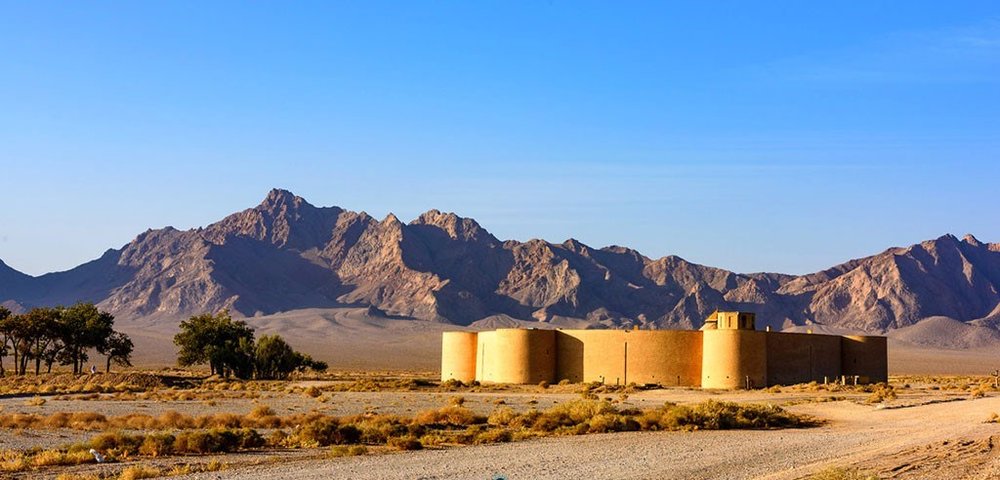 Zeinodin caravanserai; an exterior view
"Great experience"
We stayed there for one night. It was a great experience. There are single or double rooms, with shared bathroom. A little bit inconvenient but clean and tidy. We did not get the rooms facing the yard, so stayed inside.
The rooms are separated by wooden walls, can very clearly hear your neighbors even any tiny movements. But the place was surprisingly quiet in the night during our stay. Staffs are very friendly and nice. (Tsipporah from China; Reviewed May 2018)
"What a wonderful experience"
We had a wonderful stay at this once upon a time travel lodge in the desert, in the middle of nowhere. The experience brought us back the vivid images of these ancient time travelers who and their animals could finally rested their feet and met peoples for trade and exchanging information.
This caravanserai is well maintained, bedding were very clean. We had master room in the main corridor and it was very spacious and could take up to 4 people. The corridor had sufficient light in case you need to get up for toilet during the night. The shared bathroom facility was clean, the hot water for shower was adequate.
The roof top is an ideal place for sunrise and sunset viewing. There was a shot local dance performance at night and you expected to give $2 if you attend it. Dinner and breakfast were buffet style. Staffs were really friendly. Highly recommend this accommodation. (Jane L. from Davis, California; Reviewed March 2018)
"Unforgettable adventure and experience!"
I would highly recommend visitors to Iran to experience a stay at this accommodation… The courtyard is spectacular. It was full moon when we arrived and we could see the moon so clearly up in the sky. You can go up the rooftop to see sunrise and sunset. Other than that, there is not much to see since the location is almost like in the middle of a dessert. Dinner and breakfast is a buffet with decent spread.
Staff are nice and courteous. We didn't know the room sizes when we booked until we check in. The twin room seems too small for two of us even with small luggage, hence I requested another room saying that I will pay for it. The staff was so kind to just give another room to me without asking for additional payment.
This accommodation might look like to some as lacking in terms of regular hotel facilities. However, I think this is necessary. It is great that the owners kept the facilities to a minimal so as to give all visitors a chance to experience what the past travelers and merchants went through. One thing to note is - people come here to experience staying at a caravanserai that resembles historical inns - not for good night sleep with soundproof walls and luxurious mattress and pillow. (Rezani R. from Singapore; December 2017)
AFM/MQ/MG