Syed Zafar Mehdi
Ban on Muharram procession in Kashmir mockery of religious freedom
September 17, 2018 - 21:48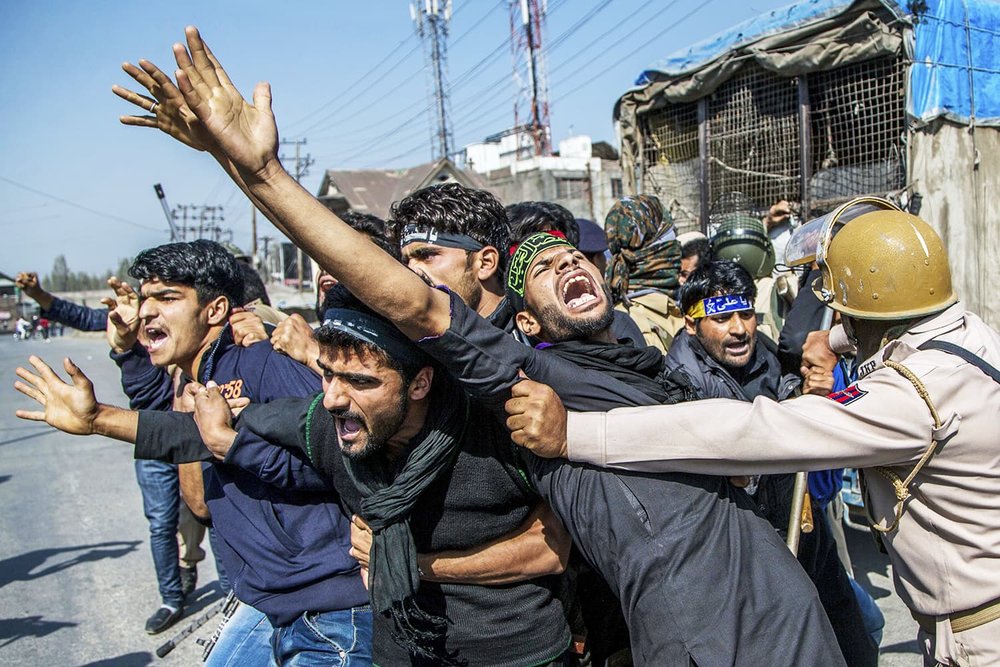 TEHRAN - Muharram is the month of bereavement and remembrance. Every year, around this time, massive processions are taken out across the world to pay glowing tribute to the martyrs of Karbala. Reciting soul-stirring elegies and hymns, mourners wear black dresses and beat their chests in a spirit of devotion. They carry replicas of Imam Husain's mausoleum in Karbala and parade the streets.
In some countries, though, its appeal cuts across religious and ideological lines, because Imam Hussain belongs to everyone. His resistance against the forces of evil is something everyone can relate to.
Muslims of the world commonly observe and commemorate Husain's sacrifice each year, remembering his redemptive suffering for the greater good of humankind. Even 1400 years on, these annual commemorations have not lost their significance.
In many countries, the annual Muharram commemorations have been effectively used as a psychological weapon and mechanism to mobilize masses against evil, injustice and repression.
Karbala strengthens our ability and resolve to rise up against autocracy, despotism and treachery. Hussain's (as) uprising teaches us that notwithstanding the inadequacy of power, if your cause is just, victory will be yours.
However, not everything is hunky-dory. Muharram processions continue to be attacked in countries like Afghanistan and Pakistan by those who sympathize with Yazid and his modern-day avatars. In some places like Kashmir, there is a ban on Muharram processions imposed by authorities.
In Kashmir, the government's ban on Muharram processions (Muharram 8 and 10) in Srinagar city is in place since 1990, when the armed rebellion against Indian rule gained momentum. Despite the clampdown and curfew-like restrictions imposed by authorities, thousands of mourners carry out peaceful processions every year and are subjected to brutal police action.
Religious processions are being taken out in Kashmir since 1527 when Sultan Muhammad Shah was the ruler. Shia Muslims, a religious minority, with the support and cooperation of Sunni Muslims, used to take out two major processions in Srinagar city.
In 1977, on the request of the then Chief Minister Shiekh Muhammad Abdullah, it was decided to take out a joint procession. However, in 1989, the then governor of J&K imposed ban on the procession as part of sweeping measures to deal with the political unrest that time. The ban remains in place till date.
While the state provides patronage and support for the annual Amarnath Yatra of Hindus, it has denied the same right to Shia Muslims of Kashmir. People in Kashmir have been demanding revocation of the ban, which they see as a blatant breach of religious freedom and denial of fundamental human rights.
Each year, police impose curfew-like restrictions on Muharram 8 and 10 in parts of Srinagar city, including Lal Chowk, the nerve-center of Srinagar. Iron barricades and spools of concertina wires are put up at every entry point. The fully-armed police personnel do not even allow pedestrian movement as tough restrictions are enforced.
However, despite the clampdown, mourners each year defy police restrictions and take out peaceful mourning processions in the main city. Each time, they are intercepted by massive contingents of heavily-armed police and paramilitary personnel. They fire tear smoke canisters, resort to baton charge and brutally manhandle the mourners participating in these processions.
In a statement two days ago, Kashmir Centre for Social and Development Studies (KCSDS) demanded an end to the ban, accusing government of double standards. "While the state makes every effort for pilgrimage to Amarnath Cave in spite of the misperceived security threats, we demand from the government of the day to lift the ban from the traditional (Muharram) procession in Kashmir," said the statement.
Last week, there were reports that the government has agreed to an alternate Muharram procession route, after a delegation of National Conference (NC) party called on governor. But it turned out hogwash. The ban remains in place. So, this Wednesday (Muharram 8) and Friday (Muharram 10), we will again see Shia mourners being beaten and thrashed by police personnel in the heart of Srinagar.