By Saeed Sobhani 
The conflict between White House and NATO
September 23, 2018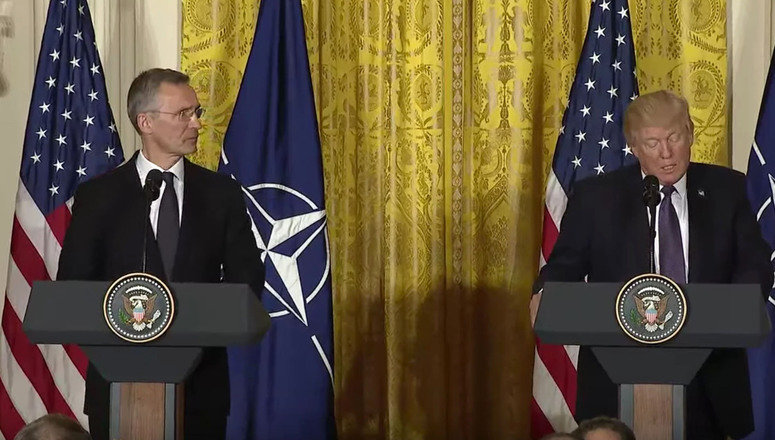 As Politico reported, So far, the defense-centered core of the Western alliance has proven strikingly sturdy, even as U.S.-European collaboration has collapsed on other issues, such as climate change, trade and Iran. The Trump administration pleasantly surprised many across the Atlantic by nearly doubling the Obama-era program to fund U.S. military presence in Europe. Almost 1,000 Americans in uniform are now deployed in Poland. By most accounts, the alliance's ability to discourage Moscow from testing NATO's resolve has never been better.
But not all is well. For the past decade, U.S. officials have been warning the Europeans to start spending more on their own defense. The U.S. now spends $3 for each $1 that the remaining 28 European members plus Canada spend together. This prompted the former American secretary of defense, Robert Gates, to warn back in 2011 that when Congress wakes up to that reality, NATO will face a "dim if not dismal future."
This crisis, however, was on its way to a resolution of sorts in recent years. Europe is now the region with the fastest growing real-term defense spending, according to the International Institute for Strategic Studies in London. The countries of Central and Northern Europe in particular were spooked by Russia's aggression into raising budgets as much as 40 percent year-on-year. Not all allies will be spending 2 percent of their GDP on defense, as agreed in 2014, but then again all governments have a habit of making promises they do not intend to keep.
This one has actually proven more consequential than other such "commitments" made in the past — most notably on development aid and climate change.Of course, none of this is guaranteed to make a difference to the White House. Trump brings two new uncertainties into NATO politics. He doesn't appear to share Europe's sense of urgency on keeping Russia in check through a significant allied military presence. And even if he did, it's unlikely that he would consider it to be America's problem.
An overview of an analysis of the latest trip by Trump to Europe and his presence at the NATO summit is invaluable. Shortly before Trump left for Europe, Thomas Wright of the Brookings Institution, who is one of the most incisive interpreters of Trump's views of the world, reflected on this tendency of the president's to view allies not merely as burdens or anachronisms but as direct threats. It's instructive, he argued, in understanding why Trump might treat Russian President Vladimir Putin, differently than he is treating European leaders this week in Belgium. And it speaks to just how dramatically Trump could transform U.S. foreign policy and international affairs more broadly.
"Since 1987, Trump's worldview has been motivated much more by anger toward allies and partners than enemies," Wright wrote on Twitter. "This is because he sees alliance security commitments and free trade as existential threats to U.S. interests. He has never really been bothered about geopolitical stability, etc. so when he looks at Russia/[the] Soviet Union, he sees a country that the U.S. has no security commitments to and no trade with. So no problem! By contrast, Japan, [South] Korea, Germany, etc. all tick the threat box. Add to the mix that ... he truly couldn't care less about a Russian threat to Europe—other [people's] business in his view. The net effect is he genuinely thinks allies and partners are a greater problem for U.S. interests than the Russians."
"No one else agrees with him so he has struggled to turn this into policy," Wright added. "But he's really trying now."
Or, as Wright told me on the eve of the 2016 U.S. presidential election, if Trump "was to go to the Germans or the Japanese and demand hundreds of billions of dollars a year, they would not be able or willing to do that. And that would give him a pretext to unilaterally suspend [America's security] guarantees or simply say he wouldn't uphold them"…..
Ultimately, the serious challenges between Tramp and its European allies are still ongoing. These challenges will appear in the future and at NATO summits.