Turkey is against dominance of U.S. dollar: ambassador
September 25, 2018 - 17:59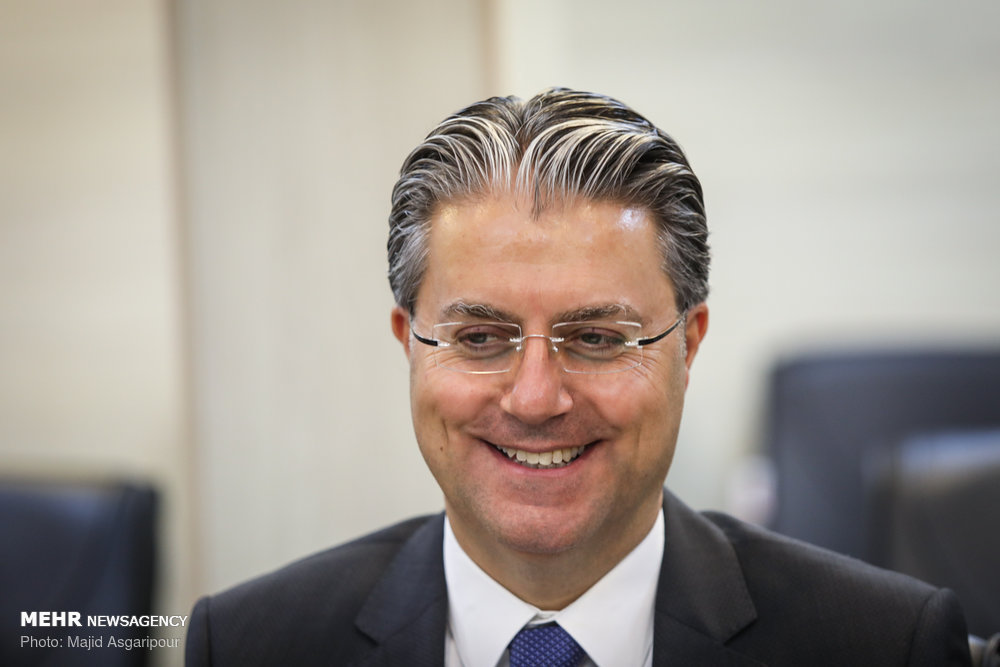 TEHRAN - Like certain other countries, Turkey also believes that the world should get rid of the dominance of U.S. dollar, Turkish Ambassador to Tehran Riza Hakan Tekin says.
"Specifically, if we talk about dominance, yes we agree," Ambassador Tekin tells the Tehran Times.
The top Turkish diplomat in Tehran, who visited the premises of the Tehran Times and Mehr news agency on Monday, also says "maybe we should see it as an opportunity rather than a threat" to "decrease dependence on the U.S."
Following is the text of the interview:
Question: Mr. Ambassador, it seems that Turkey is shifting its focus from the East to the West, seeking to develop economic and military ties with Russia and China for example. Does it seem that Ankara is seeking to create a kind of balance in its relations with the West and the East, especially in view of developments surrounding Turkey?
Answer: There are lots of reports and talks in the media not just recently but in the last few years that Turkey is shifting away from the West to the East, but we don't believe that it reflects the reality.
We always have had the balance in our opinion. Turkey is member to major Western organizations like NATO, the Council of Europe and OSCE. It did not preclude that it should not have close relationship with the other parts of the world. We are also a Muslim country. We are member to one of the most prominent Islamic organization, the OIC. We may have neglected our relationship with the Eastern parts of our world in the last few decades. But it has been now start of balance which seems now better.
With Russia for instance, we decided to get the S-400 (missile) systems. Some say that this is sign of Turkey leaving NATO. No it is not.
It is just a sign of necessity and it is also a sign that in today's world you have to develop relations with all countries in view of your interests, the mutual interests of the countries.
So, if we need something be it in commercial field, in military field and any other field, if we see that we have to develop some sort of relationship, cooperation with any country, we have to do it. For instance, we are in the Astana process trying to find a solution to the Syrian crisis together with Russia and Iran, but this does not mean that we left the Western group.
We are trying to use every possibility to reach peace and prosperity in our region. So, that is the main starting point of our relationship. We are expanding our horizons. It was narrower in the past. It also should not be seen as a shifting away.
When Turkey have, let's say, more developed relations with Russia or with Iran, it does not mean that we have to cut back our relations with the West. We should look in that way.
Question: Mr. Ambassador, don't you think that major countries like Turkey, Iran, Russia and China should take step to end the dominance of U.S. dollar in international trade?
Answer: Specifically, if we talk about dominance, yes we agree. We are now trying to trade with every country with our own currencies. With Iran, for instance, we have started this process since last year. With Russia we are trying to do that.
Our foreign minister was in Venezuela just before going to New York. We discussed that we should shift our trade into our own currencies.
So, yes, after Trump's presidency, there have been changes in the world, because he has adopted sanctions and punishing decisions on even its closest allies like Mexico and the EU. Remember the NATO summit a few months ago; Trump was very harsh on its European allies saying that if you don't give money we will stop defending you.
Even in Europe there is a sense that we should find a new way and not trust too much on the U.S. in terms of security or economy.
If you look from a positive angle to the situation we are facing since Trump came to power, the positive results could be a reality check for the world. We should, maybe consider, that we should decrease our dependence on the U.S.
Maybe we should see it as an opportunity rather than a threat. Maybe it is too optimistic but we have to be.
NA/PA