Rouhani discusses nuclear deal with May and Macron
September 26, 2018 - 19:56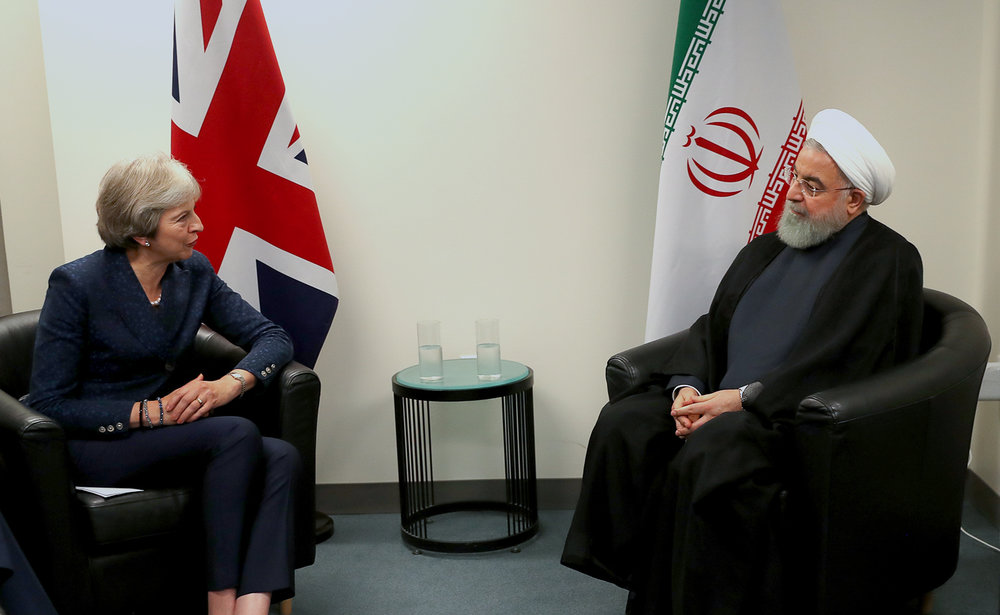 TEHRAN – Iranian President Hassan Rouhani met separately on Tuesday with British Prime Minister Theresa May and French President Emmanuel Macron on the sidelines of the of the UN General Assembly conference in New York to discuss the 2015 nuclear deal and other issues.
In his meeting with May, Rouhani said that preserving the nuclear deal, known as the Joint Comprehensive Plan of Action, is the most important issue in Iran-Europe relations.
"Fortunately, the sides are determined to preserve this international agreement and have adopted firm political position in this line," he said.
He noted that efforts should be made to find ways to implement the deal, especially in economic area.
For her part, May said that it is essential to preserve the JCPOA and said that Tehran-London cooperation in this respect will be continued.
She also said that the UK welcomes expansion of ties with Iran.
Rouhani and Macron exchanged views on preserving the JCPOA and expanding economic and banking relations.
The European Union said on Monday its members would set up a payment system to allow oil companies and businesses to continue trading with Iran in a bid to evade sanctions after the U.S. withdrew from the nuclear agreement.
"In practical terms, this will mean that EU member states will set up a legal entity to facilitate legitimate financial transactions with Iran and this will allow European companies to continue to trade with Iran in accordance with European Union law and could be open to other partners in the world," EU foreign policy chief Federica Mogherini told reporters in New York.
She said that the remaining members of the JCPOA– Britain, China, France, Germany and Russia – would also maintain their commitments to support Iran on civilian nuclear energy.
'We will remain in a deal which is beneficial to us'
In a separate meeting with Norwegian Prime Minister Erna Solberg, Rouhani said that Iran will remain in the nuclear accord as long as it benefits the country.
"Iran is totally committed to its obligations, however, any deal is two-sided and we will remain in an agreement which meet our benefits," he stated.
Rouhani also called for expanding ties with Norway.
For her part, Solberg said that Norway is determined to expand relations with Iran.
As a European country, Norway seeks to expand ties with Iran in spite of the U.S. sanctions, she said.
Rouhani calls for European practical actions to save JCPOA
Rouhani also met with Belgian Prime Minister Charles Michel and called for practical actions by Europe to preserve the JCPOA.
Michel said that Europe is seeking to find new financial mechanisms to boost economic ties with Iran in spite of the U.S. economic and political pressure.
'Iran seeks friendly ties with neighbors'
During a meeting with Armenian Prime Minister Nikol Pashinyan, Rouhani said that Iran seeks to have friendly ties with its neighbors.
Rouhani said that the two countries have many capacities to expand relations in various spheres.
Pashinyan invited Rouhani to visit neighboring Armenia.
NA/PA