IRGC warns UAE, Saudis to 'stop malice'
September 28, 2018 - 15:3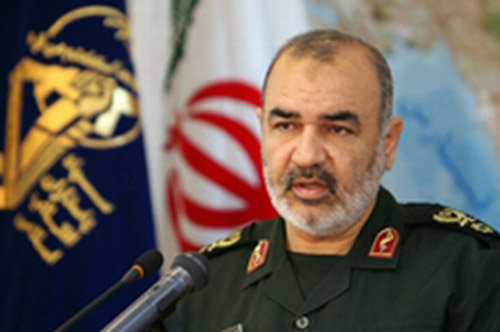 TEHRAN – The Islamic Revolution Guards Corps on Friday warned the United Arab Emirates (UAE) and Saudi Arabia against venturing to create insecurity in Iran, advising them to "stop malice and conspiracy" against Iran.
"To the regimes of the UAE and Saudi Arabia, which are the main directors of wicked anti-security acts in our country, we say 'you will gain no success in creating tension and conflict with the Islamic republic of Iran. You are too small to count as a rival for a great country like Iran'," Brigadier General Hossein Salami, the IRGC's deputy commander, said on Friday.
"If you cross our red lines, we will surely cross yours," Salami asserted.
Tehran holds Saudi Arabia and the UAE mainly responsible for the September 22 terror attacks on a military parade in Ahvaz, capital of the southwestern province of Khuzestan, which resulted in the death of 24 people including civilians and servicemen. The attack took place on the day that Saddam Hussein invaded Iran in 1980.
Salami was referring to Saudi Crown Prince Mohammad bin Salman who back in May 2017 said his country would bring insecurity into Iran.
"You feel powerful [only] when standing beside America. You are not invincible, sitting in glass castles. You cannot withstand the blade of vengeance of the Iranian nation. We have been showing self-restraint."
Also this week, the Saudi foreign minister and the ambassador of the United Arab Emirates to Washington joined ranks in pushing for regime change in Iran.
Speaking at the United Against Nuclear Iran (UANI) conference in New York City on Wednesday, Adel al-Jubeir called for the overthrow of the Iranian government.
Yousef al-Otaiba, the UAE's ambassador to the U.S., also said external pressure was needed and would be key in changing Iran's course.
"You feel powerful [only] when standing beside America. You are not invincible, sitting in glass castles. You cannot withstand the blade of vengeance of the Iranian nation. We have been showing self-restraint."
The top commander also referred to Washington's mounting pressure on Iran, saying, "And we warn America, too, to stop supporting terrorists. This would be harmful to them as well."
In response to U.S. claims having isolated Iran, Salami said, "Iran is not isolable. Revolving political and security equations of the region and some parts of the world depends on us."

"We have reached a point of saturation with America's threats. America has already done every damn thing it could, and gained no result other than failure."
He went on to say, "You planned to isolate us, but isolated yourselves. And today there is no other option before you. Do not waste your time by saying worthless and insignificant things."
SP/PA