UN General Assembly 2018: The latest updates
September 30, 2018 - 14:44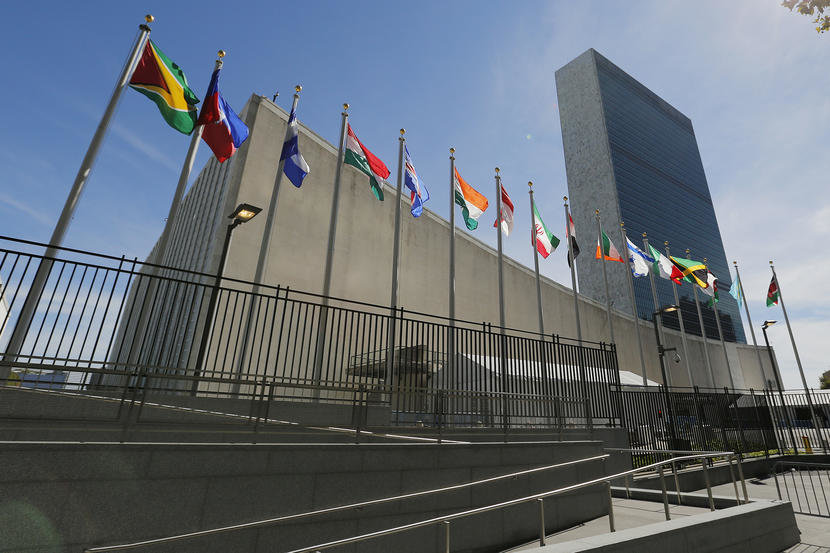 World leaders gathered in New York City on Saturday to take part in the fifth day of the 73rd session of the United Nations General Assembly (UNGA).
In the morning session, India and Pakistan traded blows over disputed Kashmir, while an envoy from war-torn Syria took to the stage to defend his country's sovereignty and announce that the country's bloody seven-year-long conflict was "almost over".
Later, North Korea asked the US for less sanctions and more understanding, while the Philippines slid a justification for alleged human rights abuses into a hopeful, upbeat speech centering on global citizenship.
Saturday, September 29
Pakistan: Dialogue is the only solution for South Asia
Pakistani Foreign Minister Makhdoom Shah Mahmood Hussain Qureshi hit back at claims made by India earlier in the session that it harbours "terrorists", charging its neighbour with the same accusation.
He accused India of perpetrating "state-sponsored terrorism" in disputed Kashmir, calling alleged human rights abuses by Indian forces a "blot on the conscience of humanity".
Qureshi dismissed India's cancellation of talks on "flimsy" grounds, saying the country was putting politics over peace.
Qureshi claimed Pakistan had undertaken the "largest and most effective" counterterrorism campaign in the world and praised China's Belt and Road initiative as a means of preventing terrorism through development.
Qureshi also said his country had shown a "fundamental shift in paradigm of governance" by electing Imran Khan as Prime Minister in July and are focused on pursuing a policy of "peace, partnerships and prosperity" in the region and internationality.
The Philippines: Duterte has saved the country from becoming a narco state
A fleeting mention of President Rodrigo Duterte's war on drugs was sandwiched between hopeful messages about global citizenship and the value of loving "thy neighbour" in a sermon-like address by Alan Peter Cayetano.
The Filipino secretary for foreign affairs said Duterte's efforts had ensured the Philippines was no longer on the road to becoming a narco state and that, while the human rights of each and every person in the Philippines were to be respected, if forced to choose between a law-abiding citizen or law enforcer and a drug dealer, they would always choose the former.
"Which country, which leader wouldn't do the same?," he said.
North Korea: Trust essential to peace on the Korea Peninsula
North Korea's Foreign Minister Ri Yong Ho praised the "tangible trend of peace and development" seen in the Korea Peninsula since diplomatic ties between North and South Korea were rekindled.
Ri ascribed this progress almost entirely to efforts by the Koreas, saying the US continued to damage the peace protest by mistrusting North Korea.
Frequently reemphasising the need for trust, Ri said there was "no way" North Korea would unilaterally disarm themselves before "coercive" sanctions were lifted, adding that the idea that sanctions would bring North Korea to its knees is a "pipe dream" of those who don't understand the country.
Ri called for the implementation of the agreements made between the US and North Korea at the Singapore summit, saying the UN should do more to support the peace talks, which will allow "the hottest spot in the globe [to] become the cradle of peace and prosperity".
Syria accuses US coalition of war crimes
A muted applause greeted Syrian Deputy Prime Minister and Foreign Minister Walid al-Moallem as he took to the podium.
Al-Moallem took the opportunity to decry international interference in domestic Syrian affairs, framing the country's brutal seven-year-long civil war as a battle against "terrorism".
In a damming speech, al-Moallem accused the US coalition of war crimes, including massacres of civilians and said that countries which had not supported Bashar al-Assad's goverment would not be welcome to take part in rebuilding Syria.
Al-Moallem condemned all use of chemical weapons, saying Syria has eliminated its chemical programme "completely".
According to al-Moallem, everything is in place to allow refugees to return voluntarily. Now that Syria's "battle against terrorism is almost over".
India slams Pakistan's "support of terrorism"
Sushma Swaraj, India's foreign minister, used the address to praise developments under Prime Minister Narendra Modi and slam neighbouring Pakistan for supporting "terrorism".
Without mentioning Kashmir by name, Swaraj made several references to "terrorism" in the disputed region.
Swaraj blamed Pakistan for the breakdown of peace talks, saying that each time both sides had agreed to a dialogue, Pakistani-backed attacks had forced India to withdraw.
Accusing Pakistan of "verbal duplicity," she noted that Osama bin Laden was found living there after 9/11 and said that the mastermind behind the 2008 attack on a Mumbai hotel "still roams the streets of Pakistan with impunity".
Swaraj also took time to list progress that has been made under Modi, including the country's maternity benefit scheme, which allows women to take 26 weeks of paid leave.
Swaraj and her Pakistani counterpart were due to meet on the sidelines of the UN General Assembly this week, but India called it off only one day after it was announced, following the killing of an Indian border guard in Kashmir.
Friday, September 28
Russia calls accusations of meddling 'baseless'
Russian Foreign Minister Sergei Lavrov denounced what he said are "baseless accusations" of Russian interference in foreign affairs and lashed out at US policies in Iran, Syria and Venezuela.
Lavrov used Russia's speech at the annual UN General Assembly to vigorously defend multilateral organizations like the United Nations and warn against unilateral moves by the US or other countries.
Greece chastises Europe on migration
Greece is using its address to world leaders to chastise some European neighbors for turning their backs on refugees and migrants who continue to pour into Europe by land and by sea.
Prime Minister Alexis Tsipras said on Friday that Greece is dealing with the highest refugee flows since World War II and notes that Greeks have "opened their arms to incoming migrants, showing the world what solidarity means."
He said Greeks did not "give in to nationalistic and xenophobic voices that called for pushback in the sea or a superficial asylum process aimed at rejecting everyone."
Most refugees and migrants land in Italy and Greece and those countries feel abandoned by their EU partners.
Member states like Hungary, Poland, the Czech Republic and Slovakia are unwilling to share the burden and refuse to accept refugee quotas.
Mahathir lashes out at 'massacre' of Rohingya
Malaysian Prime Minister Mahathir Mohamad is criticising growing political, economic and social turmoil around the world, saying the situation has only worsened since the start of the century.
The 93-year-old Mahathir told the UN General Assembly on Friday that when he last spoke to the forum in 2003, shortly before retiring, "I lamented how the world had lost its way."
Mahathir returned to politics this year and says that "if at all, the world is far worse than 15 years ago."
He cites the trade fight between China and the United States, saying that "the rest of the world is feeling the pain."
And he criticises the government of Myanmar for its treatment of its Rohingya Muslim minority and accuses the rest of the world of failing to act.
Mahathir asked fellow leaders: "Nations are independent, but does this mean that they have a right to massacre their own people?"
UN official: Condition not right for Rohingya repatriation
The UN's deputy humanitarian chief said Myanmar has not "substantively and concretely" addressed the issues that led more than 725,000 Rohingya Muslims to flee, and therefore conditions aren't right for their repatriation from Bangladesh.
Ursula Mueller told a high-level event at the UN General Assembly's ministerial meeting on Thursday that the government "must take real steps forward, clearly demonstrating a commitment to immediate change on the ground."
In her speech, circulated on Friday, Mueller said the Rohingya are now "the world's largest stateless population."
She urged donors to respond to the refugee crisis, stressing that the appeal for Bangladesh is only 38 percent funded.
Mueller also urged Myanmar's government to dismantle segregated facilities for the roughly 600,000 Rohingya who remain in Myanmar and end the marginalisation and "deplorable conditions" many are forced to live in.
Thursday, September 27
Russia: Ease N. Korea sanctions in exchange for gradual disarmament
Russian Foreign Minister Sergey Lavrov said on Thursday that steps by North Korea towards gradual disarmament should be followed by the easing of sanctions against Pyongyang.
Lavrov's proposal at the UN Security Council meeting challenges US Secretary of State Mike Pompeo's demand that sanctions should be "vigorously" enforced until such time that North Korea denuclearises.
Russia's top diplomat also called on other countries to refrain from imposing "unacceptable" secondary sanctions on North Korea while talks continue.
Earlier, Pompeo said that North Korea has already breached the cap on refined petroleum set by the UN Security Council last year.
New Zealand leader urges greater gender equality
New Zealand's prime minister is highlighting gender gaps in pay and domestic violence as continuing problems as she calls for the world to "recommit ourselves to gender equality."
Jacinda Ardern, her country's third female prime minister, was speaking on the third day of debate at the United Nations General Assembly.
She said she never grew up believing that gender would stand in the way of her achievements. But she said she will "never celebrate the gains we have made" for women in New Zealand while women in other nations lack "the most basic of opportunity and dignity."
Ardern's remarks Thursday also called for a recommitment to multilateralism — both on principle and because, as she said, "In New Zealand, going alone is not an option."
And she said that climate change is an important example of why cooperation is imperative.
Palestinian president: Jerusalem is not for sale
"Jerusalem is not for sale," Palestinian President Mahmoud Abbas declared on Thursday as he denounced US President Donald Trump's decision to recognise Jerusalem as the capital of Israel and to move the US embassy there.
In a speech before the UN General Assembly, Abbas called on Trump to rescind that decision, as well as his move to cut financial aid to the Palestinians, saying they undermined the two-state solution to the Israeli-Palestinian conflict.
"With all of these decisions, this administration has reneged on all previous US commitments, and has undermined the two-state solution," Abbas said.
He also criticised Israel for promoting "apartheid" by passing in July the "racist" Jewish nation-state law, which he said "crossed all the red lines".
"This law will inevitably lead to the creation of one racist state, an apartheid state and thus nullifies the two-state solution," he said.
In his speech, Abbas also urged the UN-backed International Criminal Court to investigate alleged crimes by Israel.
Israel: Palestinian state 'simply doesn't interest me'
Israeli Defence Minister Avigdor Lieberman expressed indifference on Thursday to US President Donald Trump's remarks about a two-state solution, saying that the Israeli interest is "a safe Jewish state.
Lieberman said a Palestinian state "simply doesn't interest me."
He made the remarks just hours ahead of the speeches of Palestinian leader Mahmoud Abbas and Israeli Prime Minister Benjamin Netanyahu.
On Wednesday, Netanyahu met with Trump, during which the US president said that he "liked" a two-state solution as the most effective way to resolve the Palestinian-Israeli conflict.
Iran's Rouhani: US headed into isolation after UN meeting
Iran's president said on Thursday that the UN Security Council meeting chaired by President Donald Trump the previous day reflected America's increasing isolation among the international community.
"Nobody backed the United States, putting America into a unique historical and political isolation," said Hassan Rouhani, speaking to reporters at Tehran's airport after returning from New York, where he addressed the UN General Assembly.
According to the Iranian leader, Trump achieved the opposite of what he'd hoped for -- in the Security Council meeting, 14 countries either directly or indirectly backed the nuclear agreement between Iran, the United States and five other major powers.
"Very interesting, someone invites leaders to a UN Security Council meeting after himself having trampled on a resolution by the very same council," Rouhani said, referring to the council resolution that backed the landmark 2015 nuclear deal.
Wednesday, September 26
Rouhani to Trump: 'Stop bullying Iran'
Iranian President Hassan Rouhani on Wednesday urged President Donald Trump to "stop bullying" Tehran into submitting into the demands of the US.
In a press conference with Western media, Rouhani also said it is "clear" during his meeting with world leaders at the sidelines of the UN General Assembly, that Trump's decision to withdraw from the nuclear deal has "isolated" the US.
"The US decision to withdraw from the nuclear deal was not agreed upon by other parties. It is considered a mistake by other countries," Rouhani said in a press conference with Western media.
"One day, sooner or later, the US will return to the nuclear deal. The US cannot continue this process. This is not in the interest of the US, Iran and other parties," he said, adding that it was Iran's intention "to try to isolate the US on this issue of the nuclear deal."
What Iran wants is for the US to "return to what is legal and stand by the UN Security Council resolution" on the nuclear deal, and "stop bullying" his country, Rouhani said.
Earlier on Wednesday, Rouhani's foreign minister Mohammad Javad Zarif referred to the reimposition of US sanctions as an act of "unprecedented vengeance".
Zarif said the US withdrawal from the nuclear deal is "unlawful and unjustified".
Venezuela's Maduro accuses US of bullying
Venezuela's president has said at the UN General Assembly that he objects to US President Donald Trump's actions against his government and says that the "illegal unilateral sanctions" are part of a bullying tactic of the United States "imposing its will".
Nicolas Maduro has spent the majority of his speech upbraiding Trump for what the Venezuelan leader calls unfair and imperialist policies and practices.
He said that Trump's speech to the General Assembly about more unilateral, America-first policies constituted "a threat".
Afghanistan's Abdullah: We've 'turned a page' toward peace
Afghanistan's chief executive told world leaders on Wednesday that his country has "turned a page" toward peace in the last year, and he's calling for their help in getting to "a new phase free of violence" in a country riven by conflict since the 1970s.
Speaking at the UN General Assembly, Abdullah Abdullah pointed to developments including the Taliban's participation in a brief ceasefire in June.
He said Afghans "pose no danger to anyone" and seek to "play a constructive and collaborative role" regionally.
The UN envoy for Afghanistan recently said the country is in its best position since 2001 to start a process leading to peace talks with Taliban armed fighters.
Still, attacks this year have underscored the difficulties Afghan forces have faced in combatting the Taliban and an affiliate of the Islamic State of Iraq and the Levant (ISIL).
Bolivia's Evo Morales slams US 'meddling' in Iran, Venezuela
With US President Donald Trump listening, Bolivia's President Evo Morales lashed out at the United States and accused Trump's administration of meddling in Iran and Venezuela.
Morales also said the US government has shown "contempt" for multilateralism and has no interest in upholding democracy.
Trump was presiding over a UN Security Council meeting on Wednesday.
Morales said that if the US upheld democracy "it would not have financed coup d'etats and supported dictators" or threatened democratically elected governments as it has in Venezuela.
He also charged that "the United States could not care less about human rights or justice," citing its alleged promotion of the "use of torture" and separation of migrant parents and children who were put "in cages."
China's foreign minister rejects Trump's accusation
Chinese Foreign Minister Wang Yi on Wednesday dismissed the claim of US President Donald Trump that Beijing is trying to influence the outcome of the midterm US elections in November.
In his statement before the UN Security Council, Wang said that it is China's long-standing policy "of non-interference of the domestic affairs of other countries".
"This is a tradition of Chinese foreign policy. Our observance of this principle has received acclaim in the international community. We did not and will never interfere in any country's domestic affairs. We refuse to accept in unwarranted accusations against China, and we call upon other countries to also observe the purposes of the UN charter not to interference with other country's domestic affairs".
Meanwhile, Wang also defended the 2015 Iran nuclear deal, praising it as an "achievement of multilateralism".
"There is no international agreement that is perfect. The JCPOA has been unanimously endorsed by the Security Council. What happened in the past three years shows the JCPOA is a viable agreement," he said, referring to the deal, officially known as the Joint Comprehensive Plan of Action (JCPOA).
Wang urged Iran to "continue to fulfil" its commitment to the deal, adding that "legitimate rights" of other countries to trade with Iran "should be respected".
He also praised the progress being made in the Korean Peninsula and expressed its support of the agreement reached between US President Donald Trump and North Korean leader Kim Jong-un in Singapore in June.
"We call on all parties to seize the opportunities into concrete actions."
Trump accuses China of election meddling
US President Donald Trump has accused China of seeking to meddle in the November 6 midterm elections, saying Beijing did not want the Republican Party to do well because of his stance on trade.
"China has been attempting to interfere in our upcoming 2018 election, coming up in November. Against my administration," Trump told the UN Security Council meeting on Wednesday.
Trump did not provide any evidence for the allegation. China did not immediately respond to the remarks by Trump, who was chairing the Council meeting.
"They do not want me or us to win, because I am the first president ever to challenge China on trade and we are winning on trade, we are winning at every level. We don't want them to meddle or interfere in our upcoming election," Trump said. [Reuters]
Macron: US withdrawal from Iran deal resulted in a 'serious crisis of confidence'
French President Emanuel Macron on Wednesday said that a "serious crisis of confidence" has emerged after US President Donald Trump's decision to withdraw from the Iran nuclear deal.
In his message before the UN Security Council, Macron said that while the 2015 deal is "imperfect", it ensures that Iran would not be able to obtain nuclear weapons.
Trump considering 'all options' on Venezuela
All options are on the table with regards to Venezuela, US President Donald Trump said on Wednesday in New York, a day after his administration ratcheted up sanctions on the inner circle of President Nicolas Maduro.
"All options are on the table. Every one. The strong ones and the less than strong ones. Every option. And you know what I mean by strong. Every option is on the table with respect to Venezuela," Trump said.
Trump called for the restoration of democracy in Venezuela during a speech to the UN General Assembly on Tuesday, shortly after his government slapped sanctions on key figures in Caracas, including Maduro's wife.
Tuesday, September 25
Germany and Saudi Arabia agree to end diplomatic row
Germany and Saudi Arabia have agreed to end a prolonged diplomatic row that prompted the kingdom to pull its ambassador from Berlin and punish German firms operating in the country.
The spat was triggered last November when Germany's foreign minister at the time, Sigmar Gabriel, condemned "adventurism" in the Middle East, in comments that were widely seen as an attack on increasingly assertive Saudi policies, notably in Yemen.
The comments led Riyadh to withdraw its ambassador and freeze out German companies, particularly in the lucrative healthcare sector.
Standing alongside his Saudi counterpart Adel al-Jubeir at the United Nations on Tuesday, German Foreign Minister Heiko Maas spoke of "misunderstandings" that had undermined what were otherwise "strong and strategic ties" between the countries, saying "we sincerely regret this".
"We'll do our best to make this partnership with the kingdom even stronger than before," he added.
Iran's Rouhani: US sanctions is 'economic terrorism'
Iranian President Hassan Rouhani said on Tuesday that world security is under threat by some states' "recklessness and disregard" of international values and institutions.
"Confronting multilateralism is not a sign of strength. Rather, it is a symptom of the weakness of the intellect. It betrays an inability in understanding a complex and interconnected world," he said.
Rouhani said that it is "unfortunate" that the world is witnessing rulers "who think they can secure their interest better...by fomenting extremist, nationalism and through xenophobic tendencies resembling Nazi disposition."
In his speech, Rouhani also lashed out at US President Donald Trump, saying he is seeking an "overthrow" of the Iranian leadership, while calling the unilateral US sanctions as a form of "economic terrorism".
Qatar's Sheikh Tamim: Reject 'rule of force' to resolve disputes
Qatar's leader Sheikh Tamim called on the UN General Assembly on Tuesday to reject "the rule of force" to resolve political and security disputes in the world and the Middle East.
It is the second time that Sheikh Tamim addressed the UN meeting since the Saudi-led blockade of the state in 2017, which he said is a "flagrant violation" of international law.
In his speech, Tamim said that since the blockade started, it has been revealed that there was a "pre-arranged campaign of incitement" against his country. But he said that during the same period of the blockade, Qatar's economy continued its growth.
Jordan's King Abdullah: No to 'one-state' solution in Israel
Jordan's King Abdullah has called on world leaders to work together to put the Israeli-Palestinian peace process "back on track".
The Jordanian leader said that the "key crisis" in the Middle East is the "long denial of a Palestinian state". "The only path to a comprehensive, lasting peace in the region is a two-state solution," he said, adding that a one-state is an "abandonment" of peace.
Macron urges 'dialogue and multilateralism' on Iran
French President Emmanuel Macron called Tuesday for "dialogue and multilateralism" on Iran, in a thinly veiled response to Trump's push for tough, US-led sanctions.
The French leader credited the 2015 accord rejected by Trump with curbing the nuclear programme of Iran.
Macron also said unilateralism will not work to resolve the Palestinian-Israeli conflict. "What can resolve the crisis between Israel and Palestine? Not unilateral initiatives, nor trampling on the legitimate rights of the Palestinian people to legitimate peace. There is no credible alternative to the two-state solution."
Turkey's Erdogan calls for political solution in Syria
Turkish President Recep Tayyip Erdogan has called on all parties to support "just and sustainable political solution" in Syria with a constructive approach, to prevent a humanitarian catastrophe.
Last week, Turkey and Russia reached a deal to establish a demilitarised zone in Syria's Idlib province to prevent bloodshed in the rebel-held territory where nearly three million people live.
"Those who equip terrorists with tens of thousands of trucks and cargo planes, load of arms for sake of tactical interests will most definitely feel sorrow in the future," he also said.
Turkey's Erdogan: UN failing to act on Palestine, Myanmar
Turkish President Recep Tayyip Erdogan has renounced the United Nations Security for "standing idle to the oppression" in Myanmar, Palestine and Bosnia among other nations.
In a speech before the UN on Tuesday, Erdogan said that "those who remained silent on the oppression of the Palestinians" are only encouraging the oppressors.
"Even if the whole world turns its back, Turkey will continue to be on the side of the oppressed Palestinians," he said.
UN's Guterres: We are not doing enough on global warming
UN Secretary-General Antonio Guterres has warned that the world has reached "a pivotal moment" in global warming and risks runaway climate change if leaders don't act in the next two years.
Speaking Tuesday at the UN General Assembly in New York, Guterres told world leaders that they are not doing enough to combat what he calls "a direct existential threat" that is moving faster than people are working to combat it.
He's calling for making sure the international Paris climate change agreement is implemented. US President Donald Trump has announced he's withdrawing his country from the pact. Guterres is planning a climate summit next year.
UN chief: World suffering from 'trust deficit disorder'
The world is suffering from "trust deficit disorder," UN Secretary-General Antonio Guterres said in remarks ahead of world leaders' speeches at the UN headquarters in New York.
People are losing faith in political establishments, power relations are unclear and "democratic principles are under siege," Guterres said.
"The world is more connected, yet societies are becoming more fragmented. Challenges are growing outward, while many people are turning inward," the UN chief added.
UN General Assembly 2018: Key issues
Here are some of the key issues expected to feature heavily at this year's General Assembly.
The Rohingya: Countries are divided on an appropriate response to the Rohingya crisis, with US Ambassador Nikki Haley calling for strong and immediate action against Myanmar's leadership and Chinese ambassador Wu Haitao urging a softer approach based on "constructive assistance".
Syria: As the battle for Idlib looms, UN officials have called on all parties to ensure that civilian casualties are avoided.
Iran nuclear deal: Relations between the US and Iran are at a low since Trump pulled out of the nuclear deal in May. Meanwhile, Europe is trying to keep the agreement afloat.
New Zealand's 'First baby'
New Zealand's Prime Minster Jacinda Ardern made history when she brought her three-month-old daughter into the assembly hall on Monday evening.
Ardern called bringing her baby into the meeting a "practical decision".
"Neve is actually nearby me most of the time in New Zealand, she's just not always caught. But here, when she's awake, we try and keep her with me. So that was the occasion," the New Zealand Herald quoted her as saying.
The head of state's partner, Clarke Gayford, earlier tweeted a picture of the ID badge of Ms Neve Te Aroha Ardern Gayford - New Zealand's "first baby".
(Source: Al Jazeera)