"Saudis fund terrorists"
Zarif says Trump succeeded in isolating U.S.
September 30, 2018 - 21:44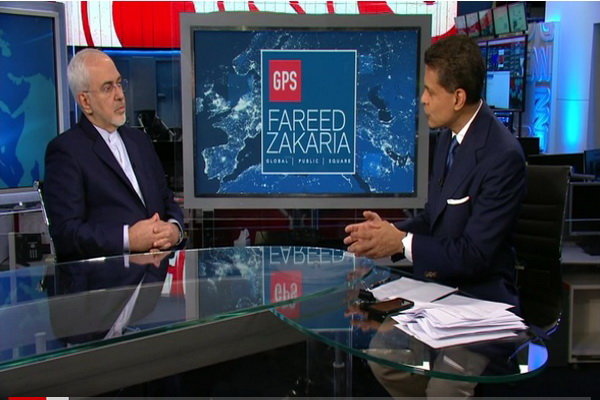 TEHRAN - Iranian Foreign Minister Mohammad Javad Zarif says President Donald Trump has succeeded to isolate the United States.
The chief Iranian diplomat made the remarks in an interview with CNN's Fareed Zakaria on Sunday.
He also said that Saudi Arabia was behind a recent terror attack in Iran's Ahvaz, noting that the Saudis have predicated payments to the mercenaries upon performing terror acts in Iran.
Iran, Europe about to reach oil deal
On Saturday evening, Zarif also said that Tehran was closing in on an agreement to sell oil to European nations despite American threats of sanctions against any countries that do business with Iran.
In an hour-long conversation with reporters, Zarif sounded far more optimistic than he had in recent months that he could peel away America's traditional allies to break U.S. President Donald Trump's effort to cut off Iran's revenues, according to the New York Times.
"This is for us to sell our oil and get the proceeds," Zarif said, noting that under the United Nations resolutions passed once the 2015 agreement was reached, countries have the legal right to trade with Iran.
Answering a question if the United States might attack key Iranian facilities, he said, "If the U.S. believed it would have succeeded in such an attack, it would have done so already."
Atomic warehouse or cleaning facility for Persian rugs
On the subject of claims by the Israeli Prime Minister, Benjamin Netanyahu, that Iran had hidden nuclear-related components in a warehouse in Tehran, Zarif said he believed that it was a cleaning facility for Persian rugs. But he would not commit to letting inspectors from the International Atomic Energy Agency visit.
Elsewhere in his remarks, Zarif said Iran might pull out of the nuclear deal if the special mechanism being created by the Europeans doesn't work, according to the Washington Post.
"The actual mechanism would be to avoid dollars," he said, adding, "You can use your own currency. Sell stuff in your own currency, buy stuff in the other country's currency, and at the end of a specific period, balance it out in a non-dollar currency. It's quite possible and may even be profitable."
SP/PA