By Syed Zafar Mehdi
Parliamentary polls another test for Afghan democracy
October 3, 2018 - 18:3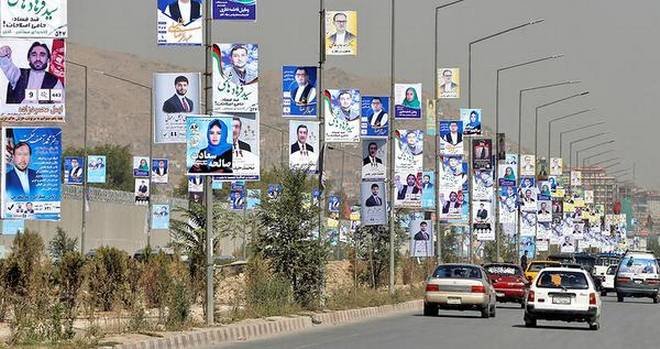 TEHRAN - The campaigning for October 20 Afghan parliamentary polls quietly kicked off last week. Originally slated for 2015, the election has been repeatedly deferred due to the fragile security environment and national unity government's lack of preparedness.
After a lot of dilly-dallying, the people in Afghanistan will finally exercise their franchise at more than 21,000 polling booths across the country to elect members of the new parliament. It will be another watershed moment in the history of this war-torn, nascent democracy, where security situation continues to deteriorate and institutions of government remain in disarray.
The list of candidates, which has been trimmed to 2,565 after the disqualification of 35, will be competing for 249 seats in the lower house of the Afghan parliament. Many former parliamentarians are running again, most of them embroiled in large-scale corruption cases. However, the good news is the participation of young and educated men and women – journalists, activists, entrepreneurs.
In a country where corruption, poor governance, and warlordism have become a norm, the participation of youth in democratic processes inspires hope and confidence. The young parliamentary candidates have spoken extensively about the need of overhauling the system, combating corruption, rebuilding institutions, establishing rule of law, countering violent extremism and making their country politically and economically sovereign. It is time to pass the baton to the youth.
But, will the transition be smooth? Will the government be able to facilitate free and fair elections? Will the armed insurgents allow people to vote? The questions are too many. With less than a month to go, fears about violence and irregularities have cast an ominous shadow over these elections, which come less than a year before the presidential polls.
Taliban and its affiliate groups have always opposed the democratic processes in Afghanistan and have repeatedly issued threats against those participating in elections. With ISIS now trying to gain foothold in the war-ravaged country, the league of anti-democratic forces has swelled. Even though the Taliban and ISIS have been engaged in a bitter, bloody conflict, both groups have vowed to disrupt elections.
On Tuesday, at least 13 people were killed and 25 others wounded in a deadly suicide attack at an election campaign rally in eastern Nangarhar province. Provincial governor's spokesman Ataullah Khogyani said the bomber had detonated his explosives at a rally by parliamentary candidate Abdul Nasir Mohmmand in the outskirts of provincial capital Jalalabad. The attack was claimed by ISIS.
Security remains a critical issue and observers fear more such attacks in coming days as the armed opposition groups up the ante. According to Afghanistan's Independent Election Commission (IEC), five candidates have been killed in the attacks so far – two in Kabul, one each in eastern Nangarhar, southern Kandahar, and northern Parwan province. And there are fears violence will escalate.
According to news reports, a total of 54,000 Afghan security personnel will be protecting polling centers on election day, but that does not guarantee violence-free elections. Suicide bombers are trained to carry out complex attacks at crowded places as we have seen in the recent past.
The UN Mission in Afghanistan has also expressed concern over violence ahead of the parliamentary elections. "The UN Mission in Afghanistan is concerned by the level of violence early in the campaigning period for the 20th of October parliamentary elections including intimidation and attacks against candidates, their agents and supporters," UN Secretary-General Deputy Spokesperson Farhan Haq said during a press briefing on Tuesday.
According to the recent SIGAR report, almost 56.3 percent of Afghanistan's districts are currently under government control and at least 30 percent of districts are contested, which shows the resurgence of insurgents and helplessness of the Afghan government.
On Eid al Fitr this year, the Afghan government and the Taliban had observed an unprecedented three-day ceasefire. But, after the ceasefire ended, it was business as usual. In July, Taliban overran two districts in eastern Afghanistan and in August, the strategic city of Ghazni fell to the Taliban. The control was regained but the psychological damage was done.
If security is one issue, the other equally disquieting issue pertains to fairness and transparency. Elections in Afghanistan have always been marred by allegations of vote rigging and manipulation. To minimize the risk of irregularities this time, 22,000 sets of biometric identification systems would be used, according to reports. However, so far, only 4,400 have been delivered by Germany.
The election commission has earmarked over 5,100 polling centers across the country and there will be 21,000 polling stations, each of them with one biometric device.
Past elections resulted in deeply contentious results – in 2009, 2010, and 2014 – with candidates accusing each other and the government of that time of manipulation and vote rigging. In 2014 presidential elections, Ashraf Ghani and Dr. Abdullah Abdullah publicly argued over election results, before the compromise formula was worked out to form a coalition government.
The upcoming election would be another litmus test for democracy and democratic institutions in Afghanistan, provided the U.S. and its allies abstain from interfering in it and the insurgent groups allow people to vote peacefully.
Before November's ministerial meeting on Afghanistan in Geneva, which the United Nations has termed "crucial moment" for the Afghan government, successfully parliamentary elections would be ideal. But, in case of Afghanistan, predictions hardly work.