Jamal Khashoggi: Labour attacks UK response as 'too little, too late' 
October 14, 2018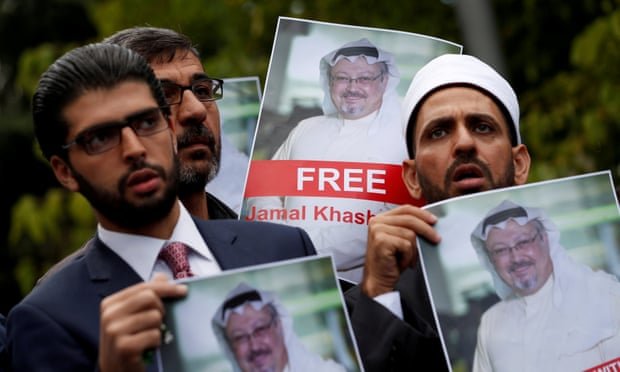 Labour has launched a blistering attack on the government over its response to the presumed murder of Saudi journalist Jamal Khashoggi, as pressure mounts on officials heading to Saudi Arabia for a conference.
U.S. President Donald Trump vowed "severe punishment" if Saudi authorities were found to have played a role in killing the Washington Post columnist. However he appeared keen to rule out sanctions, saying he did not want to "hurt [US] jobs" by halting military sales to Saudi Arabia.
Khashoggi has been missing since 2 October, when he went to the Saudi consulate in Istanbul to collect documents confirming his divorce. Turkish authorities say he was brutally murdered inside the building by a Saudi hit squad. They have leaked an array of grim details, and said most recently that they have audio and video recordings of torture and death.
Authorities in Riyadh deny attacking Khashoggi and say, without providing proof, that he walked out of the consulate. A delegation from Saudi Arabia arrived in Turkey yesterday for a joint investigation.
Turkey's foreign minister, Mevlüt Çavuşoğlu called for Riyadh to allow Turkish officials into the consulate. Crown prince Mohammed bin Salman offered Turkish investigators soon after Khashoggi vanished, but officials have since backtracked.
UN chief António Guterres told the BBC there should be a 'strong request" for the truth, as this kind of incident was becoming a "new normal".
Shadow foreign secretary Emily Thornberry, writing in today's Observer, slams the government for days of silence after the journalist's disappearance. Foreign secretary Jeremy Hunt did not comment until 9 October, saying he had demanded "urgent answers" from Riyadh.
That was "far too little, far too late", Thornberry says, comparing it with the government's rapid denunciation of the apparent killing of Ukrainian journalist Arkady Babchenko in May.
"Imagine for one second how the current Tory government would have reacted if… either Russia or Iran had abducted – and in all likelihood murdered – one of their dissident, exiled journalists within the sovereign territory of another country," she writes.
She criticises the prime minister for hosting the crown prince earlier this year, and accuses the government of soft-pedalling on human rights to secure a post-Brexit weapons deal.
Saudi Arabia has long shrugged off protests about domestic repression and an aggressive foreign policy, including leading a war in Yemen that has taken a huge civilian toll, but Khashoggi's disappearance has prompted unprecedented outrage, and as damning details mount, Saudi isolation is growing.
The Financial Times, CNN and the New York Times have all confirmed that they will no longer attend. Other prominent figures to back away from Saudi ties include British bilionaire Richard Branson, who said he had halted talks over $1bn of Saudi investment in his Virgin Galactic and suspended directorships in two tourism projects.
However both US treasury secretary Steve Mnuchin and British international trade secretary Liam Fox are still planning to go to the late October conference, unless more details emerge about what happened in the consulate.And IMF leader Christine Lagarde said said she was "horrified by reports of Khashoggi's fate, but still plans to attend the meeting, AFP reported.
Tom Tugendhat, Conservative MP and chair of the foreign affairs committee, warned that if Khashoggi had been murdered it would be a very damaging attack on the rule of law internationally, which would demand a strong response.
"The idea that we can treat Saudi as a normal state, if it practices state-sponsored murder outside its borders, I'm afraid is simply not true," he said on BBC Radio 4. "We may be talking about downgrading diplomatic relations. We may be talking about restricting support for certain areas."
A string of business leaders and media partners have pulled out of a high-profile conference to be held outside Riyadh from 23-25 October, and dubbed "Davos in the desert".
He said Fox should not attend the Riyadh conference if further details confirm a Saudi role. "I don't think, if this is proven, British cabinet ministers should be going," he said.
(Source: Guardian)