Female Iranian MP elected as member of IPU presiding board
October 15, 2018 - 22:35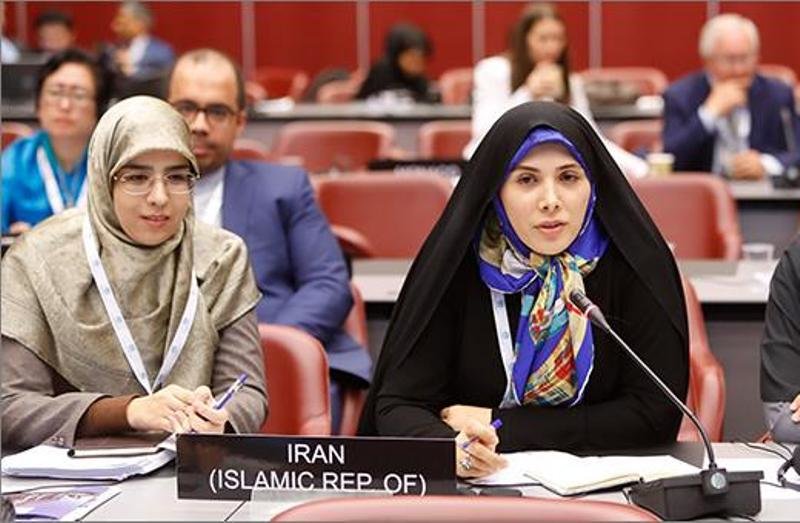 TEHRAN – Seyyedeh Fatemeh Hosseini, a member of Majlis (Iranian Parliament), was elected as a member of the presiding board of Forum of Women Parliamentarians of the Inter-Parliamentarian Union (IPU) in Geneva, Switzerland.
IPU is an organization made up of national parliaments from around the world. IPU protects and builds global democracy through political dialogue and concrete action.
The female MP gained the majority of votes in a meeting of the group of Asia-Pacific countries held on Sunday, IRNA reported.
She was elected to the position of a representative for the Asia Pacific Parliamentary Forum (APPF), the report added.
Consisting of eight Majlis members, the Iranian delegation entered Geneva to take part in the event on October 14-18.
Iranian delegation is to partake in the Committee on Peace and International Security, Committee on Democracy and Human Rights, Committee on Sustainable Development, Finance and Trade, Committee on United Nations Affairs, Forum of Women Parliamentarians, Forum of Young Parliamentarians, and specialized panels.
Majlis trying to reduce gender inequity
Empowering women and promoting their rights and dignity are the prerequisites for development in any society, said Parvaneh Mafi, another female MP, at the same meeting on Sunday.
"Discovering and supporting scientific elites, especially women researchers, commenced in Iran's National Elites Foundation a decade ago," IRNA quoted Mafi as saying.
"'Nowadays, Iranian girls form a significant part of the scientific festivals and Olympiads," she added.
Mafi went on to refer to the large population of Iranian female university students in Iran.
"Girls in Iran constitute 69 percent of university students in fundamental sciences, while 23 percent of engineering students, 52 percent of agriculture students and 53 percent of medicine students in Iran are also female."
The 139th Assembly of the IPU is taking place in Geneva, Switzerland on 14-18 October.
All IPU statutory bodies, including the Governing Council, Standing Committees, Committees on the Human Rights of Parliamentarians and on Middle East Questions, as well as the Forum of Women Parliamentarians and the Forum of Young MPs, will meet on this occasion, wrote the IPU official website.
Currently, IPU has 178 member parliaments and 12 associate members. It works closely with the United Nations and other partner organizations who share the same goals.
Today, the IPU is an organization that most closely reflects world public opinion. More than 6.5 billion of the world's 7 billion people live in countries whose parliaments are members of the IPU—and it is their elected representatives who engage in and steer IPU policies. By bringing parliaments together, IPU bring people together.
IPU is financed primarily by its members out of public funds. IPU headquarters are in Geneva, Switzerland.
NM/MQ/MG