Rouhani: Arbaeen trek 'display of power' against enemies of Islam
October 31, 2018 - 20:44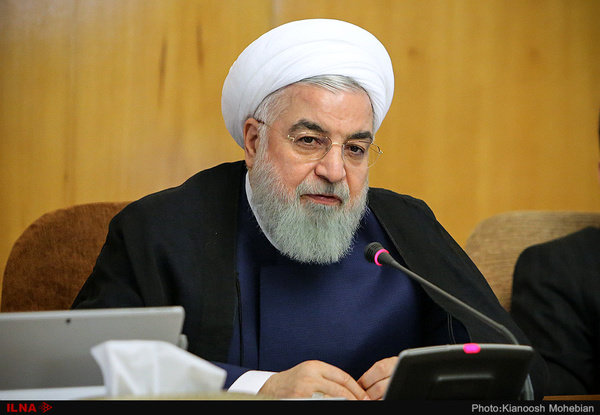 TEHRAN – President Hassan Rouhani has described the Arbaeen trek as a "display of power" against the enemies of Islam, saying Arbaeen is a symbol of "fighting oppression" and "defending freedom".
"The message of Arbaeen is that of fighting oppression, defending freedom and independence, not bowing before the bullies and tyrants of the time, fighting terrorism and making efforts toward global security and peace," Rouhani said in Wednesday's cabinet session, ILNA reported.
"No one will be harmed by Arbaeen … but the Islamic world, Europe, America and the whole world would benefit from it," he added.
The religious ritual of Arbaeen is performed to observe the end of the 40-day mourning period following the martyrdom of Imam Hussein (AS) and his loyal companions on Ashura. Pilgrims from various countries flock to the Iraqi city of Karbala during Arbaeen to visit the shrines of Imam Hussein (AS) and his brother Hazrat Abbas (AS).
The president voiced his gratitude to the people of Iraq for their hospitality, saying, "The Iraqi people, especially the people of Karbala, have always been good hosts for Arbaeen pilgrims."
He also thanked all executive agencies, ministries of interior, health and medical education, petroleum, energy, roads and urban development, the Red Crescent Society, law enforcement, municipalities and religious groups all over the country for their hard work during Arbaeen.
Elsewhere in his remarks, Rouhani pointed to Washington's maximum-pressure campaign against Iran, saying "people should know with certainty that the administration is not afraid of U.S. threats."
"The situation might have been tough for our people in recent months, but the administration will be making every effort to attack the problems, and by the grace of God and the help of the people, producers, exporters and entrepreneurs, we won't let this trend continue," he added.
Making a reference to Washington's failure to reduce Iran's oil export to zero, Rouhani said the U.S. "won't certainly succeed in its new plot against Iran."
MH