Jaberi Ansari meets de Mistura, Syrian opposition figures
November 22, 2018 - 10:48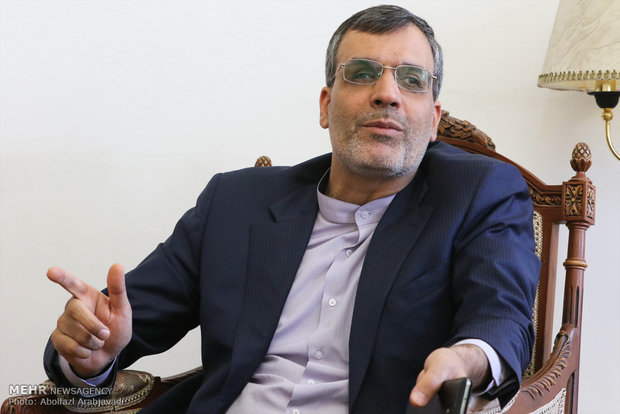 TEHRAN – Hossein Jaberi Ansari, a senior advisor to Iranian foreign minister for political affairs, held separate talks with the outgoing UN special envoy for Syria, Staffan de Mistura, and some Syrian opposition figures in Switzerland on Monday and Tuesday.
The sides held consultations on the resolution of problems in formation of the Syrian Constitution Committee and the forthcoming round of the Syrian International Peace Talks in Astana, the Foreign Ministry website reported on Wednesday.
The peace talks are scheduled to be held at the in the Kazakh capital on November 28-29.
Jaberi Ansari, who is Iran's top negotiator at Syria talks, met on November 12 with Syrian President Bashar al-Assad, Foreign Minister Walid Muallem, and some other Syrian political and security officials to discuss the latest developments in the country and issues related to the constitutional committee.
In their meeting, Jaberi Ansari and Assad stressed the importance of Syrian-Iranian relations as a factor of stability, and reaffirmed both nations' determination to continue combat against terrorist groups operating across the region.
They also underlined the need that dialogue is the sole solution to the Syria crisis.
The Iranian negotiator and the Syrian leader also vowed to resist any pressure by the United States, which is attempting to revive terrorists to topple the Damascus government.
Iran has been offering military advisory support to Syria at the request of its government, enabling its army to speed up its gains on various fronts against terror groups.
However, over the past few years, Israel, the closest ally of the U.S., has frequently attacked military targets inside Syria to prop up terrorist groups that have been suffering defeats in the battle against Syrian government forces.
In addition, the U.S.-led coalition has been conducting airstrikes against what are said to be Daesh targets inside Syria since September 2014 without any authorization from the government or a UN mandate.
The military alliance has repeatedly been accused of targeting and killing civilians. It has also been largely incapable of achieving its declared goal of destroying Daesh.
Jaberi Ansari and Assad also discussed a yet-to-be-formed constitutional committee, which is supposed to include representatives from various Syrian groups.
The committee is expected to include 150 members: 50 chosen by Damascus, 50 by the opposition and the final 50 by de Mistura. It will also include civil society representatives, religious and tribal leaders, experts and women.
The UN-prepared list has already been rejected by Damascus, which is to draw up its own list, along with Russia, Iran and Turkey.
Even if the committee is finally established, analysts say the task of discussing a post-war constitution will be difficult.
The Syrian government has on numerous occasions said that it would only agree with some alteration to the current constitution, whereas the opposition is pushing for an entirely new constitution.
SP/PA