'Iran self-reliant in engineering, building maritime structures'
November 26, 2018 - 22:20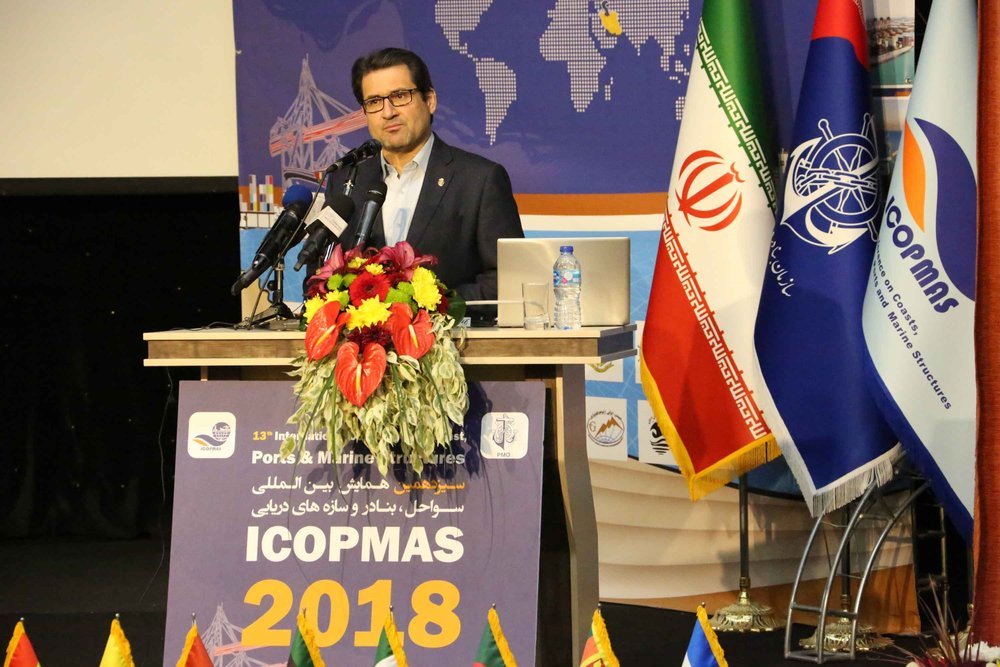 TEHRAN- Iran is a self-reliant and modern country in the field of engineering and building maritime structures, according to the head of Iran's Ports and Maritime Organization (PMO).
Mohammad Rastad made the remarks in the inaugural ceremony of Iran's 13rd Biennial International Conference on Coasts, Ports and Marine Structures (ICOPMAS 2018) held in Olympic Hotel in Tehran on Monday, PMO website reported.
The official said that there is no port project in the country that Iranian experts cannot conduct its designing and building task and as an example he referred to the project of phase 3 of developing Shahid Rajaee Port in the south of country which has been started in the beginning of current Iranian calendar year (March 21) to boost its container capacity to eight million TEUs per year in 1400 meters of dock and 100 hectares of area.
He also referred to the project of increasing the capacity of Chabahar Port in southeast of the country through building five docks in a way that mega ships can berth there.
Elsewhere in his remarks, Rastad named ICOPMAS a significant and effective event in the region and world.
Iranian Transport Minister Mohammad Eslami as well as some parliament members were also present in the inaugural ceremony of the international conference which is participated by representatives from 36 countries.
ICOPMAS, as one of the oldest and the most important scientific events in Iran and the Persian Gulf region, provides an appropriate ground to exchange the latest scientific innovations and technical executive achievements by gathering engineers, designers, scientists and researchers in the field of coasts, ports and marine structures.
The conference is also a think tank to improve the knowledge of coasts and ports engineering.
An exhibition of maritime structures and technology is also held on the sidelines of the conference providing the ground for strengthening ties between Iranian and foreign companies.
This conference is also a preparation for the 10th edition of PIANC-COPEDEC, which is the World Association for Waterborne Transport Infrastructure (PIANC) Conference on Coastal and Port Engineering in Developing Countries (COPEDEC), to be held in Iran's southern island of Kish in November 2020 concurrent with the 14th edition of ICOPMAS.
IMO secretary general praises Iran holding ICOPMAS
International Maritime Organization (IMO) Secretary General Kitack Lim in a message on ICOPMAS 2018, admires Iran for holding this event.
His message read: "I praise Iranian Roads and Urban Development Ministry and Iran's Ports and Maritime Organization as one of the active members of IMO and for holding the 13th edition of International Conference on Coasts, Ports and Marine Structures."
IMO like the other UN organizations follows "Sustainable Development" as one of its main and pivotal targets, Lim said in his message.
Holding ICOPMAS in Iran is properly in line with the main objectives of IMO as this international organization is seeking sustainable development and achieving some strategies to tackle challenges faced by maritime activities, he said.
'No passive approach against unilateral sanctions'
Addressing the inaugural ceremony of the conference, Iranian Transport Minister Mohammad Eslami said Iran will not take any passive approach against the U.S. unilateral sanctions and it will continue its way toward development and flourishing.
"We are witnessing active performance of ports and maritime sector", the minister noted.
Having access to the free waters and being located at a strategic point, Iran should pay special attention to maritime economy and use maritime development as a main factor for its progress and strengthening national economy, Eslami added.
Elsewhere in his remarks, the minister mentioned the significance of developing transit and also the high importance of North-South Corridor and said: "We should expedite our task in this due."
MA/MG