By staff & agencies
G20 summit: Hate grows towards Saudi Prince over Khashoggi murder, Yemen war
December 1, 2018 - 12:15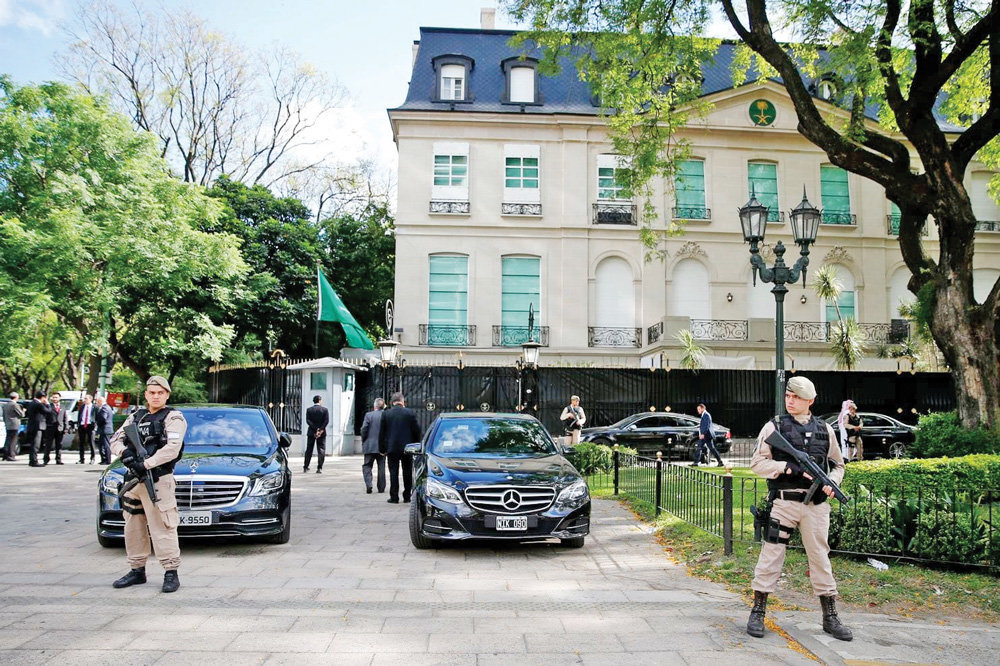 Nineteen leaders of the world's biggest economies and a representative of the European Union (EU) are set to meet on Friday and Saturday in Buenos Aries, Argentina as part of the Group of 20 summit (G20). 
This year, all eyes will be on a range of issues, including a high-stakes meeting between the United States President Donald Trump and his Chinese counterpart Xi Jinping and the potential signing of the U.S.-Mexico-Canada Agreement (USMCA).
The Saudi regime Crown Prince Mohammed bin Salman's appearance at the summit is expected to cause some protests over the murder of Saudi writer Jamal Khashoggi.
Saudi crown prince arrives in Argentina
The House of Saud regime's Crown Prince Mohammad bin Salman, MBS, landed in Buenos Aires for the G20 summit, according to Argentine TV news.
His arrival comes amid international furor over the murder of Khashoggi and a request by Human Rights Watch (HRW) that Argentina investigate him for war crimes in Yemen.
All eyes will be on Prince Mohammed, particularly over the killing of Khashoggi. There have been allegations that he ordered the killing, which happened inside the Saudi regime consulate in Istanbul last month. There will be leaders who won't want to get caught in a grip-and-grin situation with MBS.
It may well be that Trump will go out of his way to embrace the de facto Saudi leader as others scurry away, treating him as a pariah.
Turkish President Recep Tayyip Erdogan, who has kept international pressure mounting on Saudi Arabia, is also expected to attend. The crown prince has requested a meeting with Erdogan on the sidelines of the summit, according to Ankara.
Earlier in the day, Reuters news agency reported that Prince Mohammad left Tunisia for Argentina to attend the G20 summit, where all eyes will be on world leaders' reaction to the man accused of ordering Khashoggi's murder.
The prince left Tunisia early on Wednesday, Reuters quoted Al-Arabiya's website as saying.
HRW requested that Argentine authorities arrest the crown prince and that he be tried by a court for war crimes in Yemen and Khashoggi's killing.
The developments follow as activists on two continents are trying to disrupt the House of Saud regime's Crown Prince first global tour since the murder of journalist Jamal Khashoggi.
Prior to G20 summit in Argentina, in Tunis, hundreds of demonstrators waved banners and pamphlets expressing disapproval of the prince's visit. "No hellos and no welcomes to the killer of Yemen's children," read one protest banner.
A giant poster hung on the facade of the office of the journalists' union depicting a shadowy bin Salman carrying a chain saw, an allusion to the reported dismemberment of Khashoggi. "No to the desecration of the land of revolutionary Tunis," read the text above the image.
Hundreds of demonstrators took to Habib Bourguiba street -- previously the epicenter of the uprising which unseated Tunisia's longtime dictator in 2011 -- for two days of protests that included satirical theatrical performances which portrayed bin Salman as a murderous clown.
An Argentinian prosecutor is investigating MBS for possible crimes against humanity
Meantime, an Argentine judge reviewing a complaint by Human Rights Watch (HRW) against Saudi Crown Prince Mohammed bin Salman for his involvement in the war in Yemen asked Argentine's foreign ministry to seek Turkey and the International Criminal Court for information, the judge's office told Reuters news agency.
On Monday, Human Rights Watch lodged a complaint in Argentina against the Crown Prince, invoking a constitutional war crimes clause as grounds to investigate bin Salman for possible crimes against humanity in Yemen and the killing of Khashoggi.
The office of federal judge Ariel Lijo said on Wednesday it was seeking information on any open cases relating to the murder of Khashoggi or war crimes in Yemen.
A representative of the federal prosecutor's office that is working with Judge Lijo on the complaint told Reuters it was still reviewing HRW's request and that no decision had yet been made on whether to investigate it.
Calls among Western countries for a ceasefire in Yemen -- where a Saudi and Emirati-led coalition is waging a three-plus-year war against Yemen -- have grown. Germany suspended lucrative arms deals with the kingdom last week. Denmark and Finland have followed suit.
Yemen has been dubbed the world's worst humanitarian disaster by the United Nations. According to a joint statement this week by international aid groups, 14 million people are at risk of starving to death in Yemen. The country is home to the world's worst famine in 100 years, according to the UN.
Human Rights Watch's legal action against bin Salman is the latest blow to the prince's years-long campaign to boost the kingdom's image in a bid to attract Western investment.
"Immunity didn't work for the architects of Argentina's dirty war, many of whom were prosecuted and served long prison sentences," Human Rights Watch Executive Director Kenneth Roth wrote in a tweet, referring to former officials convicted in the so-called dirty war trials in 2017. "So will the Saudi Crown Prince risk an immunity claim to show up at the G20 summit as Argentine prosecutors investigate him?"
Argentina's constitution recognizes universal jurisdiction for war crimes and torture, allowing courts to investigate and prosecute such crimes regardless of where they were committed and the nationality of the suspects or victims.
But the administration of the U.S. President Donald Trump has so far shielded the Crown Prince from any tangible impact. Last week, Trump signaled that he would not take strong action against Saudi Arabia or bin Salman for Khashoggi's murder.
On Monday, two sources told CNN that the US has "slammed the brakes on" a United Nations Security Council resolution calling for a limited ceasefire and increased humanitarian aid in Yemen over concerns about angering Saudi Arabia.
The draft resolution, crafted by Britain and obtained by CNN, is already seen by human rights groups as disappointingly watered-down: It calls for a ceasefire only in Hudaydah, the principal Red Sea port through which some 80% of humanitarian aid flows.
The resolution is not at all critical of Saudi Arabia, and in fact compliments Saudi action; it is critical only of the Ansarullah (Houthi) movement, who have been fighting the Saudi regime-led coalition while maintaining control of the capital Sana'a.
Saudi crown prince meets India's Modi in Argentina
Elsewhere, Mohammed bin Salman met with Indian Prime Minister Narendra Modi and discussed cooperation between the two countries in security, energy, and investments, the Saudi press agency said.
The two leaders, who met in the prince's residence in Buenos Aires, also discussed Saudi Arabia's readiness to supply India with all its needs of oil and petroleum products and Saudi oil giant Aramco's investments in the fields of oil refining and oil storage in India, it said.
The crown prince and Modi also agreed on investing in solar energy, it added.
British PM to speak to Saudi crown prince on Khashoggi, Yemen
British Prime Minister Theresa May plans to raise the killing of Jamal Khashoggi and the situation in Yemen with Mohammed bin Salman at the G20 summit in Argentina.
The killing of the Washington Post columnist, a critic of the crown prince, has strained Saudi Arabia's ties with the West and battered Prince Mohammed's image abroad. Saudi Arabia has said he had no prior knowledge of the murder.
Macron to meet with MBS
French President Emmanuel Macron has said he will meet with Saudi Crown Prince on the sidelines of this weekend's G20 summit, according to the Reuters news agency.
"I've always been very clear about the issue of Saudi Arabia and I will inevitably have the opportunity to discuss it with the Saudi crown prince on the sidelines of the G20," Macron told reporters on Thursday.
The French leader's comments came after Argentine President Mauricio Macri said there could be discussions about complaints against MBS during the summit, which is being held in the Argentine capital, Buenos Aires.
The 33-year-old de facto ruler of Saudi has been under intense scrutiny following the killing of Saudi writer Jamal Khashoggi inside the kingdom's consulate in the Turkish city of Istanbul last month.
Putin to discuss Khashoggi murder with MBS
Russian President Vladimir Putin will discuss the murder of Saudi journalist Jamal Khashoggi at the G20 in Buenos Aires, his foreign policy advisor Yuri Ushakov said on Wednesday.
"Of course, they will talk about this subject," Ushakov said, referring to the Khashoggi's murder.
However, he said the "main aim" of the meeting will be "the development" of Russian-Saudi relations.