Ambassador says Tehran, Seoul to expand ties
December 1, 2018 - 19:59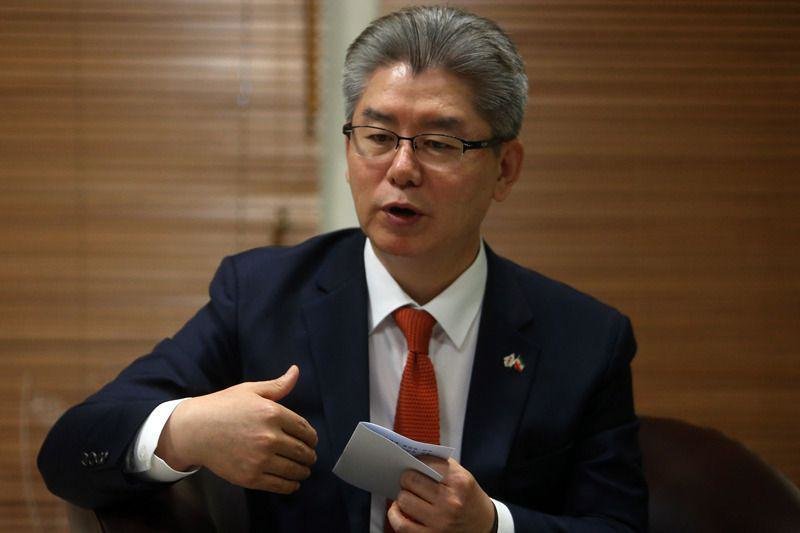 TEHRAN - In an interview with IRNA published on Saturday, South Korea's ambassador to Iran Ryu Jeong-Hyun said that South Korean companies will continue their partnership with Iranian sides, and that economic and commercial cooperation between the two countries will expand.
Ryu said that relations between Iran and South Korea are facing problems which have nothing to do with bilateral ties as such and majorly stem from the renewal of U.S. sanctions against Iran.
He expressed hope that the two countries will overcome the problems. "Ties between the two countries are strong. In the crisis of Iran-Iraq war in the 1980s, we stood beside Iran, and we have had close and friendly cooperation with Iran in economic areas in recent years."
Ryu said that South Korea has been granted an exemption from U.S. sanctions on Iran and therefore it is planning to develop a framework for cooperation in order to be able to expand mutual interactions with Iran accordingly.
He reiterated that Iran and South Korea will successfully cope with the vicissitudes.
"When I received my letter of credence from President Rouhani, I assured him that we will definitely stand by Iran and get through these difficulties together since—as the saying goes—a friend in need is a friend indeed."
The Korean ambassador also pointed to the great trade turnover between the two countries that amounted to a total of 12 billion dollars during last year, saying that the trade will certainly increase despite the sanctions.
Commenting on the possibility of the extension of Seoul's sanctions waiver on oil imports after six months' time, Ryu stressed that he will make his utmost efforts to strengthen bilateral relations.
Tehran-Seoul ties are deep enough to stay strong regardless of sanctions, he added.
SP/PA