Tehran cultural heritage director rewards top disabled artisans
December 5, 2018 - 10:8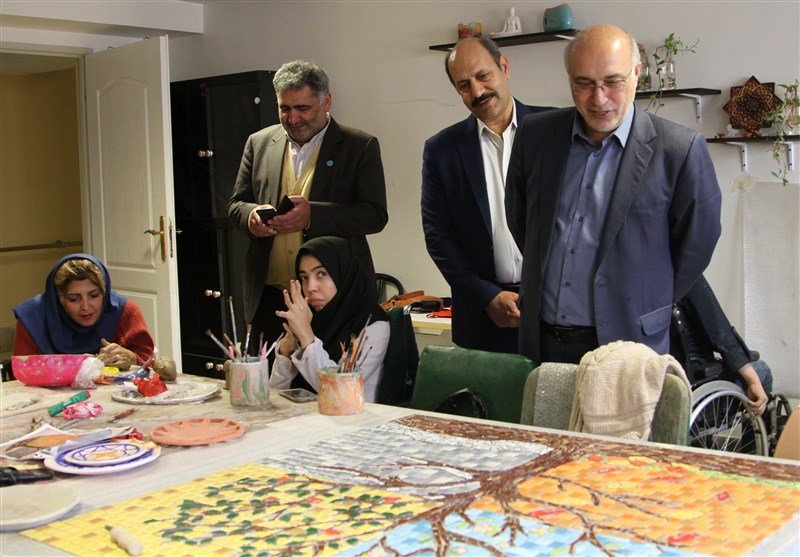 TEHRAN- Tehran province's cultural heritage director general, Delavar Bozorgnia, rewarded the top disabled artisans making handicrafts at Raad Charity on Sunday, observing the United Nations International Day of Persons with Disabilities.
Physically challenged people receive training in poetry, wood mosaic, and leather embroidery in Raad Charity, Tasnim news agency reported on Monday.
Raad Charity is a private institution, dedicated solely to promote the cause of the physically disabled community.
According to Bozorgnia, teaching handicrafts can lead to permanent employment for people with disabilities; besides, having vocational activity and making social contribution can help their healing process.
"We are trying to give disabled people the opportunity to sell their products online and take part in handicrafts' exhibitions," he noted.
On the United Nations International Day of Persons with Disabilities, Iranian Welfare Minister Mohammad Shariatmadar announced one third of the budget at Iran's Welfare Organization should be allocated to rehabilitation services for people with disabilities.
According to Shariatmadar, the law on the rights of people with disabilities is good but most importantly it should be implemented and NGOs active in this field should ask for the proper budget allocation for the law.
According to the UN website, persons with disabilities, as both beneficiaries and agents of change, can fast track the process towards inclusive and sustainable development and promote resilient society for all, including in the context of disaster risk reduction and humanitarian action, and urban development. Governments, persons with disabilities and their representative organizations, academic institutions and the private sector need to work as a "team" to achieve the Sustainable Development Goals (SDGs).
SJ/MQ/MG