Leader: Saudis getting more bogged down in Yemen 
December 12, 2018 - 20:34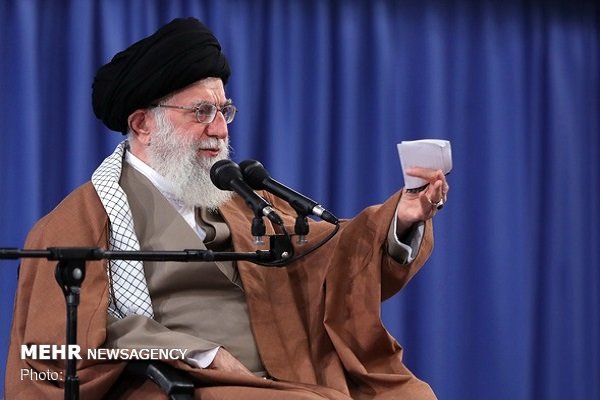 TEHRAN – Ayatollah Ali Khamenei, Leader of the Islamic Revolution, said on Wednesday that Saudi Arabia has been caught in the Yemeni quagmire and the more they try to get involved in the war against Yemenis the more they will be bogged down.
"They (the Saudis) thought they would gain control [of Yemen] in a matter of days or weeks. [But] the farther they go, the harder they will fall down and the more stinging will be the blow that they will receive," the Leader noted, according to Press TV.
Addressing the families of martyrs, the Leader said this has happened despite the fact that the U.S. has been helping Saudi Arabia militarily and politically in the war on Yemen.
The United States is a complicit in the crimes Saudi Arabia has been committing in the war against the people of Yemen, Ayatollah Khamenei pointed out.
The war on Yemen, started in March 2015 under a coalition led by Saudi Arabia, has put nearly half of the country's population on the verge of starvation.
The Leader said the Saudis have extended a hand of friendship to the enemies of Islam.
Leader also said over the past years, the U.S. has consistently sought, but failed, to restore the domination it enjoyed over Iran prior to the 1979 Islamic Revolution, and to bring the country under its tutelage similar to certain weak regional states, which Washington has branded as its "milk cows."
The leader further underlined Washington's stepped-up campaign against Iran over the past two years, saying the Americans sought to increase pressure on the country through sanctions and measures to disrupt national security with the aim of creating division and conflict among various groups.
"They were planning to lead some to the streets and had even referred to it as 'the hot summer.' To the enemies' dismay, [however], this past summer was one of the best ever," the Leader noted.
However, Ayatollah Khamenei cautioned, the U.S. might have plans coming for Iran. "America is a wicked, treacherous enemy and it might be playing deception by staging a row for the year (13)97, but for example devise a scheme for the year (13)98."
The Leader mocked claims by certain U.S. officials that the Islamic Revolution will not get to celebrate its anniversary in 2019, stressing, "The Iranian nation is standing in all strength and will, by divine grace, celebrate the 40th anniversary of the revolution in far greater splendor this year."
The Leader said by dubbing the U.S. "the Great Satan," Imam Khomeini united the world's monotheists and fair-minded nations against Washington.
At a Paris gathering in July 2017, John Bolton, now the national security advisor to Donald Trump, told the Mujahedeen Khalq members that "the outcome of the president's policy review should be to determine that the Ayatollah Khomeini's 1979 revolution will not last until its 40th birthday."