University entrance exam to be eliminated within 3 years: minister
December 16, 2018 - 21:15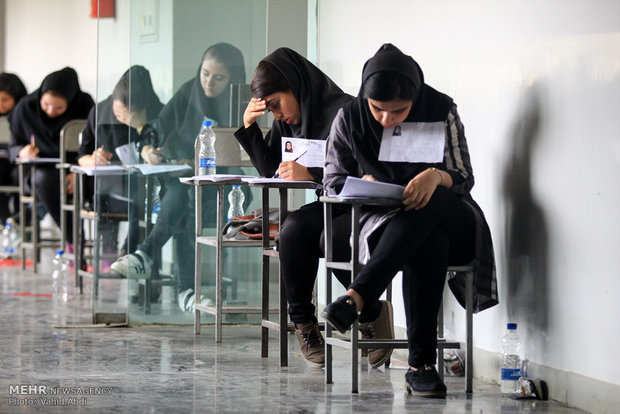 TEHRAN – The Iranian science minister, Mansour Gholami, has announced that Konkur, annual multiple choice exam for gaining admission to universities in Iran, will be eliminated by the next three years, IRIB reported on Sunday.
Elimination of Konkur being rigorous and impossible is a misconception, the ministry has seriously considered the issue and it must be implemented by the next few years, Gholami stated.
Last year, 85 percent of the students gained admission to top state-run universities due to their professional academic background rather that their Konkur exam results, so this can be considered as the first step to remove the demanding exam, he further explained.
He went on to say that the universities are required to come up with their own specific plans and guidelines for admission policies.
We intend to connect small universities to state-run or private top universities in order to receive more support and expert supervision, he stated, adding that it is also planned to close or merge small universities.
Referring to a huge number of graduated unemployed youth, he regretted that universities have never been training human resources but graduating numerous job seekers.
Iranian universities ranked first in the region and sixteenth in the world in the field of research and development, he highlighted, adding that to increase the applicability of university researches, we need to conduct researches ordered by governmental or non-governmental organizations [to raise finances].
The Ministry focuses on theses tailored to meet the needs of organizations, and so far, have focused on applied university researches of pilot areas of 10 provinces of the country, while any misconduct in the authorship of the theses will be pursued in the court of law, Gholami added.
Referring to allocating 15 percent of university budgets to research, he noted that universities and institutions of higher education are not satisfied with the amount of budget they are receiving.
However, the provision of laboratory equipment for the expansion of research and development is among the Ministry's priorities, he added.
Elsewhere in his remarks, Gholami noted that next year, university faculties and students will be provided with study and research opportunities in the country's industries for a six-month period.
FB/MQ/MG